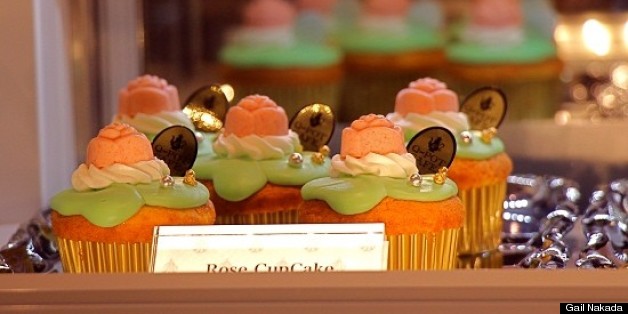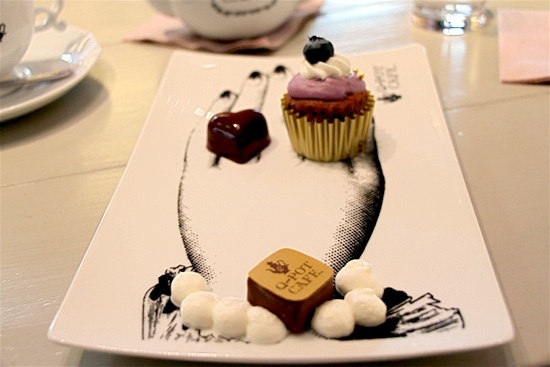 Q-Pot's 'sweet culture': edible jewelry.
Only in Tokyo can you have your cake and wear it, too!
Popular Japanese jewelery maker Q-Pot has branched out into the patisserie business, cooking up the hottest -- and cutest -- new cake shop in the city.
Following trends isn't really an option in this country; it's a social imperative. In the West, we have the 'ladies who lunch.' In Japan, it's the 'ladies who line up' for lunch or cake or coffee. If something is popular in Tokyo, expect a line.
Right now, the line stretching down the street for the exquisitely crafted jewel-box treats at Q-Pot is full of equally exquisitely-dressed madams and mademoiselles patiently waiting to coo "kawaii!" (so cute!) over the cafe's jewelry-inspired cakes.
Q-pot was started by former male fashion model-turned-jewelry designer, Tadaaki Wakamatsu. His designs are sweet. Literally. Artfully crafted rings, pendants and charms that resemble tiny cakes, cookies and French macaroons, adorned with semiprecious stones on gold and silver chains or fine-grain ribbon.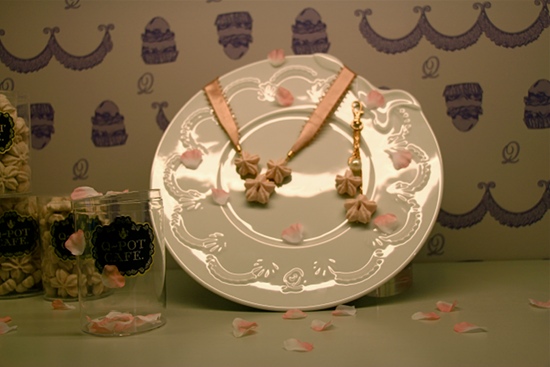 Meringue cherry blossoms. Just don't confuse which are edible and which are wearable!
Despite price tags of 50 dollars for even a tiny macaroon phone charm, the success of Q-Pot was hardly in doubt.
You are never too old for cute in Japan and nothing can ever be too cute. Ever.
In order to further his concept of 'sweet culture,' Mr. Wakamatsu branched out into edible beauty. The free standing Q-Pot cafe is perfectly located in fashionable Harajuku, kitty-corner between Omote Sando and Aoyama boulevards.
Q-Pot serves up whimsical designs as well as sugary sweets.
Like the rabbit hole in Alice in Wonderland, Q-Pot is curiously bigger on the inside than out. Customers sit at communal tables, though there is a scattering of smaller, private ones, in several rooms. The sweet, pastel-rich décor is every bit as fanciful as the confections they serve.
Beyond the décor, the first thing you notice is that everyone has their cell phones or digital cameras out and is either taking snapshots or comparing the ones already taken. Unlike almost every other shop in Tokyo, Q-Pot encourages photos. Young misses on tight budgets walk in to buy just one cake in order to stroll around the cafe, camera/cell phones in hand.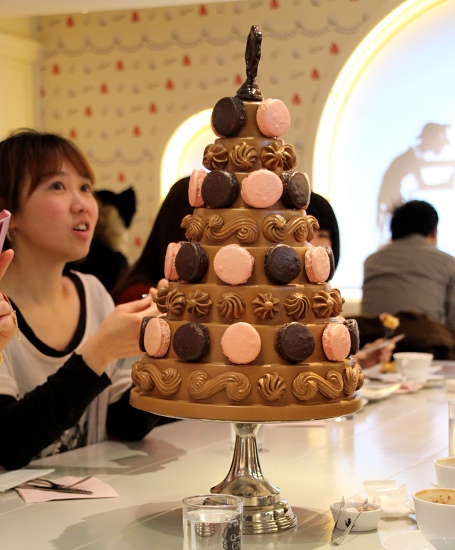 Starry eyed girls overdose on cuteness.
The two menu sets that have gotten all of Tokyo talking are Q-Pots 'Necklace' and 'Ring' plates. Sweets artfully arranged to look like jewelery - necklace, ring, bracelet - the 'chains' tiny poofs of just-sweet-enough thick whipped cream. It's edible jewelry.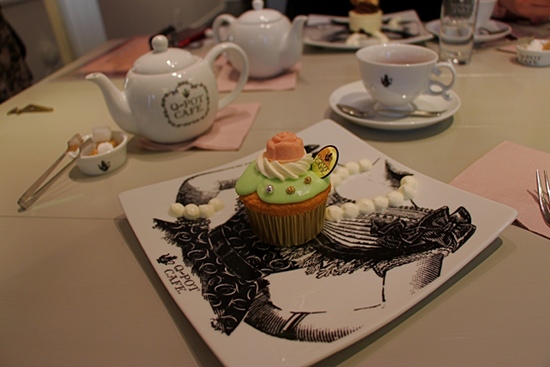 The Necklace Plate at Q-Pot. Tea and cakes for the ladies who line up.
Go to the website and scroll down to see pictures of the complete menu selection.
The Necklace Plate is 1,350 yen ($13.50); Ring Plate 1,600 yen ($16). Each includes a hot or cold drink. When you consider that ultra-chic Aniversaire Cafe just around the corner charges over ten dollars just for a cup of coffee, the price doesn't seem so bad.
Q-Pot has created three signature tea blends to accompany the cakes -- though there's coffee, too. Japanese know their tea and these are really fine brews, perfectly matched to the sweetness of the cakes and chocolate. All three varieties are available to take home as loose tea.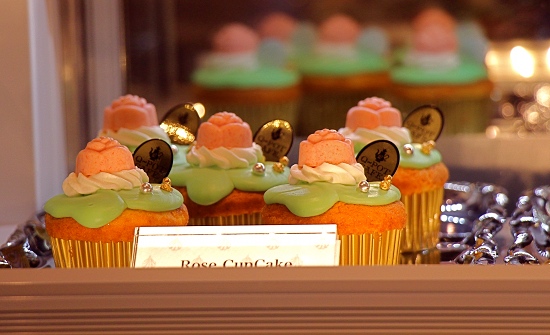 Rose Cakes are just one of the choices for the build-your-own edible necklace.
Cakes, chocolate, macaroons, tea and lots of collectibles (tote bags, teapots, mugs, tableware ) with a small selection of Q-Pot accessories, are available for take-away. The way Q-Pot packs the cakes so they won't get smashed on the way home is an art in itself.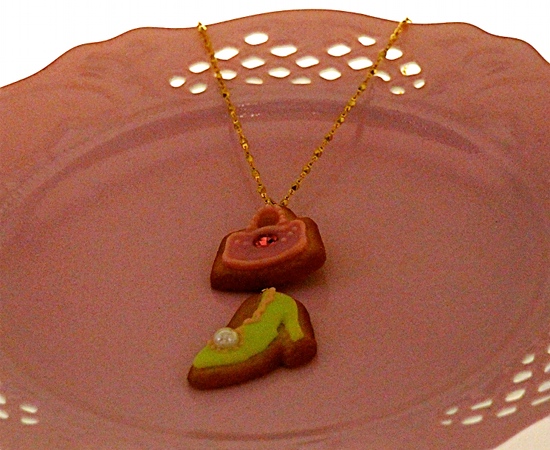 When someone says your Q-Pot necklace looks sweet, they'll really mean it.
If you have deep pockets and a deeper appetite for tasty treats, Q-Pot can arrange a reservation-only SE "Q"RET private feast in a little chocolate-colored dining room for you and three friends. 20,000 yen ($200) for four, 90 minutes. Currently the menu includes caviar, carbonnara pasta and of course, sumptuous desserts.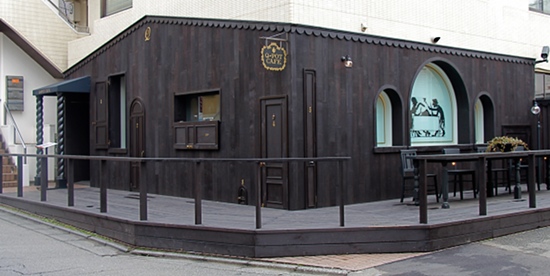 The cafe in Harajuku is curiously bigger on the inside.
Just opposite the cafe is the Q-Pot jewelry boutique. Right behind those bronze-painted glass doors with the ants crawling on them. Yes, ants. Drawn by the sugary sweet designs no doubt.
Access: Omote Sando Station, Chiyoda, Hanzomon or Ginza metro lines. Take Exit B-4 for Aoyama Dori. (There is an escalator, you just have to look for it.) At street level, go to the right and walk straight ahead to the corner past Starbucks. Turn right about 10-15 yards past Christolfe Silver on the small street. Q-Pot is about 25 yards ahead on your left.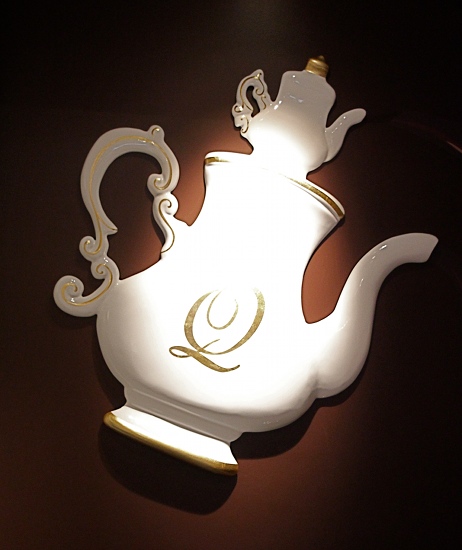 The Q-Pot tea pot symbol has a Through the Looking Glass feel -- as does the entire cafe.
Hours: 11:30-8 (last order 7:30), daily except New Year's.
Japanese/English homepage: http://www.q-potcafe.jp/#shops
Address:Kita Aoyoma 3-10-2, Minato-Ku, 107-0061
Tel: 03-6427-2626