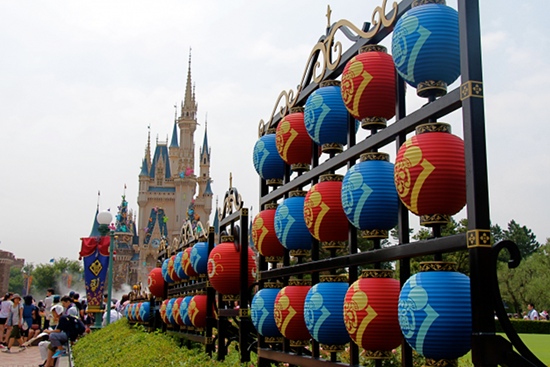 Summer at Tokyo Disneyland has a special Japanese look, feel and taste!
Every year the park hosts an all-out Japanese Natsu Matsuri - summer festival - during the hottest months of July and August. Dancing, costumes and music are adapted from traditional festivals held throughout the country. Of course here at the Park, they've got a true Disney twist!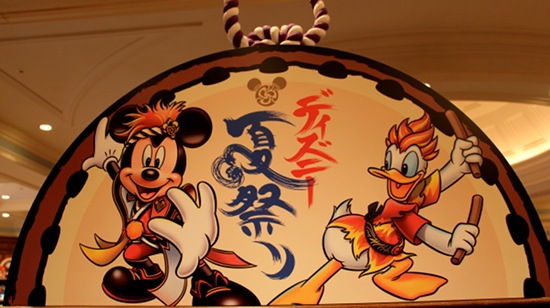 Mickey and Donald in their Japanese festival gear.
This year's event, Soryo Embu, runs through September 2nd.There are sixty different festival-themed souvenirs (yes, 60!), food, drink, sweets and, of course, a big show starring Mickey Mouse.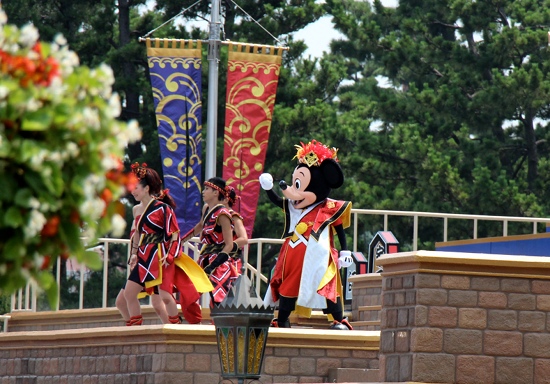 Mickey gets in on the festival fun.
The show is an acrobatic Japanese-style dance off between teams of Disney dancers and characters to the beat of Taiko drummers. Costumes are adapted from local festival wear: Happi coats, headbands, and tight wrap trousers - but with a slightly wilder flare.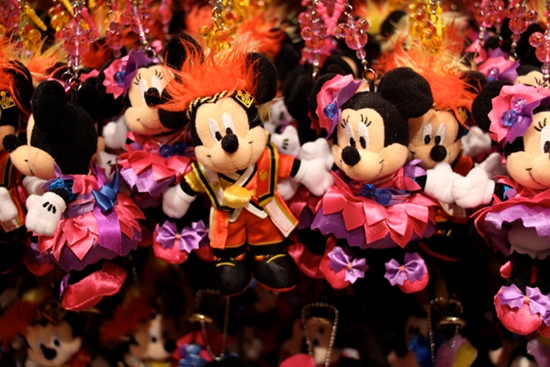 Some of the many collectible items created especially for this show.
Warning: Prepare to get wet! This is as much about cooling off under the broiling sun as entertainment. During the show, powerful jets of water shoot up as tall as the turrets on Cinderella Castle, then out and over the audience. Everyone screams in delight - or dismay if they forget to cover the camera.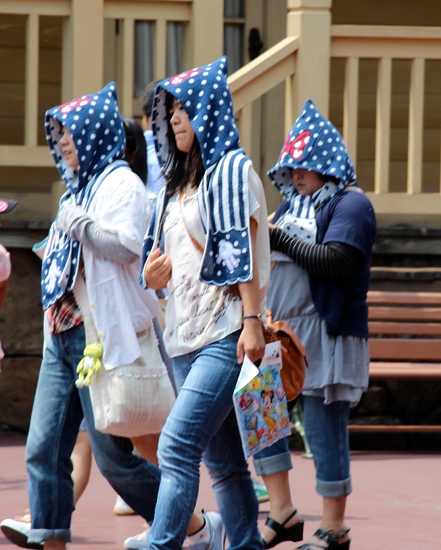 Hooded character towels are a must-have summer accessory.
As you drip and slosh your way out of the crowd at the end of the show, you'll understand why one of the hottest selling items during the summer is the hooded character towel.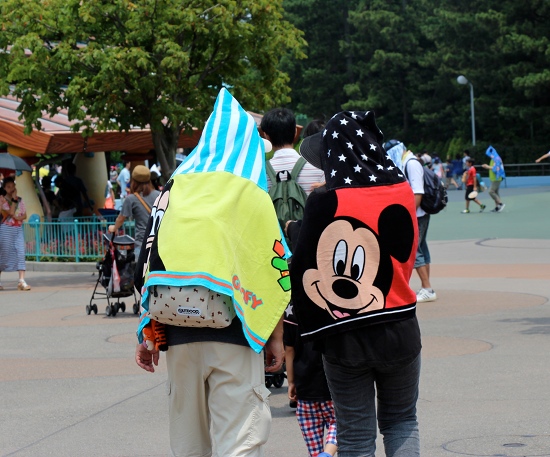 I'm not kidding they're really popular.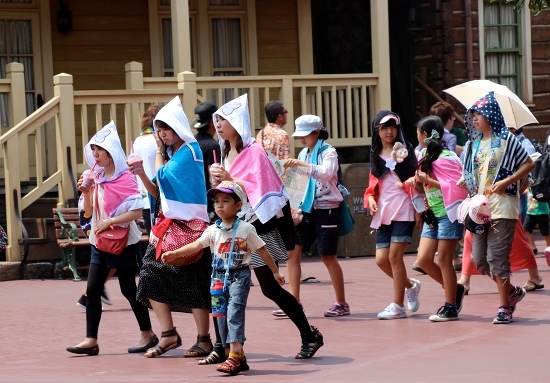 Really, really popular...
Soryo Embu, runs four times during the afternoon, with a special night time version twice each evening. Seating in the forecourt in front of Cinderella Castle is reserved except for the first show. Tickets for seating are by lottery. Designate someone to keep the entrance tickets for your entire party (you need all of them - tickets not people -- so that your group can be seated together if you win). Have them go to the Tomorrowland Hall. Check the website for show times.
FYI: This system applies to other special events held at the main outdoor stage in front of the Castle throughout the year.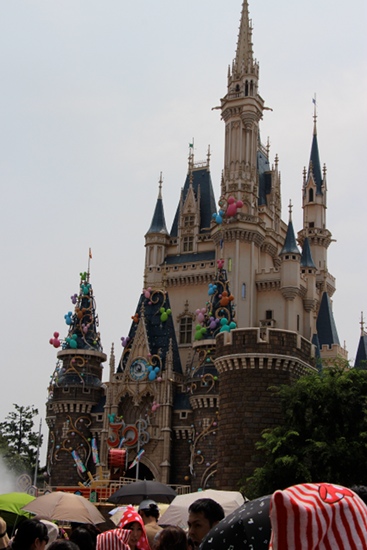 Don't wait until the last minute to find a place to see the show.
Of course there's lots of room to stand as well. Get there early if you want any chance of seeing the stage and bring something cold to drink. Waiting is hot, sweaty work. Many Japanese use a mini-umbrella for some portable shade on these summer visits.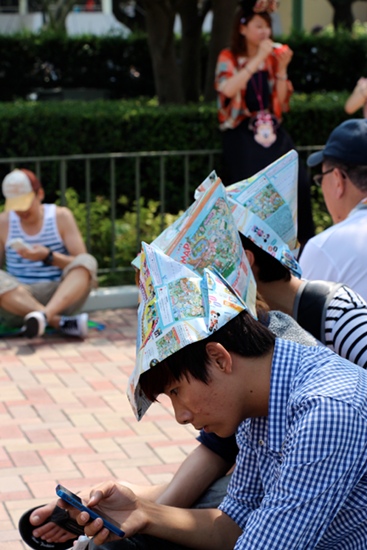 Waiting is hot work. No hat? Improvise...
If your planning a visit for next summer, you should know these annual hot weather Disney events generally start at the end of the first week in July and run right through August. Summer vacation for Japanese school children begins around July 20th. If you can, plan your Disney Resort trip before that when the crowds aren't quite so out of control. Though it's still hot. Really, really hot.

Festival snacks with Mickey and Pluto dressed in Japanese costume.
I know going to Tokyo Disneyland is expensive. A one-day passport for an adult is 6200 yen ($62), 5300 yen $(53) for juniors 12-17; 4100 yen ($41) for children 4-11. But there are couple of ways to save money. Anyone 45 and up can get a full day passport to either Tokyo Disneyland or the resort's companion park, Tokyo Disney Sea, for 5500 yen ($55), almost ten dollars off the regular price.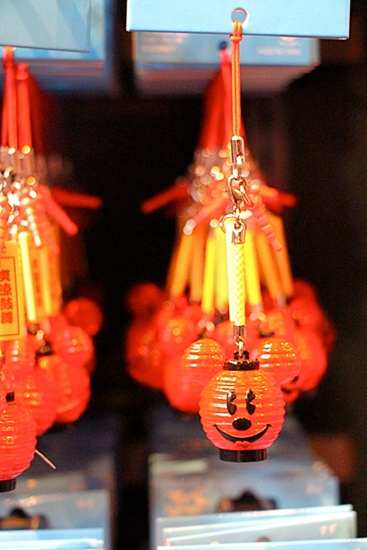 Lantern-style Mickey charms.
During the summer, the Park has a special After Five Passport for 3300 yen ($33) regardless of age. The rest of the year it's an After Six Passport at the same price. Though you miss the daytime parades and activities, if you're on a budget, at least you get a chance to experience Disneyland or Disney Sea. All these tickets are available at the ticket counters. For complete information on ticket prices, here's the main website.