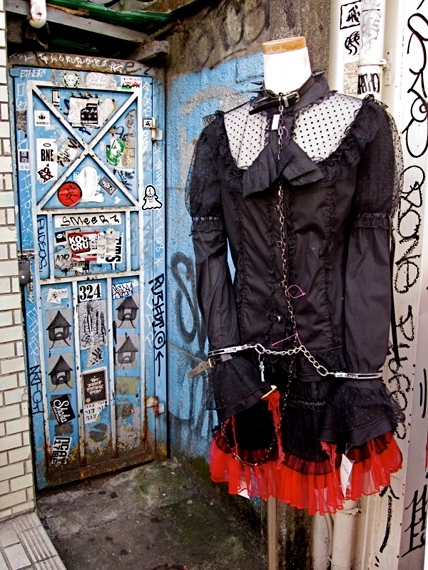 Harajuku Grunge.
Getting to Japan is expensive; you need to make every day count double. You can see and do so much more with a a little insider intel. Here's how to make Harajuku your own in an hour.
Whether you're a fashion guru or cultural anthropologist, Harajuku must be on your Tokyo to-do list. If time is tight, you've got to choose between fantasy Harajuku and grown-up Harajuku. They're not the same.
Welcome to Harajuku.
Music videos and anime lie. Cosplaying goth Lolitas, high school girls in knee socks with their uniform skirts rolled short and shorter, and skinny hip-hop wannabes are on Takeshita Dori. A small side street two blocks from Harajuku's main boulevard, Omote Sando. That's the Harajuku pop culture sells you.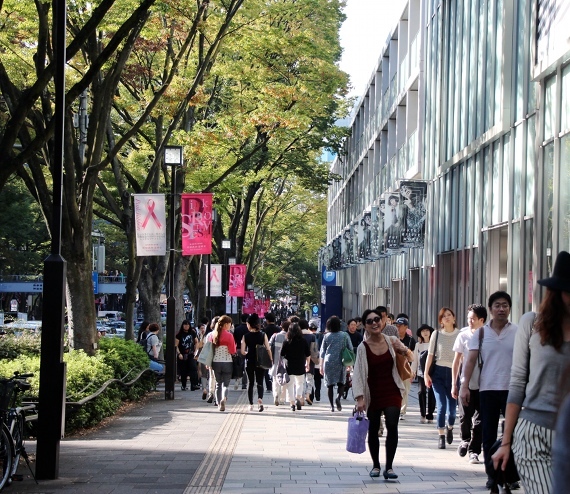 The other Harajuku.
Central Harajuku is actually grown-up, elegant and outrageously expensive. Chanel, Burberry, Coach, Armani, these are the fashion icons so many locals associate with the area. Omote Sando is the boulevard to see and be seen on.
So, I've divided the article into two walking guides. Part one is the Foreign Fantasy Tour. Part two, to follow later, is Grown-Up Harajuku (including Cat Street).
It's always Halloween on this street.
Part 1, Foreign Fantasy Tour.
Starting point: JR Harajuku Station. Take the small Takeshita exit, not the big central exit up the stairs. Takeshita Dori is directly across the street.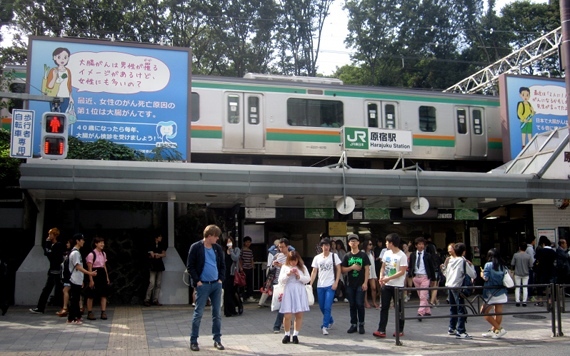 Your starting point at JR Harajuku Station. Don't be creepin'.
Start your clocks. Walking directly from the station to the end of Takeshita street takes about fifteen minutes. You can either turn around and back-track, or go right at the end of Takeshita Dori, then right again by La Foret mall. That is Omote Sando boulevard and will take you to the main entrance of Harajuku station. The walk back is about fifteen minutes direct. That gives you half an hour to shop if you really are on the clock.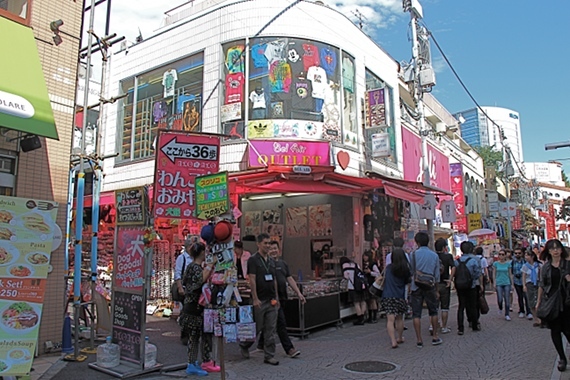 Takeshita on a quiet weekday.
Unlike your anime-fueled dreams, cosplayers do not outnumber regular shoppers and tourists. The fantasy crowd is actually pretty thin on weekdays. Saturday or Sunday afternoon is your best chance of seeing the Gothlolly girls and Dandy boys. The street though, is always crowded and almost impassable on a holiday afternoon. I've highlighted some of stores popular with the Japanese. There are, of course many specialty stores in between. Shopping for clothes or shoes? Sizes here run very small. Stores are open daily, most from 11 a.m. until 8, a few until 9. Hours vary.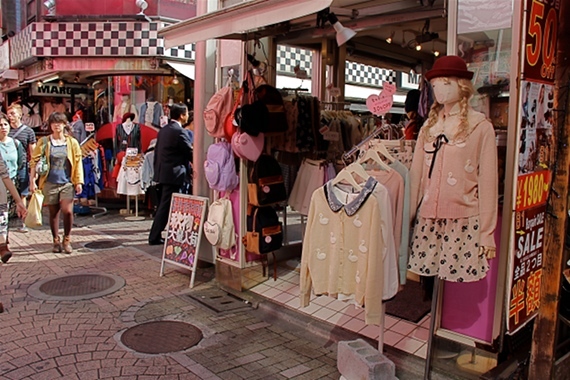 Harajuku school girl style.
Clothing categories can be summed up on Takeshita like this: cute and fluffy (I assure you, it's a genre in Japan); West Coast casual; hip-hop; costume; goth.
On your right: After the Wolfgang Puck Cafe, there is a small side street of vendors selling pop idol collectibles, belts, caps, and t-shirts. This is probably one of the typical scenes, along with the crowds, you've been hoping to see on this trip. Take a moment to snap a couple of pix or wander down a few yards before backtracking. There's nothing here you can't find further along.
On your left: WEGO . This small branch of the Japanese chain is a good intro to Takeshita Dori style. Go inside, walk through and check out the bags, shoes and outfits. Unless you spy something you actually want to buy, don't linger, there's another WEGO further on. In fact you'll notice there are only three or four kinds of shops on this street selling pretty much the same things at the same prices.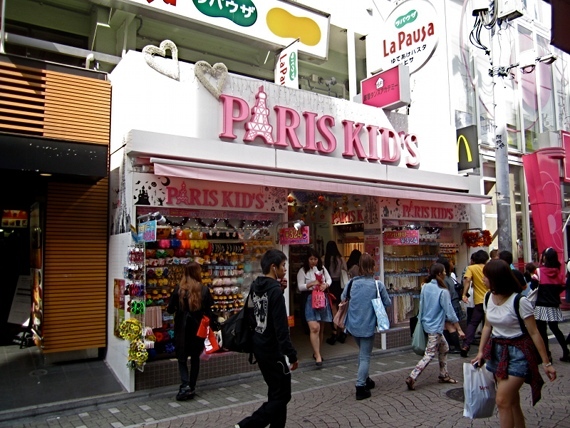 Paris kids.
On your left: Paris Kids. Cute is Paris Kids thing. Cute key rings, cute charms, cute character goods and on and on. You can almost taste the sugar rush. Paris Kids is more about accessories, key chains, socks, and jewelery than clothes. Prices are low and the place is wildly popular with the Japanese who never, ever outgrow cute. Everyone likes Paris Kids.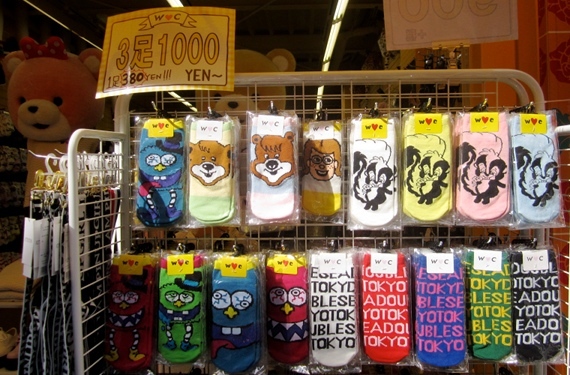 Japanese love silly socks, but they run small and smaller.
On your right: Tutu Anna. Almost directly opposite Paris Kids, this place is all about socks. Cute socks, silly socks, practical socks. So you know, Tutu Anna is a chain. Sizes run small. If your feet are between Valkyrie and Sasquatch, the socks are not going to fit comfortably.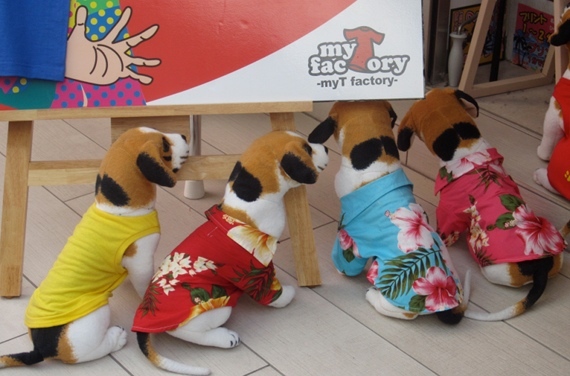 My T Shirt, custom clothes for you and your dog.
On your right: My T Shirt. I love this place. Not only will they print their cool/fun Japan-themed custom t-shirts while you wait, they'll do them for your dog as well. Prices are low, starting at around twelve dollars. The staff is friendly and bi-lingual. If you have a little extra time in your schedule this is a good stop. Here's their website with a guide to their stores around town.
On your left: Daiso. Beware. This hundred yen store is a time vampire that will suck you dry. Once you go in, it's hard to escape without visiting all four floors. Before you know it, forty-five minutes have passed and you're not even through the check-out line yet. Should you really need something - socks, hand cream, toothbrush, tote bag, towel - however, this is the place to go. (They don't sell medicine but there is a drugstore further up the street.)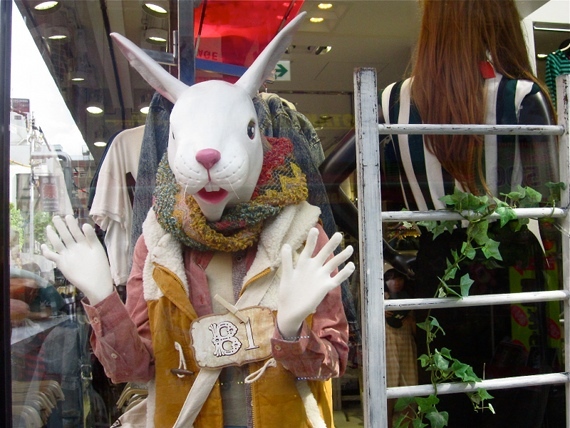 Momo and Takeshita Dori in general love their rabbits.
On the right: Momo. This is actually what many Japanese consider Harajuku girls' fashion. Lots of layers, lacy, a little baggy, short-short or mid-calf. Prices are reasonable.
On the left: Jeans Mate: Grab a snapshot. Jean's Mate is one of the oldest stores on the street, dressing Japanese teens since the '70s. Their retail model is American casual and they have chains all over the country, so it's not unique.
Takenoko -- to you they're costumes. To some, they're just everyday clothes.
One the left: Takenoko: Now this is pure Takeshita Dori. The ghost of Elvis in his Vegas phase would be happy haunting this store. At least walk through the first floor and let the glitz dazzle (or appall) you. Their sidewalk display is always entertaining. They have a lot of costumes - or clothes depending on how you normally dress - but not a lot of sizes.
Next to it and upstairs is a goth store also very into heavy metal leathers.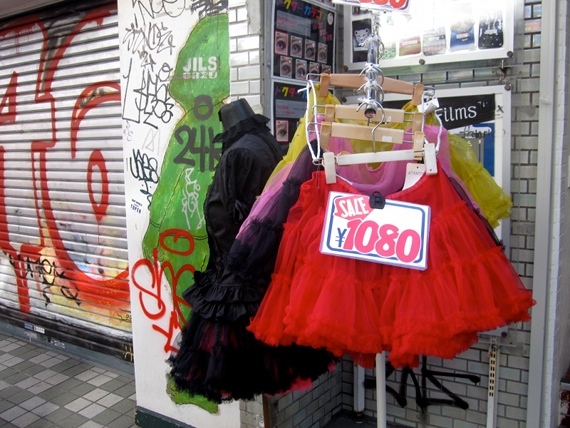 Pop culture petticoats.
Be careful about taking pictures. Many Japanese retailers do not like photos taken of their stock, even though it's on the street. Some have signs posted warning you off. Be discreet if you don't want to get yelled at.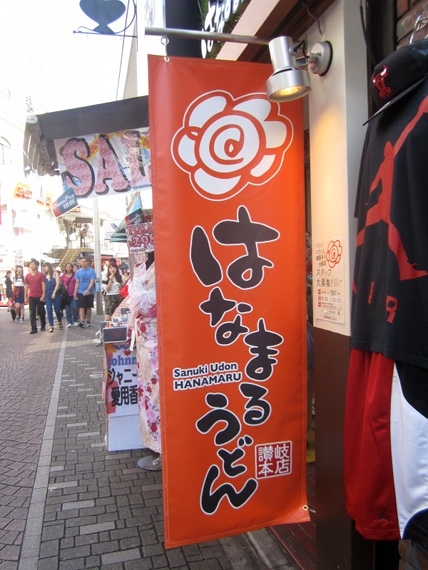 Hanamaru is one of the best food deals in Tokyo.
On the right: Hanamaru Udon. If you only have an hour, you won't be able to eat. Should your time be more flexible, take the stairs down to this cafeteria-style noodle shop serving udon - those are the thick white noodles in soy-style broth - plus Japanese curry, rice balls and lots of fried food on the side. All Japanese know this chain, famous for the lowest prices in town. A bowl of hot or cold noodles for just over three dollars. Tell them the noodles you want (there are pictures) and the size, pick out the rest yourself. Pay at the end of the counter.
I want to ride the crepe carousel.
Left and right: Crepes: Angel Heart and Marion Crepes (plus one more shop a little farther on the right) sell fresh-made crepes stuffed with whipped cream, ice cream, fruit, and syrup. These are Takeshita Dori's singular sweets. Local visitors feel you must have one or you can't say you've really been to Harajuku. All the stands are good and prices are almost identical. Expect to pay around four to five dollars. It's worth it, but can take a bite out of your time - five to ten minutes waiting - if you are on that ticking clock.
Public Bathrooms. The public bathrooms are to the left, on the street between Angel Heart and Marion Crepes.
Convenience Stores: There's a Seven Eleven on the left after Marion Crepes.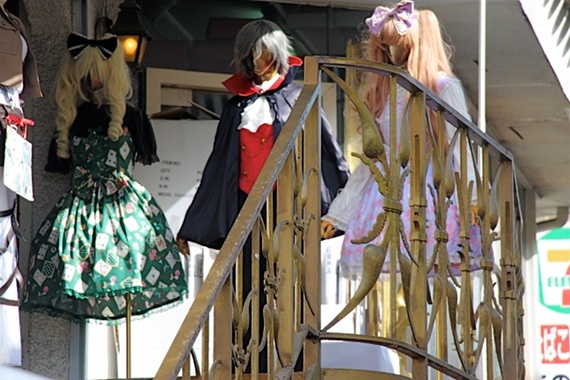 Clothing from Bodyline.
Cosplay. This end of Takeshita Dori has several shops selling painstakingly designed 'costumes' for the dandy and Victorian wannabe, plus some beautiful dresses. All on the second floor, so look up. These are for people - thin people - who can drop several hundred dollars on a dress. Bodyline has an eerily beautiful selection. Closet Child, very tailored.
On the right: Matsumoto Kiyoshi. Apirin, band-aids, low-priced Japanese cosmetics, this discount drugstore chain has all that and more. This is also the place for esthetic facial masks that cost so much in the U.S.
Crazy as it looks, this Calbee confection is so tasty and made fresh on-site.
On the right: Calbee. The confectioner is a newcomer to Takeshita Dori but their blend of sweet and salty fresh-made snacks matches the vibe perfectly. If the line is not too long, try the super-popular potato chip bowls topped with soft serve vanilla ice cream and chocolate. They are amazing. A taste sensation that's become famous throughout Asia.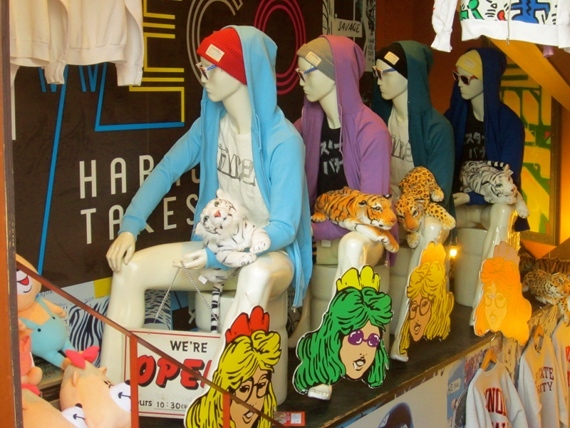 Display at Cute Cube.
On the right: Cute Cube: A new mini-mall with tiny stores (except Monki). At least check out the window displays. They are always fresh and fun. Candy A Go Go on the first floor will let you know you're in the right place. Cute Cube website.
On the right: Monki: This anchors the far corner of Cute Cube. Monki is an import from Europe? The Moon? Their website doesn't say. They have cool women's fashion with good prices and - unlike most stores on Takeshita Dori - a range of real sizes. Two floors. Monki's website.
On the left: World Connection. Across from Cute Cube. This looks like a Coca Cola collectible store but has a lot more, including cheap Japanese-themed key chains and tote bags. Very popular with local tourists.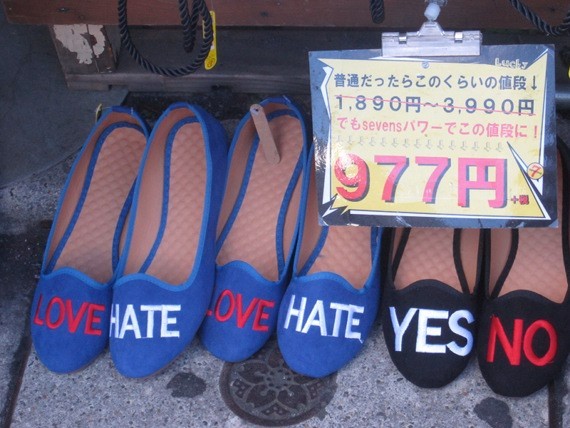 Only ten dollars for these. Gotta' choose love.
Takeshita Dori ends at the Meiji Dori traffic light. Turn right and walk to the next big intersection. You'll pass a Starbucks (or not pass if you need caffeine), H&M. Forever 21, and finally the big Laforet building on the corner.
Laforet is a collection of boutiques, most very small, spot-on for Japanese style trends. At least cruise through the first floor and have a look. (If you need a bathroom, they have them.)
At the corner, turn right. See the large stone lanterns on both sides of the street? This is a traditional marker for boulevards leading to major shrines. Omote Sando ends at beautiful Meiji Shrine.
It's about a five minute walk from this corner to Harajuku Station. This will at least give you a short stroll along Omote Sando boulevard, the main street for the Harajuku district. (Luxury brands like Dior, Armani, Harajuku Hills, and fun-stop Kiddyland are in the opposite direction). Walk up the street to the big intersection and you'll be back at Harajuku Station, though at the central exit.
And you're done.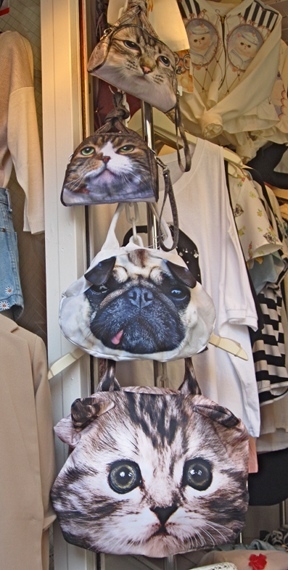 Takeshita Kitty says 'bye!'.
Next time, Grown-up Harajuku.