It's cold and flu season and Japanese are swallowing tablets, gulping vitamin drinks and pulling those ubiquitous gauze masks tighter. They're also praying for better health -- literally.
Gods and goddesses, doctors and nurses, each have a part to play in Japanese health care and nobody laughs if you round out your prescription with a visit to one of Tokyo's famous health shrines. Travelers can join the locals in asking for a little celestial medical insurance of their own with this quick guide to several renowned health shrines.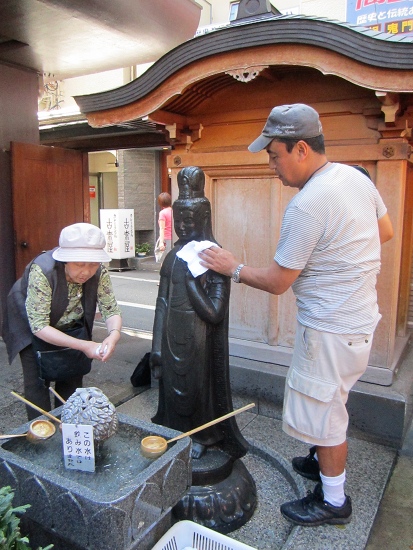 Koganji's magic Jizo
Wash Your Health Cares Away at Koganji
Koganji has been drawing hopeful health seekers to Sugamo since 1656. Believers come to pray to the powerful Togenuki Jizo (thorn pulling jizo) statue. This statue is not actually in the act of pulling a thorn. That's just an analogy for any illness, as the enshrined deity 'plucks' pain and suffering from the devoted.
Koganji's Jizo does not look like the familiar monk with shaved head, humble guardian of children and travelers. Here, the statue is black, graced with a beautiful headdress and draped garments. He stands outside in the temple forecourt beside a stone basin of clear, cold water and a number of white cloths, neatly folded. People patiently wait in line, often a very long line, to rinse out one of the cloths and rub it on the statue over any area they wish to heal with the Jizo's legendary curative powers.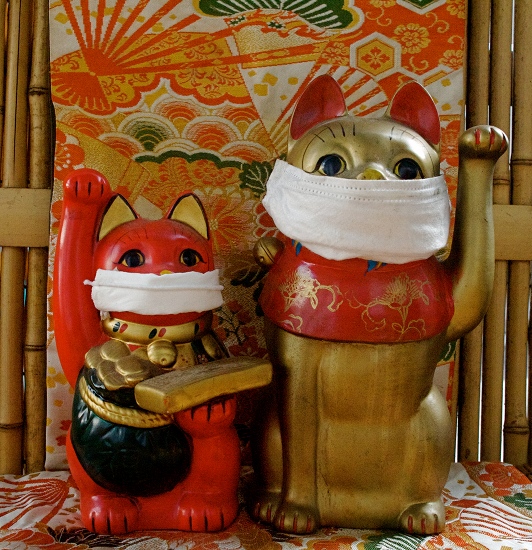 Lucky cats taking no chances.
Inside the temple building, the priests sell small Jizo statues and papers imprinted with his image. Taking these home, worshippers rub them on the afflicted portion of their body or any place they wish to prevent illness.
Sugamo is great fun even if you're not a believer. Jizo Dori, the street leading to the temple, is a time-slip back to a much older Tokyo - though its only two stations out of Ikebukuro. As long as you're not fighting the stomach flu, there are a lot of tempting snacks including senbei crackers shaped like the famed statue in lots of flavors both sweet and salty.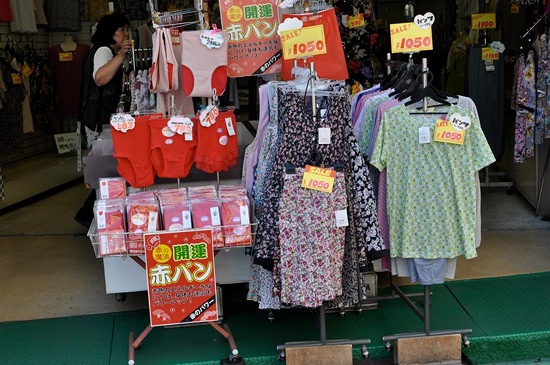 Seeing red in Sugamo
On your way to and from the temple it's hard to miss the big displays of bright red underwear in storefronts. Red is a good luck color all over Asia. In Japan, wearing red underwear supposedly boosts your health luck, especially for circulation! People come to Sugamo from all over to buy them and it certainly brightens up the street - and your bottom.
Sugamo Station, JR Yamanote Line. Take the main exit out, cross the big intersection and walk to your right, past McDonald's.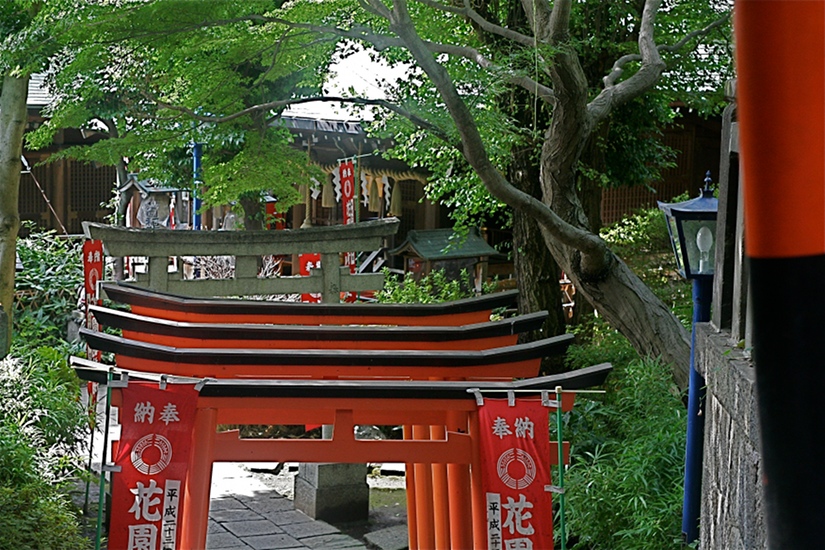 The road to good health is actually quite scenic...
Gojo Tenjin Helps the Medicine Go Down
Hard to imagine this shrine in Ueno Park was once in the thick of a battle between the samurai of the Tokugawa Shogunate and reformers under the Emperor Meiji's banner. Swordsmen fought right in Gojo Tenjin's courtyard amid exploding cannonballs from the artillery the reformers had secured.
Ironically, the shrine is known as a Shinto place of healing, dedicated to the gods of medicine and learning. It has stood - more or less - on this spot for 1890 years and was considered one of the top three medicine shrines of old Edo.
The Japan Pharmaceutical Association certainly takes the place seriously. Gojo Tenjin blesses their annual gathering in October. This is also the go-to shrine for students hoping to enter medical school or the pharmaceutical department of medical universities.
A medicine festival, Iyaku Matsuri, is still held on the tenth of every month. 'Matsuri' is misleading. Nowadays it is a private ceremony held within the main shrine. Desperation or faith, visitors devotedly bring their own or a relative's medicine, paying the priests for a heavenly power-up.
Access: Ueno Station, JR exit for Ueno Park.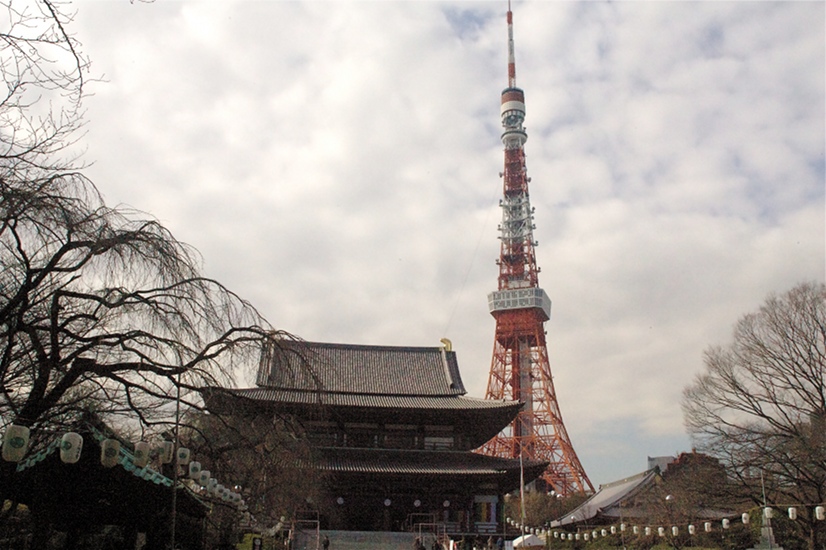 Zojoji, broadcasting your health prayers to the gods
The first Zojoji was constructed in 1393 and moved to this site at the end of the 1500s. Super Shogun Tokugawa Ieyasu believed Zojoji's black Amida Buddha (currently housed in the Ankokuden side hall) helped power him to victory in uniting Japan.
Beyond a massive red wooden gate, this huge temple stands at the end of a stone walkway wide enough to park a Boeing 777. Zojoji is not shy about advertising its holy curative powers. During the winter, a calligraphic signboard by the main gate encourages visitors to roll up and give the temple's Muku-Byo (remove sickness) Sokusai (ceremony) a try to keep them healthy all year long. For a price, of course.
If you can't afford the ten-thousand yen fee for the full ceremony, kenko mamori (health charms) are for sale to the right of the main altar. At only 500 yen, they're around the same price as a bottle of aspirin. I asked the young priest at the booth about the charm's effectiveness against this year's flu.
With a quick smile, he gave me the Japanese equivalent of, "Well, it couldn't hurt!"
Zojoji website.
Onarimon Shiba Dai Jingu, just a couple of blocks from Zojoji gate, has a long-standing reputation for its ability to fight off colds. Very long. The shrine was established in 1005 during the Heian period. Shiba Dai Jingu was often called the 'Ise of Kanto' since two of the gods from holiest of holy Ise Grand Shrine are also enshrined here.
For believers, Shiba's one-two punch includes a prayer at the shrine altar and purchasing a 500 yen health charm to take home. However, the shrine's heavenly mandate also encompass a larger menu of illness-specific charms.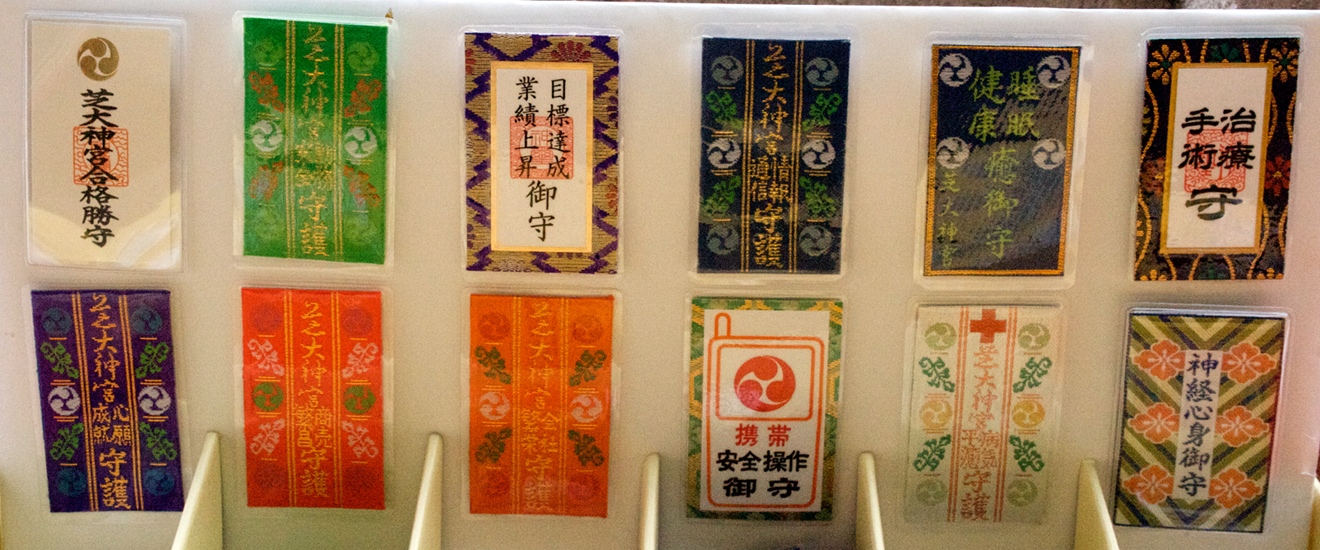 Health charms
Going into or getting over an operation? They've got a charm for that! Trouble sleeping or breathing? One for that, too. Stress and nervous exhaustion as well, plus another to boost your immune system. In a spiritual sense, this shrine has visitors' health concerns well covered!
For Zojoji and Dai Jingu: Onarimon Station, Mita line, A4 exit.
Of course Japanese don't depend on faith alone. Visiting the doctor borders on a national mania with the average citizen cluttering up medical waiting rooms around thirteen or fourteen times a year! But they are also careful to tuck a health charm in their wallet, just in case...
These are just a few of the many health shrines and temples in town. Go to my website for more info/access.