The sidewalk cafe, Harajuku version.
If you think Harajuku is defined by posing teens and pop culture, think again. The district is just as well known among locals for high-end luxury as low-end grunge. Part one of this walking tour (see Huffington Post) was about teen fantasies, this time it's the grown-ups turn.
Japanese call Omote Sando the Champs Elysee of Tokyo. And if you squint a little you can see it. Wide street. Big trees. Shops on both sides. Though it lacks the grandeur of Paris, this is a perfect promenade day or night and a great place to people watch.
You've got a lot to see, on your trip to Tokyo, so I've timed the walk for an hour. You can approach Harajuku from JR's Harajuku Station, right in front of Meiji Shrine; or Omote Sando Metro Station, at the far end of the main street.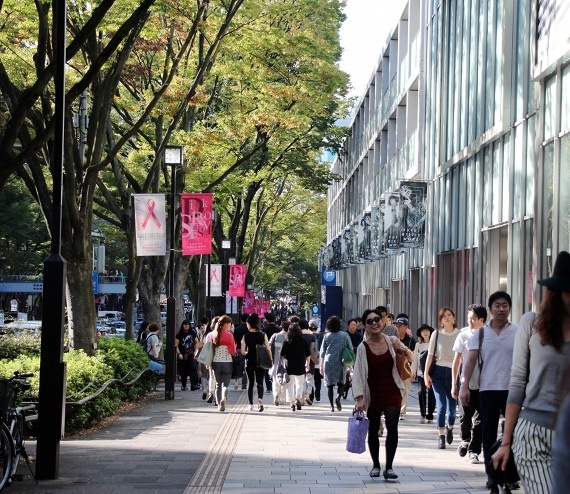 One of the city's best promenades.
Starting at JR Harajuku, go out the central exit and cross in front of the big Gap store. Turn right and walk around the corner. If you're in need of a cheap and cheerful caffeine fix, this funky, fussy little corner has a branch of local coffee house chain, St. Marc. The cafe makes over-the-top sweets and savory bread. No espresso, however, so be warned. Just a few steps more is the top of Omote Sando boulevard.
Walk down the hill, past Puma and the Softbank stores all the way to the next big intersection. This is Aoyama Boulevard and from here, Harajuku gets much more interesting. On the corner to the left is the Laforet boutique mall. Across the street is a building that looks partly like a crenelated castle and partly like fractured metal. That is Tokyu Plaza.
People on Tokyu Plaza's outside escalator disappear into the dramatic third floor entrance as if being sucked into the Twilight Zone. The boutiques inside are not quite as extreme as the exterior. Lots of fluffy, girly, perfumed goods and pretty young things. Tommy Hilfiger and American Eagle have street-level entrances. Hands Be on the fifth floor is good for stationary and the holy unnecessary but somehow irresistible knick-knacks Japan excels at producing.
If you can spare the time, take the elevator to the sixth floor. The large outdoor patio attached (but not exclusive!) to the Starbucks gives visitors a rare overview of Omote Sando. This is the district's most relaxing coffee break spot away from the crowds.
Hours: Shops, 11-9 daily. Restaurants 8:30-11.
Website.
Everyone's favorite toy store, Kiddy Land, is on the opposite side of Omote Sando. Use the traffic light at the corner by Tokyu Plaza. Keep walking with Harajuku Station at your back, past Cafe Rope (a landmark for Harajuku old-timers).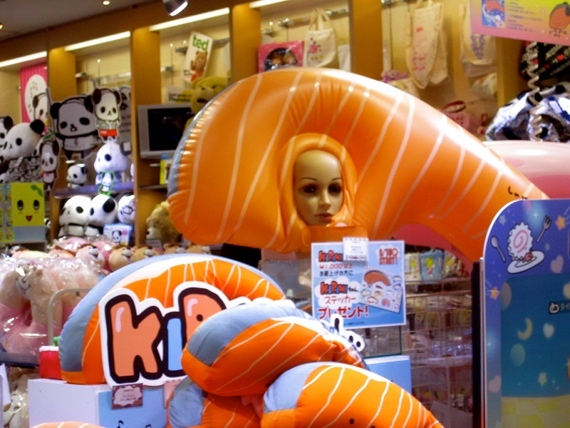 Kiddyland says, buy the sushi hat. You know you want to.
Kiddyland is not just for kids. Adults shoulder aside the toddlers on the first floor for whatever is currently the 'it' product on the pop culture scene. These can range from super cute to downright strange. Sushi hats anyone?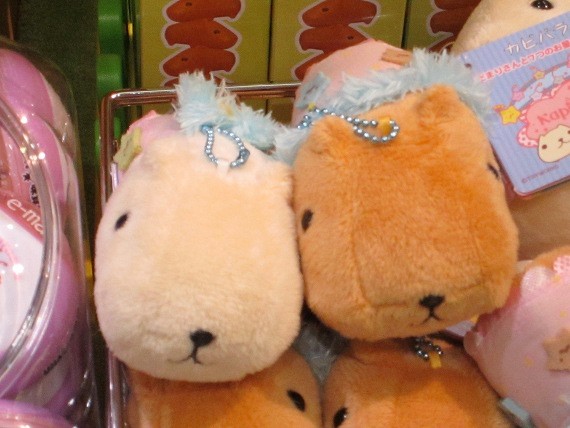 Who knew giant South American rodents, Capybara, could be cute?
And remember the capybara craze? Hello Kitty and Japanese superheroes are on different floors. English floor guides are available.
Hours:11-9, daily. (10:30 a.m. weekends and holidays).
Website.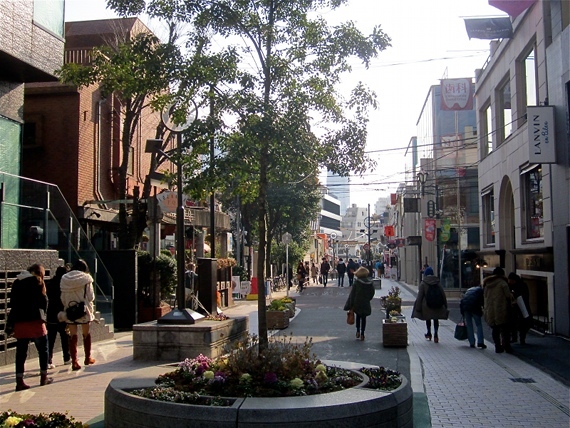 The entrance to Cat Street is beyond Kiddyland, next to Shakey's Pizza. (Really.)
This is also the side of Omote Sando for Cat Street, a trendy little thoroughfare connecting Harajuku to neighboring Shibuya. Cat Street has gotten a lot of attention in Asian and European tour guides over the past couple of years as an alternative to Omote Sando.
It's fun, but the street still showcases more import brands than local boutiques.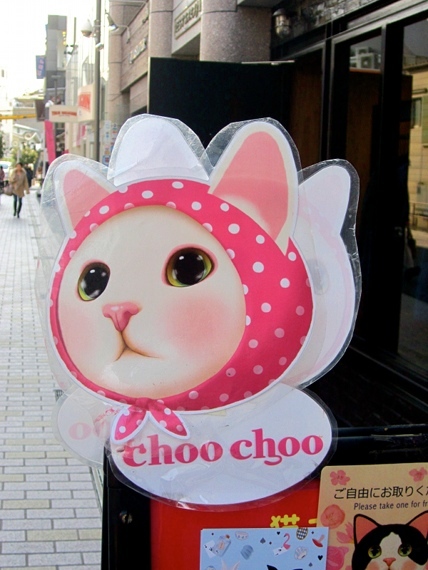 Probably the closest you will come to a cat on Cat street.
Oh, there are no cats on cat street. I do not know why. Go find a cat cafe somewhere else if you need a feline fix.
Walk to Rag Tag, a vintage clothing boutique chain, turn around and come back.
Cat Street coffee shops are on the first cross street to the left.
The next few blocks are all about the money: Chanel, Coach, Gucci, Burberry, Armani.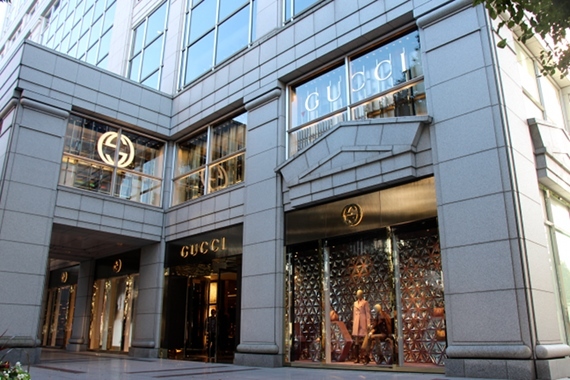 Harajuku is second only to Ginza for luxury brand boutiques.
Standing somewhat incongruously among all the luxury brands is the venerable Oriental Bazaar. A landmark for foreign visitors and ex-pats.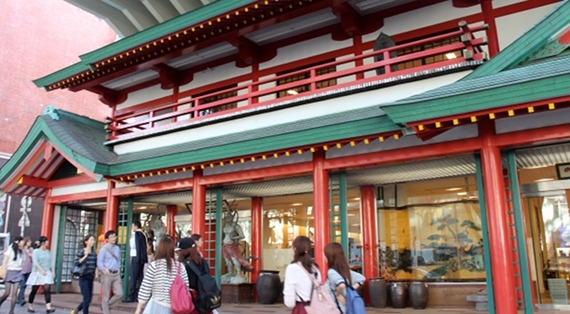 Tokyo kitsch at Oriental Bazaar.
Website.
With its arches and peaked, tiled roof, the building looks like a movie-set temple. It's a kitschy, touristy collection of ceramics, cotton yukata kimonos and woodblock prints. A rare retro-bit of Harajuku that has survived the relentless onslaught of glitz and glamour.
Hours: 10-7, Friday-Wednesday (closed Thursday).
Omotesando Hills, on the opposite side of the street and a little further up, is definitely worth a quick look.
This is what I imagine a departure terminal in a futuristic space port would look like. All gray concrete, mood lighting, hushed ambient music, flowing water, impossibly expensive stores. The flashy building stands on the former site of an old but beloved apartment complex.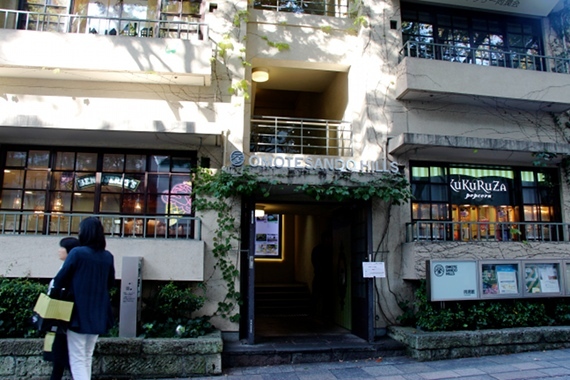 These apartments were what several generations of Japanese thought of as Harajuku chic.
A small portion of that iconic building is preserved at the far end of Hills and houses (at the moment) a popular popcorn cafe, KuKuRuZa.
Uber-trendy Max Brenner Chocolate Bar on the first floor of Omotesando Hills always has a line of well-dressed women outside desperate to raise their blood sugar to dangerous levels. Crepes, chocolate fondue and chocolate and marshmallow 'pizza' are specialties of this international chocolatier. You can also buy chocolate by the piece. If you are on the clock, pop in for a glimpse of the take-away counter to see what you're missing.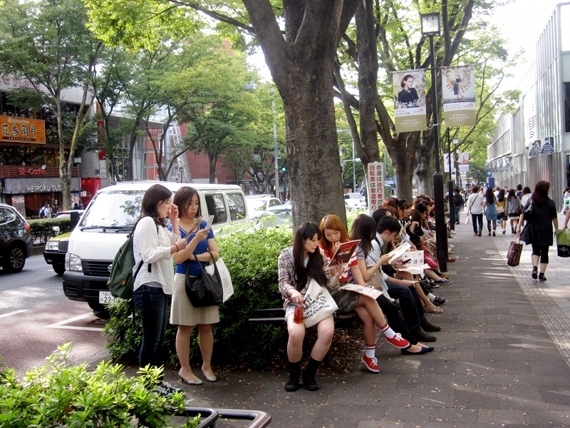 Lining up for the Max Brenner Chocolate Bar
Personally, Id rather go to the Forbidden Fruit Cafe, street side on the first floor, for their fab fruit drinks. Definitely worth a brief stop if only to stare at the gloriously exotic dreamscape interior. Plus no lines.
Hours: Omotesando Hills Stores 11-9 daily. Restaurants until 11 p.m. (10:30 Sundays). Website.
If you are determined to do the sidewalk cafe-thing, walk another block or so to Cafe Anniversaire. This currently is the only cafe in the area where you can actually get that Parisian vibe. Anniversaire is perfectly suited for people-watching any time of the day. Coffee costs close to ten dollars a cup. Drink slowly.
Perhaps you prefer luxury-brand cafes but don't want to make your way to the cluster in Ginza (see my Huffington Post article on this). Step across the street to the Armani Cafe. It's not outdoors, but the wrap-around windows have a good view of the boulevard and you can pose haughtily as you sip your drink.
Hours: 11-8, daily.

Armani Cafe also serves light meals.
Surprisingly Harajuku has a cheap and cheerful sushi restaurant right on the boulevard. Heiroku Sushi is on the same side of the street as Armani.
This popular and inexpensive sushi restaurant is a good stop for a low-priced meal. Though it can get pretty busy on the weekends, people tend not to linger. It's worth the wait.
Hours: Daily, 11-9:30.

Now you're near the end of the street and if you've used your time carefully and not stopped for coffee or sushi, it should be about one hour. You can wave au revoir and sayonara to Tokyo's version of the Champs Elysee and hop on the metro right here. If you have more time, turn around and try taking any of the side streets branching off the main boulevard. These have smaller - though no less expensive - Japanese design houses to discover, plus restaurants and cafes.