Japanese robots are crazy cool. Girl robots even cooler. Sexy girl robots the coolest.
Robot Restaurant took this subtle trope -- robots, cool, sexy girls, cool -- and, with an investment of 1.1 million dollars, turned it into a cabaret for the video game generation.
What does that much money buy you in Shinjuku's Kabukicho? Quite a lot, including a seizure-inducing fusion of flashing lights, bright anime-style graphics and murals, giant LED screens, a bathroom embossed entirely in glossy gold (including the urinals), some jaw dropping electronic effects, a flying neon airplane, a troupe of athletic dancing girls and lots of very large, sexy robot women with chests the size of Michelin tires.
Stepping into the first floor waiting area is like entering a giant pachinko machine with flashing lights on the walls, floor and ceiling. It's crazy bright and busy. Several of the big robots are on display to see and touch - not in that way, down boys. Please note, you are not allowed to touch the girls, that's a very different sort of Shinjuku cabaret.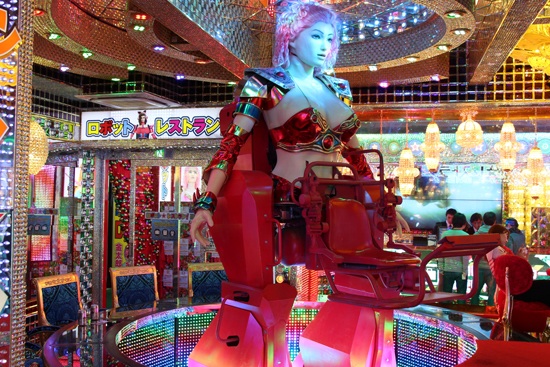 All the action is in the basement. Be careful, the steep, blindingly colorful stairs down are best negotiated sober. Save the serious Shinjuku drinking for later - or take the elevator. The stage is laid out as a wide runway bisecting the entire room. Chairs with small tables attached are set up on several platforms lining either side so everyone gets a good view of the action.
What follows is a fast-paced revue of dancing girls, glitz, lights and special effects synchronized with the massive LED screens covering the walls and ceiling integrated into each routine. The dancing and bikinis are PG-13, not bawdy triple-X. The girls are athletic and enthusiastic, making up for what they lack in training with energy. Lots and lots of energy.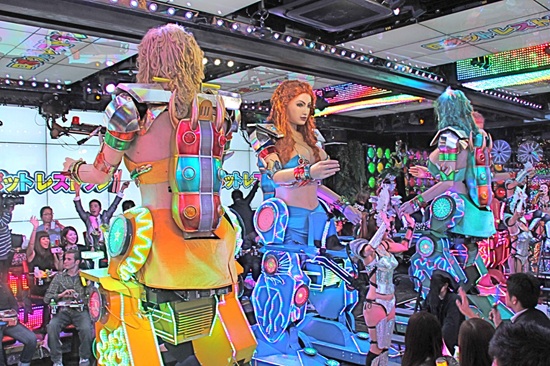 Robot Restaurant is designed to appeal to the generation raised on quick, colorful, video games, rather than the leering salarymen with bad comb-overs that frequent many other establishments here on the cheating side of town. Most of the clients are young working people or college students, often with an almost equal number of women as men in the audience -- and lots of foreigners.
Dance routines currently run from drumming fantasies and battling dinosaurs (not at the same time), to army girls draped over the neon tank and airplane mentioned above, to, well, sometimes it's hard to define exactly what the theme is. And really, who cares? Everyone is just waiting for the robots.
The highlight of the show is the appearance -- finally -- of the big, broad and busty Fem Bots. Each robot consist of an upper torso and legs mounted on -- pardon the pun - a metal, motor-driven chassis and dressed in classic kitschy video-game, warrior-princess style. The brightly colored, neon-enhanced robots require one or two girl operators who sing along to the song and dance routine as the robots glide around the dance floor. The robots move their arms, head, fingers, mouth and legs.
It feels like a sequence in a Sci Fi film or a bonus stage in a video game.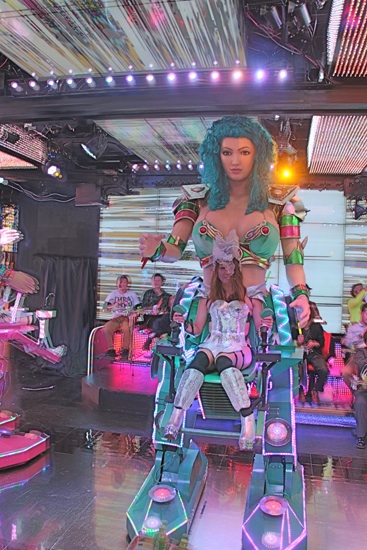 Our only caveat is the robots get far less stage time than the name implies. Come on, they should be in every routine. Also, sadly, no robot waitresses, bartenders or bouncers on the staff. It is, however, great fun and there's no place else like it in the city. Maybe the world...
Cost: 4000 yen ($35) covers admission, seat charge (all seats are assigned), and a small food and tea set. Alcohol is extra. Photographs are okay. Shows last 60 minutes starting from 7 p.m. Be there at least 20 minutes prior to the show's start. You can buy your tickets at the theater though it does get crowded, so consider a reservation. There are free lockers for coats and bags on the first floor and you can check in your umbrella. (Fire rules mean they must keep the downstairs floor clear.) English (sort of) website
Rules: Eighteen or over only. There is a dress code. No CosPlay costumes. No visible tattoos. No sunglasses on during the show. We don't know why. Maybe they are afraid of Terminators.
Access: Shinjuku Station East Exit for Kabukicho. With Studio Alta in front of you, cross the street and walk straight ahead down any of the side streets to big Yasukuni Dori (boulevard). Cross it. Robot Restaurant is on Sakura Dori. It's pedestrian only and has a neon arch over the street in English. There is a Family Mart convenience store on the left hand corner. The Robot Restaurant is about a block in, you can't miss it. Really, you can't.