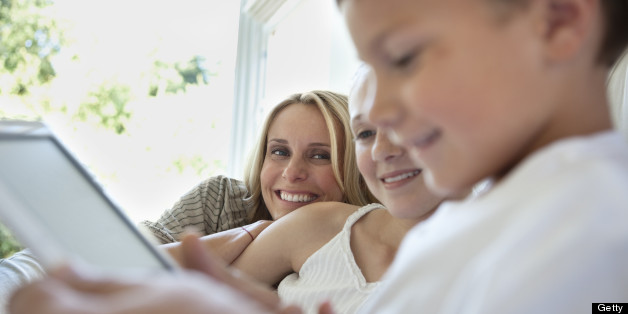 By Jennifer Jolly for GalTime.com
Have you tried to find the perfect app for your kids lately, one that will entertain and engage them, but won't turn their brains to mush? It can be a tricky business with so many thousands to choose from. How do you know which ones won't try to track kids, or, holy-bill-shock, Batman, let them rack-up thousands on your credit card buying add-on's in a supposedly "free" game? Here are 10 great apps that I trust -- and that kids totally love:
1. Touch and Sing Along Picture Book
This is great example of a healthy first foray into the online world for kids as young as 2. It features 12 classic children's songs, each with a different goal; learn letters, body parts, music, interactive play, reading, numbers, elements of science and life skills to help prepare for the real world. The developer's name, SumahoMAMA, means "cell phones Moms," in Japanese, where it was created by moms looking for the very best ways to create healthy, safe and manageable digital introductions to young kids. In additional to the apps content, no advertising is used in this product. That's a bonus, for sure.
For ages: 2+, Available on iTunes, Free
2. WWF Together
The World Wildlife Federation App lets kids experience the world's most amazing and endangered animals through in-depth, interactive stories of giant pandas, tigers and polar bears.
Ages 4+ Available on iTunes, Free
3. The Fantastic Flying Books of Morris Lessmore
This is a stunning picture book app that counts on clever interaction to move the story forward. Kids are encouraged to make sounds, tap, tilt, and play.
Ages 6+ Available on iTunes, $4.99
Stack the States is a big favorite for our daily commute in the car. My daughter reads out the questions and we race each other to see who can answer them first. Helps teach state capitals, shapes, geographic locations, flags and more.
Ages 6+ Available on iTunes, Google Play, $.99
5. TinyTap
Tiny Tap gets parents more involved with child's digital play by letting you create your own games with your kids using photos, music, colors and words. You can make your own game, or pick from one of the many already created.
Ages 4+, Available on iTunes, Free
If you want to prevent summer slide and make sure kids go back to school with their brains brimming, take a look at this comprehensive math skills and practice tool that offers thousands of quirky and fun exercises. It's best for grades six through eight, and I highly recommend it for parents as a way to brush-up, too!
Ages 10+, Available on iTunes, Google Play, Free
7. Storia
This reading app from Scholastic is a must-have. It's filled with an entire library of teacher-recommended books, plus dozens of fun and engaging games that help build comprehension and reading retention at every age and reading level. It's so much fun, children will have NO idea how good it is for them as they work on word puzzles, tap their way through image games, and explore the world of their own imagination through great stories.
For ages 6+, Available on Google Play, iTunes, Windows, and Amazon, Free
8. Todo Elementary Math Series
This is a series of 7 multi-level games that are aligned to the Common Core State Standards for Pre-K through 2nd grade. The games help kids with learning differences, which might be struggling with concepts like telling time. It lets kids learn independently and progress at their own pace. The name, "Todo" translates to "all" in Spanish, and stands for the fact that this app helps include all children, no matter what their learning style or speed, understand basic counting and calculations, telling time, measuring and dealing with money.
Ages 5+, Available on iTunes, Free
9. Watt Pad
This app lets young writers post short stories, novels and poems for others to read and critique. The critique is positive, creative and aimed at helping kids hone their craft -- no bullying allowed. The works are often revealed chapter by chapter, so readers are anticipating new developments and often lobbying the writer for plot shifts or new characters. Famous authors also get involved, for a digital writers-group that's out of this world.
Ages 12+, Available on iTunes, Google Play
10. BrainPOP
BrainPOP features a new animated movie each day (I love the one about the Beatles) that kids watch -- then get quizzed on -- in a fun and interactive way. Topics cover math, social studies, English, tech, music, health and more. The videos aren't sophisticated, but the information is solid and they are captioned so you can read along. This is a great one on a road trip, so everyone in the car can play along.
Ages 8+, Available on iTunes, Google Play
One last note, most apps have in-app upgrades and new games that you can buy. Be sure to turn off in-app purchases, and set up a passcode that your kids can't guess. Also, be sure to check-in on what they're playing. For ideas about how much screen time is OK without creating zoned-out zombies, read the latest guidelines and recommendations.
We know there are hundreds more, and new ones being added everyday. What are some of your favorites? Be sure to let us know in the comments section below.
More from GalTime.com:
This article is brought to you by Tech's Appeal.
Jennifer Jolly is an Emmy Award winning on-air talent and writer who delivers funny, thoughtful, journalistic and helpful consumer technology and lifestyle content across multiple platforms. Over the past few years, Jennifer has cemented her role as a trusted voice in personal technology by providing endless amounts of simple solutions to high-tech problems. Her work has earned her industry accolades, as well as a large and loyal fan-base. More from Jennifer at www.jenniferjolly.com.