The holiday season requires a lot of dressing up, cocktail parties and picture opps. One way to change your look up easily is to update your beauty routine. Lucky for us, that doesn't mean spending a ton of money, as most drugstores carry a wide array of quality products that do the job! I've rounded up my favorite products, all under $15, to help you look flawless this holiday season!
1. L'Oreal Studio Secrets Magic BB Cream, $7.99: BB creams are all the rage these days. They combine color, moisturizer and a primer all in one and leave skin looking poreless and dewy. I love this affordable version from L'Oreal. In the winter or cooler climates I still prep my skin with a moisturizer but in the summer or humid weather this is all you need.

2. Maybelline Volum' Express Colossal in Glam Black, $5.04: I'm very picky about mascara and usually splurge on pricier options form Sephora or Nordstrom but when I need a quick fix I love this Maybelline option. It's thick and glossy.

3. Boots No7 Instant Radiance Beauty Balm, $15.99: This illuminating beauty balm works great in combination with your existing foundation or tinted moisturizer as a base layer for a dewy, illuminating glow.

RELATED Are You Committing These 5 Beauty No-No's?

4. L'Oreal Studio Secrets Magic Lumi Concealer, $10.99: Have you heard about the cult industry favorite Touche' L'eclat by YSL? This pretty little stick comes close to doing the same job. I layer it on top of my heavier concelaer for a luminescent glow and highlight. I also use it under and above my eyebrows.

5. E.L.F. Blush in Pink Passion, $3: This punchy pink blush looks a lot bolder in the compact than it does on your skin - it leaves a rosy flushed hint of pink on your skin and rivals other similar higher priced designer brands.

6. E.L.F Golden Bronzer, $3: I use this bronzer daily - it's the perfect universal shade that will compliment just about any skin tone.
7. Revlon Lipstick in Siren, $7.99: This is my go-to shade when I'm looking to make a statement!
8. Revlon ColorStay Eyeliner, $4.99: This eyeliner is no joke - it literally lasts 12 hours without moving at all and easily removes with eye makeup remover.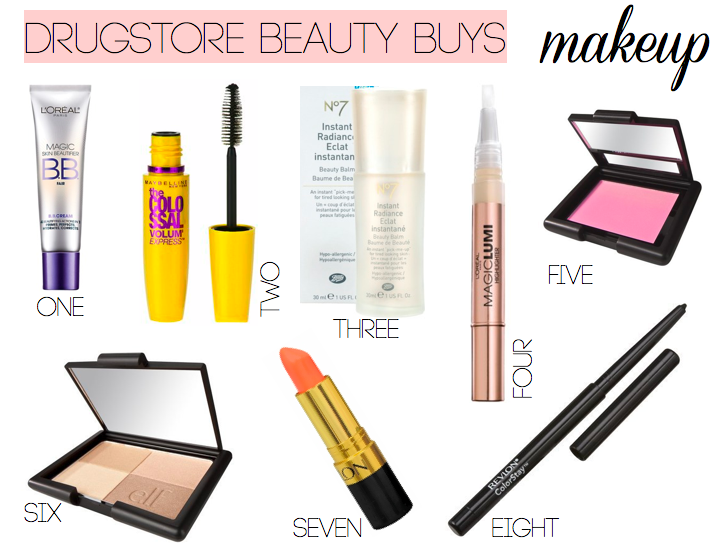 1. Essie in Glamour Purse, $7.99: This is a great neutral shade for the cooler months and we love to layer on a top coat of gold glitter.

2. Sally Hansen Xtreme Wear in Invisible, $2.49: This isn't meant to be a top-coat but works wonderfully. I apply a coat after my nails have dried and it extends the wear to almost a week with no chips!

RELATED 10 Beauty Products in Emerald: The "It" Color of 2013
3. Sally Hansen Remover Pads, $3.49: These little cloths are ideal for travel!
4. Trim Emery Boards: A nail file is a nail file - why spend more than a few dollars? I love the pink salon style.

5. Milani One Coat Glitter in Gold $3.99: This sparkly polish lives up to the name- unlike a lot of other glitter polishes on the market, this packs a punch in just a few coats.

6. Revlon ColorStay Nailpolish in Red Carpet, $4.99: Hands down this is my favorite polish under $5. It is amazingly easy to put on with the help of a chunky brush and the polish dries so shiny it always looks as though I had a professional manicure when I use it.