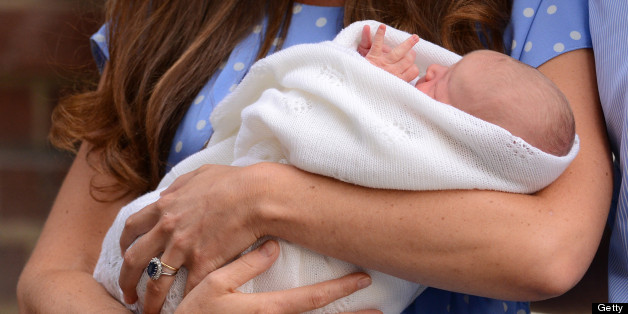 By Laura Seldon for GalTime.com
A new heir to the throne has risen over Britain; Prince William and Kate Middleton welcomed a healthy baby boy into the world on Monday afternoon. Now that the royal family has had a few days to "ooh" and "aww" over their new bundle of joy, it's time to get down to some serious business. No, I'm not talking about the topic reporters around the world are obsessing over -- what to name the little guy -- I'm talking about a much more pressing issue: the list of potential babes to help him rule over Great Britain! To help the royal family sort through the long list of potential "wannabe princesses," here is a cheat sheet of play-date-worthy tots and those to avoid on the playground:
5 Play-Dates Fit for Royalty:
1. Beyonce & Jay-Z's Daughter
While she may not have descended from British royalty, Beyonce and Jay-Z's daughter, Blue Ivy, definitely descended from musical royalty! Something about this hip-hop princess tells me she would feel right at home amongst the British royals.
2. Aaron Johnson & Sam Taylor-Wood's Daughter
Kick-Ass star Aaron Johnson and his wife, filmmaker Sam Taylor-Wood, celebrated the birth of their second baby girl in January of 2012. Let's face it, this couple definitely "kicks ass," and their little girl probably will too!
3. Dame Sarah Storey and her husband Barney's Daughter
British cyclist Sarah Storey may have been born without a left hand, but she still managed to win four cycling titles at the Paralympic Games in 2012. In fact, she is Great Britain's most decorated Paralympian having won a staggering 22 medals, including 11 gold throughout six Paralympic Games! Her husband Barney broke the world record to win the B1km time trial last year as well. Talk about a power couple! Having had a daughter just last month named Louisa, the royal baby should consider dating their tot for the athletic genes alone!
4. Sarah Burton's Future Twins
English fashion designer Sarah Burton designed Kate Middleton's wedding dress when she tied the knot to Prince William in 2011. Now pregnant with twins, it would seem fitting that Sarah Burton's future children would become friends with the royal baby, if not more. A little advice though, just pick one of the twins and stick with that one! Sibling rivalries never end pretty.
5. Carla Bruni & Nicolas Sarkozy's Baby
Model Carla Bruni and former French President Nicolas Sarkozy will undoubtedly have one good-looking, smart, and successful child. This little one could be a good match for the royal baby, and could even potentially help foreign relations between the two countries even more so. Talk about serving your country!
Now that we've pared down the list of potential suitors, it's time to sit back, relax and see what happens... in 16 to 30 years from now. No rush kids, after all, People Magazine's Sexiest Man Alive of 2040 needs time to sew his royal oats.
Who would you pick for the baby of the ....century?
5 Play-Dates to Pass Up:
1. Channing Tatum's Daughter
With a dad like Channing Tatum, Everly Tatum is sure to be a daddy's girl. While there is nothing wrong with daddy's girls, I wouldn't suggest dating this one as the royal baby will not only have to face comparisons to Channing's looks and his dance moves, but his abs as well! And who can compete with that?!
2. Kim Kardashian & Kanye West's Daughter
Kim Kardashian and Kanye West's newborn daughter, North West, will likely be taken out of the running when the royal baby finds out he must sign a reality-show waiver in order to go on a date with the tot. Although a royal baby/North West relationship would make for a fabulous reality show!
3. Busy Phillips' Daughter
Busy Phillips named her second daughter Cricket Pearl Silverstein. While Cricket is actually a cute name (yeah, I said it!), I wouldn't advise dating someone named after an insect. Sorry, but it's just a personal rule. Would you date someone named "Beetle?" Exactly.
4. Jessica Simpson & Eric Johnson's Daughter
Although little Maxwell Johnson probably already dresses the part of a princess, and likely has quite the tiara collection (I mean, this is Jessica Simpson's daughter after all), her mother once famously asked if she was eating chicken or tuna while eating out of a can of "Chicken of the Sea." I think that automatically disqualifies her daughter from dating His Royal Highness.
5. Zara Phillips & Mike Tindall's Future Baby
She may be a respected British equestrian, but Zara Phillips (who is due to give birth in early 2014) is also the second-eldest grandchild of Queen Elizabeth II and Prince Philip. If you haven't read between the lines yet, that means she is also Prince William's cousin, making her child a very bad (and incestuous) choice for the royal baby to date.
Who would you add to the list?
More from GalTime:
The Pros and Cons of Pacifiers
Fergie and Josh Duhamel Expecting Baby Boy
Best Skincare Products For Babies
Jennifer Love Hewitt Reveals Pregnancy Cravings
Laura Seldon is a writer and journalist living in Los Angeles. She has written for Guess Inc., Rock The Vote, and JDate.com and now brings her talents to GalTime. Follow her on Twitter for fun and interesting updates on how to live your best life yet!