By Amelia Allen for GalTime.com
A bedroom is not just a room to sleep in, it is also an important space in your home where you have the opportunity to create a sanctuary -- a welcoming place you will enjoy spending your time relaxing.
One of the most popular and enduring designs is a vintage-look in your bedroom, which is something that you can create by combining some classic design elements with just the right colors and elements.
Here are some simple steps to achieve the vintage vibe: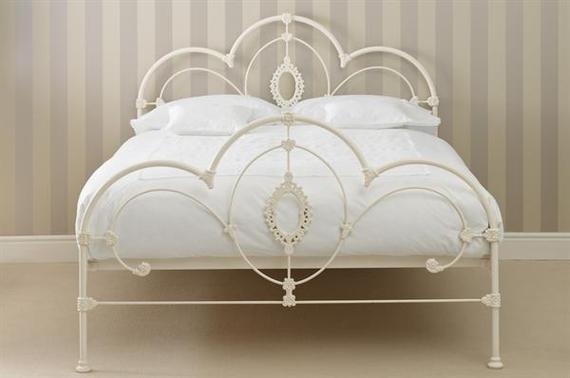 Somerset Bed Frame from Laura Ashley, £550
What is vintage?
Quite simply, vintage is a look that stubbornly refuses to date or lose its popularity. It absolutely exudes a sense of nostalgia and romance and is a look that is perfectly suited to being a real girlie boudoir.
You would typically expect to see a real statement piece like a stunning wrought-iron or French-style wooden bed, which can be found online, with accessories like feathers and fancy pillows combined with an eclectic mix of accessories for a shabby chic feel to your bedroom.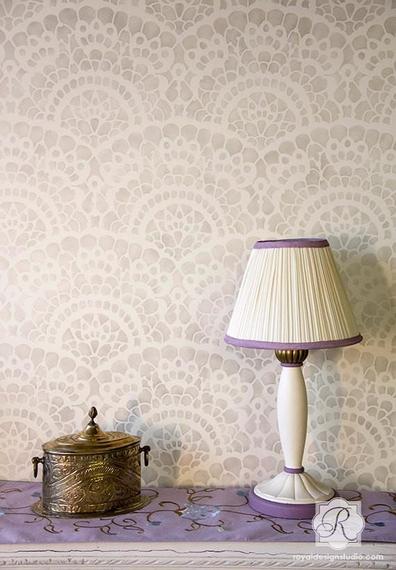 Lace stencil from RoyalDesignStudio, $49.95
Decorating your walls
You could paint the walls in a fairly neutral color or pastel shade and then use some clever design ideas to add a vintage look by creating a focal point.
You can use a wall stencil to create this focal point and one that works well for a vintage look is to stencil an area with a lace design, which should be rolled lightly and unevenly to achieve a fade vintage look.
Once you have your lace-design stencil panel on the wall, you could add some fancy brass hooks dotted around this area and then hang some of your favorite jewelry pieces on them. This will not only look great and add a vintage effect but it is a practical solution as well, especially if you are a bit short of storage space.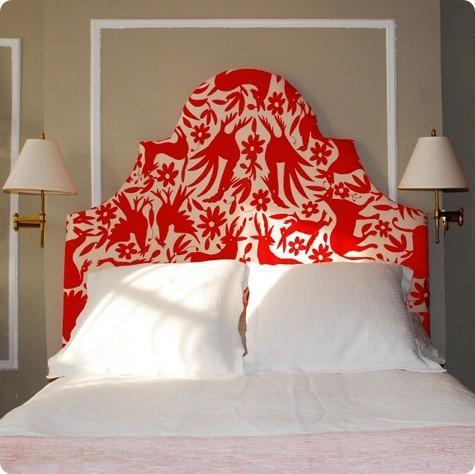 Fabulous DIY headboard (with tutorial!) by DesignSponge
Design your own headboard
One of the main features of designing a vintage bedroom is that you can defy convention and add your own style and ideas, to create a unique shabby chic look that is not as hard to do as you might actually think.
Designing your own headboard is a typical example of an idea that you can do more easily than you think and the end result will add a uniquely personal touch to your bedroom.
More from GalTime.com
5 Tips on Brightening Any Home With Flowers
5 Simple Tips to Create Your Own Haven at Home
3 Stylish Decor Trends
Hottest Design Colors of 2014
Amelia Allen is always looking for new decorating and design ideas. When she find some she likes, she shares them with you!