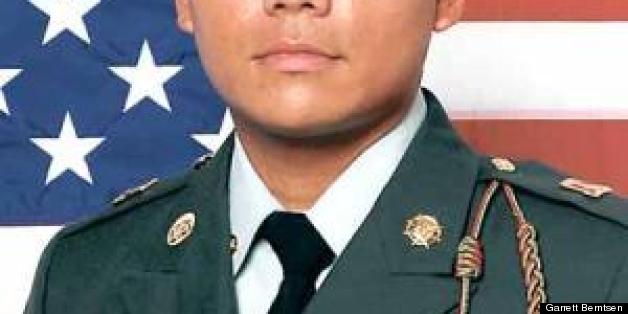 In the late summer of 2010 I stood in front of the Geligs' home in Stevenson Ranch California. My hair was within Army regulations but my face showed a week's worth of vacation scruff and my neck and hands were still brown from the Afghan sun. Seven months before, I'd lost a member of my platoon to a Vehicle-borne Improvised Explosive Device. His name was Sergeant Ian Gelig, and I was about to knock on his family's door.
I arrived at Fort Bragg a month before my unit was scheduled to deploy. In the flurry of pre-deployment activity, I barely met all my soldiers before we said goodbye to our families and took off for Kandahar. On the final leg of our trip, we flew at night from Kyrgyzstan to Kandahar in a blacked out C-17. As I sat amongst the soldiers whose lives would depend on my choices for the next 12 months, the enormity of the task began to rush over me. It felt like everything in my life of 23 years had been leading up to this challenge, and for the first time the sheer weight of that pressure began to cause me physical stress. As most of my soldiers slept, I couldn't stop tapping my foot on the ground, and I felt my body temperature rise and my mind begin racing. I'd never had one before, but I was pretty sure I was having an anxiety attack.
Sitting next to me, Sergeant Gelig had headphones in and was bobbing casually to his music. In a combination of his innate kindness and his casual California attitude, he took his headphones off and turned to me. "Hey sir, you alright?" He asked. "Yah, I'm alright," I lied. "Don't worry sir, you're gonna do just fine. You seem to really care, so I think you're gonna do fine," he assured me with a smile and returned to his music.
The confidence of one of my soldiers at a time when I was feeling overwhelmed helped me regain my composure. I would come to find out over the next six months that this was not a rare moment for Sergeant Gelig; this was simply who he was. A calm, confident, competent and kind Paratrooper who was loved and respected by everyone that knew him.
Ian Gelig had been deployed once before. From 2007-2008 he had been a part of the surge and spent 15 months in Iraq. He'd already been awarded a Combat Action Badge and the Army Commendation Medal for his service in Iraq. When he got home he was sent to the 82nd Airborne Division and stop-lossed prior to our Brigade deploying. The day he died, he was five days away from the end of his service commitment.
When Dalia Gelig welcomed me into her home, I immediately saw a memorial to Ian with a picture of him in his green dress uniform and maroon beret. He had an atypically blank look on his face. Before deployment, every soldier cycles through a professional photographer to take what we dryly called our "Death Photos." Soldiers are generally directed not to smile, and in this case the look just didn't fit Ian's usually cheerful countenance.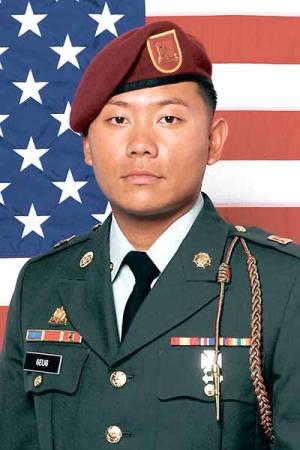 We sat on couches around a coffee table covered with scrapbooks memorializing Ian. "You're so much younger than we expected," Mr. Gelig said. "How old are you?" He asked. "I'm 24," I responded. "You're younger than Ian, he was 26. You're all just so young," he said shaking his head. They thanked me for coming.
They wanted every shred of information I could provide, every story, every glimpse into his last months and days. I gladly gave them everything I could, sensing their desperate need for any scraps of information about their son's last months. I only wished I had more to give them.
I told them that he was an exemplary Paratrooper. That because he was older than the rest of my junior enlisted soldiers he had been a mentor, almost a big brother to many of them. I told them he had never complained, that he simply always got it done, no matter what "it" was. I told them that he always volunteered when nobody else would, and that he did just about everything with a smile on his face. I talked about his sense of humor: that he was quick with a joke and loved to laugh.
By their reactions, I could tell these were not new revelations. Ian had been this way his whole life. He had always been a "big brother" figure because he was the big brother to two sisters, Liana and Vanessa. He had always been a joker, a calm and easygoing guy, and was never one to complain. In the corner of the room stood a blown up photo of a very young Ian, perhaps straight out of Basic Training. His helmet strap is undone and his helmet is canted slightly on his head. He has a goofy grin on his face, as if the photographer caught him mid joke. I began to cry and my soldier's mother, maybe half my size, hugged me.
Three years and another deployment to Kandahar later, I separated from the military. Shortly after, I planned another visit to the Gelig family in California.
When I stepped into their home the second time, nothing about the physical space had changed: the shrine to Ian, dozens of photos, his scrapbooks, and the blown up photo of him in the corner were all unmoved. I piled into the Gelig SUV and we headed to the cemetery where Ian is interred in a mausoleum. The Geligs popped their trunk and took out camping chairs; this was a well-practiced family ritual. We set them up around his grave and talked idly.
"Are you Catholic?" Mr. Gelig asked me. "I was raised Catholic, but I haven't been to church in years," I admitted. "We are going to do the rosary, and we'd love it if you did it with us," he said.
I believe in God the Father, Almighty, Maker of heaven and earth:
And in Jesus Christ, his only begotten Son, our Lord.
I sat quietly with my eyes closed and said nothing, but in my head I heard the words echoing back to me from my childhood. When we were done Mr. Gelig handed me a rosary. "I want you to have this, maybe you will need it and maybe you won't, but I want you to have it," he said.
We spent that evening eating Korean BBQ in Los Angeles and talking about a range of things; how Liana and Vanessa were doing in school and that Mrs. Gelig was going to retire soon. They told me about a Gold Star Family event they had gone to in Washington D.C. where Vice President Biden had spoken about overcoming loss. They asked me about my plans for the future. We commented that the past three years had flown by.
"You must stay in touch with us. It's been three years already. You seem so much older," Mrs. Gelig said.
I feel older.
"Ian would be almost 30 right now," Mr. Gelig commented.
He would still be so young.
Garrett Berntsen served five years in the United States Army with the 82nd Airborne Division. He is the editor of the Joint Security Blog and will be attending Johns Hopkins School of Advanced International Studies starting this fall.