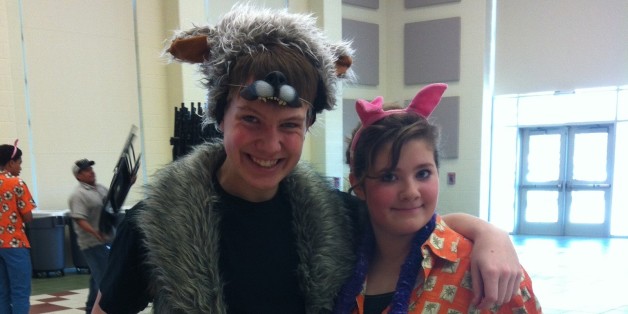 Like a lot of teen fiction novels begin, so does this story. A story about a boy meeting a girl -- a new girl at school on the first day of the eighth grade.
She walked into my theatre class, an advanced theatre class which required an application and acceptance by our teacher. Curious as to how exactly she got in, I started to interrogate her like any big-headed theatre kid would. I asked how many productions she had been in and decided she was qualified for our class.
Upon interrogation we realized just how many similarities we had between us. Our taste in music and life philosophy was practically identical. Needless to say, we became best friends by October.
Eighth grade continued, and we went on many an adventure together, laughing the whole time. Our friendship got deeper and deeper as the days passed. And then, out of the blue, she told me her family was moving.
I figured that she meant she was moving to a nearby neighborhood, suburb or across state lines at the worst. Tragedy hit me as she told me she was moving to Canada because of a job opportunity for her parents and that that was where her family lived. I was hurt, angry and sad. A whole cocktail of negative emotions mixed within me.
We agreed to live the rest of our time together to it's fullest potential. We spent as much time together as time would allow with picnic lunches, walks and just talking and listening to music.
I last saw her July 12 of last year: 250 days ago. Not a day has gone by where I don't think about my best friend, what we'd be doing if she was here, how my life would be different if she had stayed. "What if" questions taunt me at night. Not having my partner in crime by my side is hard. She's the one who knew how to calm me down when someone made me mad. She's the one who knew how to take a step back from the world and breathe for a second.
I'm extremely thankful to be living in a time of social media, video calling and various messaging systems, even though her WiFi doesn't work all the time. Writing a letter takes a little over a week to reach her little town of Caroline, Alberta. I write her often, but being able to have a conversation on Facebook is certainly a lot more ideal.
I'm visiting her this summer. We already have a list of activities that we have planned for my stay. Maintaining our "best-friend-status" relationship is hard, but best friends are more than able to overcome obstacles that threaten their friendship. No one, no amount of distance, no circumstance can break the bond we share.
Ivy, I miss you and love you bunches.