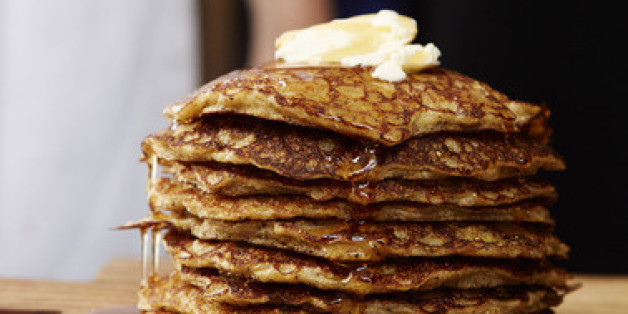 Zoe Nathan is the chef-owner of Huckleberry Bakery and Cafe. Along with her husband, Josh Loeb, they also run Rustic Canyon Wine Bar and Seasonal Kitchen. Huckleberry is beloved throughout Santa Monica for its American-style comfort food and lines out the door aren't uncommon. As such, it was only a matter of time before this cookbook was born.
I called up Nathan, a perky and affable chef who honed her chops at Tartine in San Francisco and Lupa in New York City, and picked her brain a bit about her new cookbook, Huckleberry: Stories, Secrets, and Recipes From Our Kitchen. A very breakfast oriented cookbook with popular recipes and expert photography shot by Matt Armendariz, Huckleberry is sure to delight any avid home baker. For those of you who want a taste from the cookbook, you can find a recipe for brown rice quinoa pancakes at the end of the interview.
What inspired you to write this cookbook?
My family. Things are always changing over here. At first I was always in the kitchen and then I had kids and was at home more. Baking at home became more fun and I loved the idea of having my food with friends and family. I thought it would be really awesome to have a great book of recipes that people could make and tweak into their own for their families.
How did you pare down what recipes you wanted to include in your cookbook, Huckleberry?
Really, I just put in my favorites during the first pass. After that I tried to fill it in and make it feel even so it had all the seasons covered and the book could be used year round. It's also a history of Huckleberry. For example, Huckleberry doesn't serve pancakes anymore so this book's pancake recipes are a chronicle of what we were and what we are now.
Huckleberries aren't something most people are familiar with. How did you choose this name for your business, and from there your book?
My husband and I chose the name Huckleberry because it's an American bakery. I've learned all about French cuisine and there are plenty of French bakeries, but I feel this place is so American and Californian. I didn't want it to sound like something it's not.
Aside from the eating what makes cooking so enjoyable for you?
For me, I find it really relaxing. I love it. I love what I do. I love it because it keeps me present and in the moment. It makes me use all my senses. I like giving people jobs and shooting the shit with them. I like creating food with my husband. I love cake batter and I love sticking my fingers in the cake batter.
As it goes with cookbooks there's almost always a deadline that caused a recipe to get left out or a recipe that just didn't get perfected in time. Was there a recipe you wish had made it into the book?
We had a lot of traditional bread recipes and a descent dough chapter but it all got cut, sadly. The one other recipe I wish had made it in was a whole wheat raspberry butter cake. The publishers felt it was too dessert-y, but I think you can eat it anytime. It has so much butter and it's just so good.
How would you encourage a nervous new baker to gain confidence in the kitchen?
I would say follow these recipes to the letter two times and then stop following them once you're familiar with the recipe. Mess with it and realize that baking isn't about being perfect. It's about enjoying yourself. All those rules and the expectation of being perfect take the fun out of it. If you screw up, who cares? There's always Ben & Jerry's.
What was one of the best things you've eaten recently that wasn't something of your own?
We often eat at our other restaurants. Recently, some roasted carrots with curry and yam puree at Rustic Canyon was just amazing.
You're stuck on a desert island and can only have bacon or eggs for breakfast the rest of your life. Which do you choose and why?
Ooo, eggs for sure. I can whip up eggs for the rest of my life a million ways. No question! Though I would miss bacon...
I have company coming over in a half hour. What recipe should I make from Huckleberry?
A bunch of those egg dishes. Smashed avocado toast, and there's a ton of sandwiches. So easy and so fast.
What is the difference between a hoecake, flapjack, pancake, and griddle cake?
Honestly, you can call them all the same thing. I don't think there's a difference. Is that horrible? They're all just pancakes.
I learned [the importance of naming recipes] from my husband. I'm a kitchen person through and through, but my husband has taught me that you need to give a good name to something to create memories. In the end, though, I think it's just a bunch of pancakes. *laughs*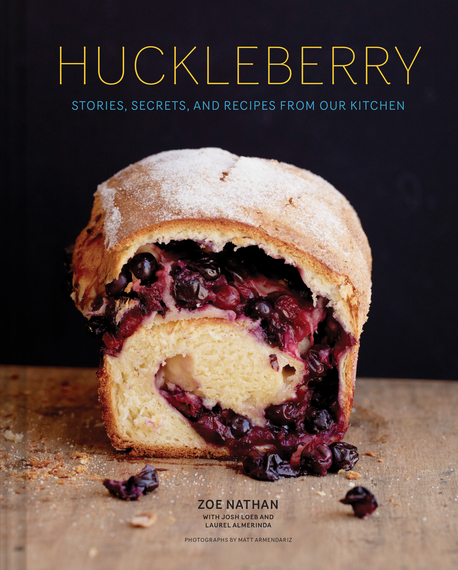 Brown Rice Quinoa Pancakes
Occasionally I make something I love so much that I literally want to eat it every day, and that's how I feel about these. I like them as straightforward pancakes cooked on a griddle, but they're also really good as a large baked pancake. Pour all the batter into a buttered cast-iron skillet, bake at 450°F/230°C for about 15 minutes, and serve immediately straight from the skillet slathered with butter and maple syrup. It's a fun way to eat a pancake with a group.
These should be your go-to breakfast anytime you have leftover rice. And if you're not up for cooking quinoa, you can always use all brown rice, but I will say if you choose to use just quinoa, the flavor can be a little overpowering.
It is mandatory to serve these with maple syrup, but, honestly, you don't even need butter these pancakes are so good.
1⁄2 cup/60 g whole-wheat flour
5 tbsp/50 g cornmeal
2 tbsp rolled oats
1 tbsp flax seed meal or wheat germ 2 tsp chia seeds or poppy seeds
1 tbsp millet
2 tbsp brown sugar
11⁄2 tsp baking soda
1 tsp kosher salt
2 cups/480 ml buttermilk
1⁄2 cup/110 g unsalted butter, melted
3 eggs
11⁄4 cups/200 g cooked brown or wild rice
1⁄2 cup/100 g cooked quinoa
1. Put the whole-wheat flour, cornmeal, rolled oats, flax seed meal, chia seeds, millet, brown sugar, baking soda, and salt in a large bowl. Add the buttermilk, melted butter, and eggs and whisk to combine. Stir in the rice and quinoa.
2. About 5 minutes before you're ready to make the pancakes, pre-heat a greased griddle or large skillet over medium-high heat; the griddle is ready when a few droplets of water sizzle and dance across the surface. But once heated, lower the heat to medium to prevent burning.
3. Drop 1/3 cup/80 ml of batter on to the hot griddle. When bubbles set on the surface of the pancake and the bottom is golden, flip and cook for about 1 minute longer. Serve immediately, while hot.
These are best the moment they leave the griddle.