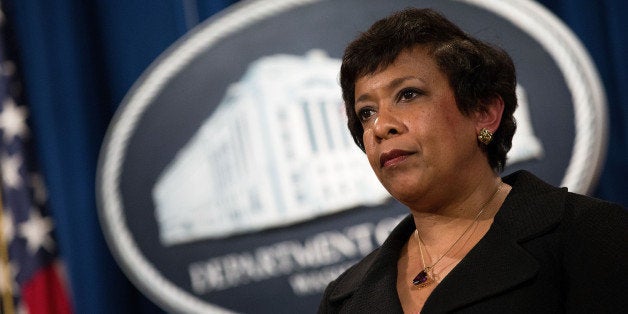 "When we speak we are afraid our words will not be heard or welcomed. But when we are silent, we are still afraid. So it is better to speak."
This Monday those words from civil rights activist Audre Lorde echoed through my head as I watched Attorney General Loretta Lynch announce the US Department of Justice's decision to bring suit against North Carolina for violating federal civil rights laws with the enactment of House Bill-2, (more generally known as the "Bathroom Bill"). Attorney General Lynch in her brief, yet powerful remarks stated:
What we must never do is turn on our neighbors, our family members, and our fellow Americans for something they cannot control and deny what makes them human. This is why none of us can stand by when a state enters the business of legislating identity and insists a person pretend to be something or someone they are not. This is not the first time we've seen discriminatory responses to moments of progress," she remarked. "This law provides no benefit to society. All it does is harm innocent Americans..... this country was founded on equal rights for all.
I thought of the work we have done in this area here at Simmons College - and the work yet to come.
In an email to the community announcing the inclusive policy, Simmons President Helen Drinan stated:
In recent years, we have seen an evolution in societal norms surrounding gender identity and expression. Traditional notions of womanhood and femaleness are being challenged, and new laws are emerging to protect transgender individuals, i.e. those who do not subscribe to the traditional gender binary. Our undergraduate admission policy offers transparency and guidance for applicants. It signals our commitment to the inclusion of transgender individuals, and eliminates questions for qualified applicants seeking a Simmons undergraduate education. The admission policy communicates to our community and to the external world that we strive to be a welcoming place where a range of gender identity and expression can exist; and was "consistent with the mission and history of Simmons College as an institution that fosters inclusion and welcomes diversity within our community.
The work of the Task Force has also resulted in the placement of signage on bathrooms across the campus identifying what in some instances were formerly "Men's Rooms" as now "Gender Inclusive Restrooms."
As I listened to our nation's Attorney General it was not lost on me that before us stood this cisgender, heterosexual African American woman -- herself a daughter of the 'Tar Heel' State, born in the era of Jim Crow laws -- who in her brief, yet powerful indictment of North Carolina's discriminatory policy has become the nation's most prominent advocate for the rights of transgender individuals.
At the end of her remarks she said:
Let me also speak directly to the transgender community itself. Some of you have lived freely for decades. Others of you are still wondering how you can possibly live the lives you were born to lead. But no matter how isolated or scared you may feel today, the Department of Justice and the entire Obama Administration wants you to know that we see you; we stand with you; and we will do everything we can to protect you going forward. Please know that history is on your side. This country was founded on a promise of equal rights for all, and we have always managed to move closer to that promise, little by little, one day at a time. It may not be easy - but we'll get there together.
This past Monday, Attorney General Lynch spoke, and the nation listened.