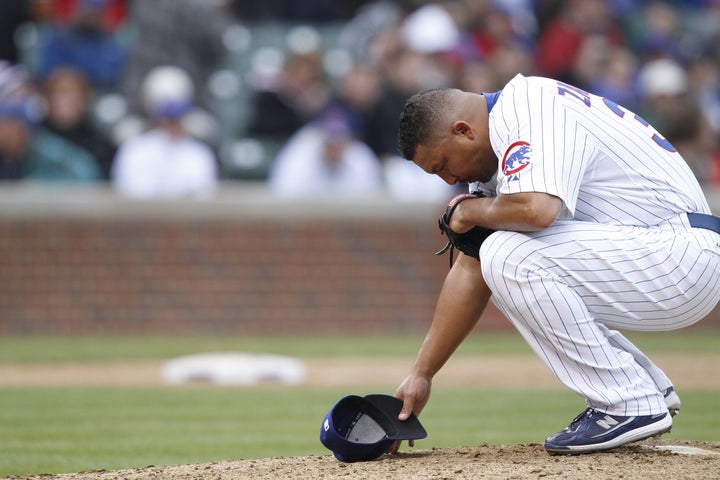 Springtime is here. The buds are blooming, the temperature is warming, and allergies are surging. It is also the beginning of one of the year's most profound and powerful religious seasons. No, I'm not talking about Easter for Christians, Passover for Jews, or the Spring Equinox for pagans. I'm talking Baseball.
How can a sport be religious, you ask? Am I simply talking about good Christian players who thank God for every win and pray when someone gets hurt? As with most religious activities, it's rather complicated to explain and requires, at least momentarily, a suspension of questions about true vs. false religion.
In a new book, "Baseball as a Road to God: Seeing Beyond the Game" by John Sexton, president of New York University, along with Thomas Oliphant and Peter Schwartz, the connections between baseball and religious experience are compellingly presented to the reader. They argue that the game -- the game -- has a spiritual essence, like most religions, which is ineffable, or indescribable, but palpable and deeply meaningful for fans and fanatics.
As the title makes clear, "God" is at the heart of this spiritual essence, but it is important to note that Sexton, who demonstrates the benefits of studying religion comparatively and theologically, may not have the tradition-based biblical God the father in mind. The liturgical nature of the season; the hallowed spaces surrounding the "axis mundi" or sacred center of the baseball diamond; the philosophical and contemplative reveries associated with the sport -- all of these elements that we generally assume to "count" as religious elements are highlighted here to make a case about the spirituality embedded in the game.
While many are questioning Sexton's leadership as a university president (he recently received a vote of no confidence by the faculty of Arts and Sciences at NYU), "Baseball as a Road to God" raises many pertinent questions about the form and substance of religion in our world today.
In my own book, "Sacred Matters: Celebrity Worship, Sexual Ecstasies, the Living Dead, and Other Signs of Religious Life in the United States," I also look at sports as an important source of sacred commitments and experiences for many Americans -- not for all, and not at all times; and not as a substitute for going to church, and not as singular aspect of religious identity. But for some people, in certain circumstances, baseball -- as well as football, basketball and, of course, soccer (you have heard of the Church of Maradona?) -- is religious.
And the point that may be hardest to comprehend, and that goes back to the earlier point about "suspending judgments" about right and wrong religion, is that it can be religious without God. Baseball, like many other sports, embodies lessons about values and morality; can lead to experiences that are pivotal and transformative; provides an avenue for transcendence; identifies saints and heroes who achieve a divine status; gives meaning and purpose to life, and so on. If those kinds of characteristics do not add up to "religion" with or without God, I don't know what does.
What truly makes baseball a potentially religious phenomenon is not the presence of God, but that on a more basic level it can be sacred. In other words, it has a special power that has social value, binds communities together and makes transcendent, transformative individual experiences accessible to followers. In our world of rising "nones," ongoing religious extremism, decreasing moral authority of traditional institutions, never-ending scandals and hypocrisies, and other signs of traditional religion being turned upside down and inside out, what counts as sacred is up for grabs, and defies outdated norms about "true" religion versus "false" religion.
What is sacred to you? The nation and the American flag? Guns and the Second Amendment? Seeing a band live in concert, like Wilco? Sex and a right to marry the one you love? Sexton helps us to see the religious dimensions of baseball as a sacred activity, an argument that makes some people find comfort in their spiritual attachment to the game -- even, I would guess, atheists.