In fundraising, momentum is key. Maintaining awareness -- and, hopefully, support -- of a particular cause is the great challenge that faces any nonprofit organization. We strive to create and preserve a sense of urgency surrounding chronic societal issues that may only occasionally elevate their way into the public eye. This dynamic presents opportunities to tell success stories that can bring positive attention to long-term problems that may not necessarily be en vogue.
Hurricane Sandy is a useful and relatively recent case study. In the days and weeks following the historic superstorm, the terrible damage was headline news across the country. The around-the-clock coverage served as a de facto fundraising campaign that drove millions of dollars in donations, as news anchors shared with viewers how to donate with just a few mouse clicks or taps of a cellphone.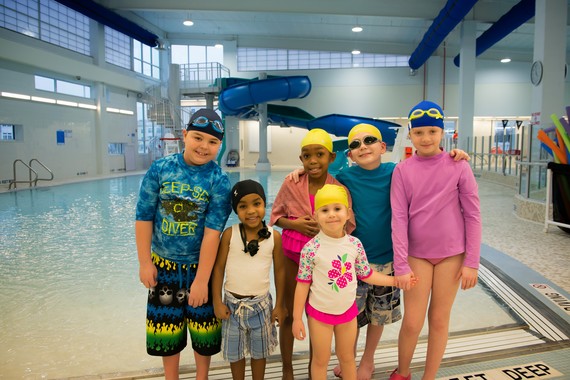 Feeling Groovy -- and learning the importance of water safety -- at the new Rockaway Y.
Sandy also brought to the fore a number of concerns that the YMCA and many other community organizations have been involved with for years, including hunger, housing, unemployment and education. Sandy drew newfound attention to these vital topics, and for a time nonprofits working in those spaces were rewarded in the form of increased donations, volunteerism and media attention.
While the flurry of support helped victims of the storm, the onus was -- and remains -- on philanthropic organizations to keep people aware of the longstanding problems facing the region and the good work they are doing to address systemic needs. It is nearly impossible to recapture the attention that arises in the immediate wake of large-scale emergencies. Nonprofits can, however, use a well-organized, overarching communications strategy that conveys the importance of fighting problems that are no longer "top of mind."
One useful strategy is to focus on positive stories rather than reiterating the problem over and over. Weighty issues must be treated as such, but it's essential not to deploy communications messages that are overly negative. Not only can such an approach present a philanthropic group in a gloomy light, it often leads to "donor fatigue" -- a phenomenon that can sink even the strongest fundraising campaign for the worthiest cause.
Instead, identify positive stories -- preferably about the people who benefit from your organization day in and day out, or about those who work hard to fulfill its mission. Human stories resonate in powerful ways, and allow philanthropic entities to maintain support for an issue even if it isn't particularly newsworthy at the time. Consider spreading such stories through physical and digital newsletters as well as social media dispatches.
Another tactic is to find opportunities to be part of the ongoing conversation. While Sandy may have struck years ago, occasions like Hunger Action Month provide a platform for nonprofits to raise their cause into the public dialogue. Be prepared with initiatives -- whether in the form of events, thought leadership activities, or anything else that drives attention -- that capitalize on the sense of urgency that can dissipate so quickly.
Most importantly, a group can maintain momentum simply by executing on its mission over the long term. Philanthropic bodies that do their due diligence on a consistent basis are well-positioned to stand out in a positive way during times of heightened attention. At the YMCA, plans for the new branch in the Rockaways were underway long before Sandy. When the storm caused severe damage in the area, we ratcheted up our efforts to meet emergency community needs, including using certain Y branches as emergency evacuation facilities for displaced New Yorkers, distributing over 1,000 book bags filled with school gear in communities hardest-hit by the storm, and running two after-school programs at sites on both sides of the Rockaways peninsula. All those efforts could be considered prologue to the Y Rockaway branch opening in February 2014, solid proof of the organization tagline, "we're here for good."
While not every nonprofit works in the emergency response space, most all philanthropic organizations can seize upon people's genuine desire to help during times of stress and sustain their sense of mission over the long term. In other words, I respond to a crisis, and stayed for long-term problem-solving.