Colin Powell was quoted as saying to President George W. Bush and company, "If you break it, you own it."
During the last session in Tallahassee, a common talking point from the Republicans was that "Medicaid is a broken system," and that expanding it would be folly.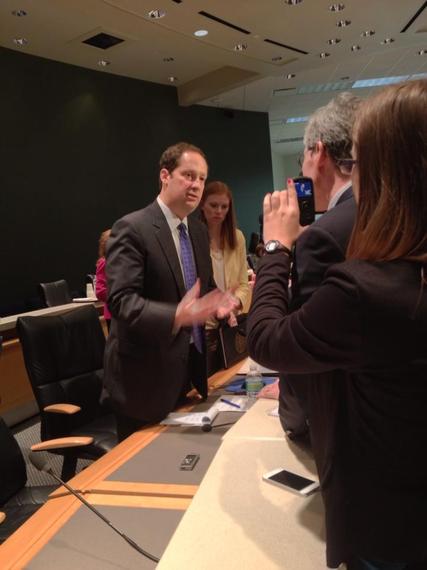 Sen.Joe Negron (R)-Stuart explains to reporters the reasoning behind the rejection of medicaid expansion and a state-run exchange. Photo by Gary J Stein
Medicaid is by no means perfect, nor was it meant to be. In fact, both Medicaid and Medicare were railroaded through Congress by Lyndon Johnson, who knew that to slow the process would kill the bill.
A bill like Medicaid "is like a dead cat," he said. "Don't let a dead cat stand on your porch. Put some life into it or bury it"; otherwise, it will stink.
He knew that if a five-year cost projection became public, Congress would kill it. But he also knew that it was the best way to get the most coverage to the most needy people for the least cost, in part by making the states pay for part of the program, based on average per-capita income. In Florida, the federal government currently pays 54 percent of Medicaid costs.
As a tip of the hat to President Harry Truman, who tried but failed to put through a national health insurance plan, Johnson quickly traveled to Independence, Mo., to sign the bill. Medicaid, which was listed as voluntary in the law, was adopted by all 50 states.
Americans have been using Medicaid for almost 50 years.
But if, as the Republicans in Tallahassee stated, Medicaid is broken, then who broke it?
The federal government may have established Medicaid, but it gave the states the job of running it. Each state has its own individualized program, with different rules and regulations, making federal oversight difficult, if not impossible.
One problem has been an inability of the Centers for Medicare and Medicaid Services (CMS) to properly oversee how well the states have been monitoring their Medicaid programs.
In 2009, the Department of Health and Human Services' Inspector General's office claimed that CMS "hadn't enforced a requirement that states collect and report data that gives detailed information about services provided to individual Medicaid managed care patients."
However, on the state level, Matt Salo, executive director of the National Association of Medicaid Directors, noted that states tend to focus on paying doctors and hospitals for each service they provide. However, there is little monitoring and oversight, other than for fraud and abuse.
So it is really up to the states, not only to implement Medicaid, but to monitor it as well, and report to the federal government.
Fee-for-service programs have had problems with state monitoring of quality of care. But across the country, there has been even more consumer advocate outcry over the national hodgepodge of rules regulating the Medicaid Managed Care programs, a change that many states, including Florida, have made to tweak the system.
The Jeb Bush administration set up a five-county experiment in rural Florida with Medicaid managed care. However, a study at Georgetown University in 2011 noted, "Little data is available to assess whether access to care has improved or worsened," and there is no "clear evidence" the program was saving money and if it was, it was unclear "whether the savings came at the expense of needed care."
In June, the HHS gave Florida the full waiver to put all of its Medicaid clients into managed-care programs, with contracts to 20 different programs.
So it appears that if Medicaid is broken in Florida, then the state must be responsible.
In consideration of how the Affordable Care Act's Insurance Marketplace has worked since October 1, it is obvious that the states who opted for a state-run Marketplace are doing far better than those states that deferred to the federally-run system. Therefore, in hindsight and based on the current state of healthcare.gov, we can hold the Florida legislators partly responsible for this problem, as well.
And if the expansion of Medicaid managed care to 67 counties fails to provide quality care to its users, as well as streamlining costs, they will "own" this one, too.
This column was originally posted in the new political commentary and news e-magazine, Context Florida, and Health News Florida, an intiaitve of the University of South Florida.