Here's a quick quiz: The Charlotte's Web bill that the Legislature passed in the last days of the session is:
a) an avalanche.
b) a "Pandora's box."
c) the first step to legalizing recreational marijuana in Florida.
d) a harbinger of a vast industry that will let thousands of starry-eyed investors make a ton of money fast.
e) a reason not to vote on Amendment Two in November.
f) none of the above.
The bill, which is sitting on Gov. Rick Scott's desk awaiting a promised signature, has been called all of those things.
But the answer is a definite "f."
Rep. Dennis Baxley, R-Ocala, chairman of the House Judiciary Committee, had opposed connecting the Charlotte Web language in a bill that reduces minimum mandatory sentences that passed both houses. He did, however promise to allow the stand-alone bill to come before his committee, the last step before heading to the House floor.
However, he opposed it even though it passed in his committee and on the House floor, stating that "I pray that this bill does everything intentioned for it," (end the suffering of thousands of children with intractable epilepsy) but worried that it may also be "the rifle-shot that begins an avalanche... I don't have the stomach to pull that trigger."
Rep. Darryl Rouson, D-St. Petersburg, who once had a drug addiction, also had reservations and worried that the bill may be a "Pandora's box." He recognized that it was not about marijuana and addiction as much as about quality of life.
Against my own personal feelings about Pandora's box... I hope that the message goes forth, not that it's OK about opening Pandora's box, but that we care about quality of life, and I'm willing to err on that side.
Those two statements from one of the most conservative members of the GOP in the House and one of the more liberal Democratic members demonstrate why answers "c" and "d" are wrong.
Getting the bill passed was a massive feat of "threading the needle" by conservative Rep. Matt Gaetz, R-Shalimar, and prime co-sponsor Rep. Katie Edwards, D-Plantation.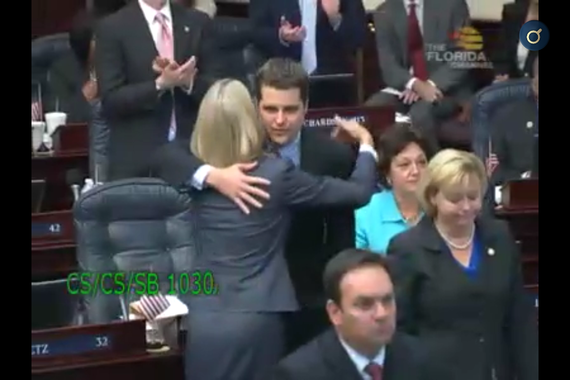 Rep. Gaetz after the final House vote on the Charlotte's Web bill. Photo courtesy of The Florida Channel
More than once, Gaetz said that the bill was a "cautious walk forward," but that it provides a foundation that can be built upon.
Just before the House vote, Gaetz offered an amendment to include "cancer or a physical medical condition that chronically produces symptoms of seizures or severe and persistent muscle spasms that can be treated with low-THC cannabis." Any doctor who orders the low-THC oil without a reasonable belief that the patient is suffering from such a disorder could face a first-degree misdemeanor charge.
Anyone knowledgeable about the bill knows that it's the cautious walk the Gaetz described and that it has nothing to do with recreational marijuana. To those who think that this be will be the beginning of their chance to start singing, "Light Up, Everybody," I'm sorry to be the bearer of reality.
To all those who have already started to pump mega-funds into starting a Ganga-prenuerial "Green Rush," you need to take a step back.
To those who think that this bill is the start of a get-rich-quick industry, you either don't know much about the Florida Legislature or you're from out of state, which many of the potential marijuana growers are.
First, note how narrowly this bill was drawn. To have a dispensary, you would have to be a Florida nursery with at least 30 years of business in the state and the ability to grow 400,000 plants. Of 7,001 nurseries in Florida, only 21 qualify and only five will be chosen from five regions of the state.
These are the same legislators who will be working on the rules regulating medical marijuana if Amendment No. 2 passes, which polls show is likely.
Legislators' eagerness to restrict the production and distribution of medical marijuana hasn't stopped out-of-state companies like Cannabis-Rx (CANNA) of Scottsdale, Ariz. from buying nine acres and three buildings in Sarasota for $1.3 million. The company calls the site "an ideal location for a licensed grow facility and/or distribution center."
I wholeheartedly agree with the legislators that are trying to create a Florida industry based on compassion. If this is to be Florida's industry, Floridians need to profit from it, not businesses from California, Colorado or Arizona.
Jeremy Bufford, a 33-year-old IT consultant who opened the first marijuana university based in Florida, estimates the potential early market in Florida at 100,000 users and $6.5 million a week. He bases his estimates on results in California, which he believes operates under a system similar to the one allowed by Amendment No. 2.
But if you think that Florida is the same as California, you need to check your facts. You just failed my quiz.
Gary Stein, MPH, a native Detroiter, worked for the Centers for Disease Control, landed in the Tampa Bay area to work for the State Tobacco program and is now a health advocate and activist and blogger for the Huffington Post. Column courtesy of Context Florida