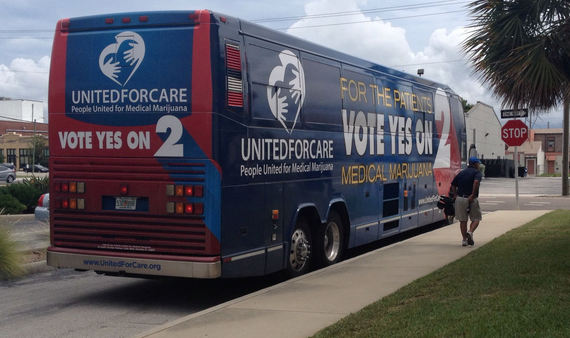 The United for Care Tour Across Florida bus in Tampa. Photo by Gary Stein
As Election Day approaches, the backers on both sides of the ballot initiative for legalizing Medical Marijuana in Florida, otherwise known as Amendment 2 are really getting fired up.
It's a battle of wits, money, compassion, money, politics and money and of course, the people who are donating the money.
A lot of big money donors have fueled the Say No to 2 campaigns. In just one week in mid-September alone, over $1.9 million in ad buys graced our airways to inspire and confuse us. The Say No on 2 folks used such arguments as "the next face of date rape in Florida will look like a cookie, "caregivers will be drug dealers" to their favorite statement without facts, "Amendment 2 is flawed."
In this case, money is converted to ad time which generates raw emotion. It is the hope of each side that those emotions will drive their believers to the polls.
Sheriff Don Eslinger of Seminole County working with dontletfloridagotopot.com told the News Service of Florida, "The intent is to, obviously, inform Floridians of the amendment and how it's flawed. And I think it's going extremely well." When asked why, he stated, "Well, because --- read the amendment. It's flawed ... people understand that it can't be fixed if there's some unintended consequences."

When a bill was written in the spirit of Amendment 2 last session, it morphed from Amendment 2's single-page of text to 170 pages of rules and regulations. Given the chance, I doubt that Florida legislators would leave it as a one-pager, but I'm sure the opposition's ads won't be broadcasting that prediction.
The opposition has a long list of big donations from entities like drug companies that stand to lose initially if Amendment #2 passes. But the biggest funder for these ads on the "No" side of the debate isn't saying a thing. Sheldon Adelson, the casino magnate and the 8th richest man in the world has now given four million dollars but this money is not coming with any speeches, leaving the media to guess his motives.
It has been touted that Mr. Adelson is still reacting to the death of his son, Mitchell, who died in 2005 of a drug overdose at age 48 after many years of cocaine and heroin abuse. Adelson's other son, Gary, has also struggled with similar addictions.
It is hard to fathom the amount of grief Mr. Adelson has suffered from the loss of his son, as well as the acknowledgement that all of his money could not stop this tragedy. Even before Mitchell's death, he became very active in supporting addiction research, and married an Israeli doctor in 1991, who specializes in addictions, in 1991.
When people try to guess Mr. Adelson's motives, they need to take into account is that all of his years of supporting research and living with an expert on addictions most likely gave him the knowledge that marijuana is not a "gateway drug," nor has anyone ever died of an overdose of the herb, making the legalization of medical cannabis a totally separate issue from concerns regarding the disease that lead to his sons' addiction and one son's death.
A more astute pundit would recognize that Mr. Adelson put out over $100 million to support the candidacies of Newt Gingrich and Mitt Romney in 2012, and millions more to other conservative races, making politics a far more reasonable motive. Mr. Adelson, who changed from a registered Democrat to Republican in 1996 because he felt the Democratic party was losing interest in supporting Israel, has always made it known that his philanthropy usually has personal goals. His neurological problem that affected his ability to walk in 2002 led to an innovative multi-million dollar research project where researchers were recruited and directly funded if they were willing to actively collaborate.
Many of his donations have revolved around Israel -- the current world leader in medical marijuana research. He has given hundreds of millions to researchers at the Adelson Center for the Biology of Addictive Diseases at Tel Aviv University. The Center has made advances in studying how marijuana and its associated chemicals can potentially mitigate brain injuries and reduce the symptoms of degenerative diseases like multiple sclerosis and Parkinson's.
Therefor, to me,the political goal seems far more believable.

On the other side, the big donor is John Morgan, of the Morgan & Morgan law firm. He has been far more vocal about his motives. He had seen how use of medical marijuana helped reduce the immense pain of his paralyzed brother Tim and helped his ailing father, who survived three more years than anticipated by doctors after being diagnosed with cancer.
But Mr. Morgan expected to be leading the charge to fund this effort, but found himself as one of very few large donors. The vast majority of funds for "yes" campaign are coming from thousands of small donors, including a number of donations from corporations, lawyers, entrepreneurs and individuals who would profit if they were given the chance after the Amendment passes.

Conspicuously missing from the list are some of the hundreds of wealthy celebrities who make Florida their home or who have been vocal nationally in their support of the concept of legalized medical marijuana, but who would be supporting it without a profit motive. Many Floridians, whose lives would be better if Amendment 2 passes and myriads of progressive voters buy their CDs, go to their concerts, attend their games, go to their movies or watch them on television. Several, like Bill Maher have had no problem in the past openly supporting the cause or publicly donating to progressive causes, but they are not on United for Care's contributor list.
John Morgan stated earlier this year, "I thought when I got the ball rolling, I'd get halfway down the road and turn around, and there'd be other people ready to push the ball," Morgan continued, "When I turned around, no one was there."
United for Care has done much to garner the grass-roots support of many small donors, but it sure would be nice if the big-money donors with similar non-profit motives stepped up to the donation plate.
I think it's about time they open up their check books and show how much they care.
Gary Stein, MPH, a native Detroiter, worked for the Centers for Disease Control, landed in the Tampa Bay area to work for the State Tobacco program and is now a health advocate and activist and blogger for the Huffington Post. Column courtesy of Context Florida.