Out of the 50 states, Florida ranks 48th in the number of people that have health insurance. That means only two states have fewer people insured, with Texas being the worst. More than one in every five Floridians have no way but self-pay or no pay when they need medical attention.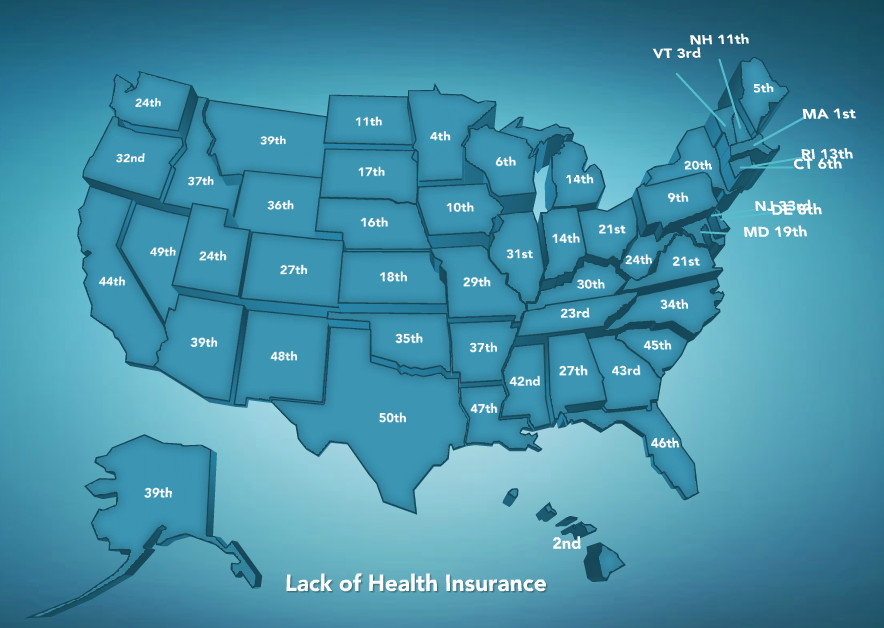 graphic by America's Health Rankings
It has often been said, "Don't mess with Texas." Instead, with his steadfast opposition to Medicaid expansion, it looks like Gov. Rick Perry has decided to leave Texas a mess... "Oops."
"The Democrats in the Texas legislature have found themselves begging Perry to reconsider,"stated Rep. Joaquin Castro, (D-San Antonio). "As the number of Democratic and Republican governors expanding coverage increases, Mr. Perry is hard-pressed to explain why the governor from the state with the most to gain is dead-set on standing in the way of Texas families having access to health care."
At least in Florida, Sen. Negron's Select Senate Committee on the Patient Protection and Affordable Care Act (PPACA) and apparently Gov. Rick Scott realized that doing nothing was not an option favorable to their state. As Health News Florida reiterated from a Tampa Bay Times editorial, it's not enough to just say no, not with 4 million uninsured -- the poorest 1 million of whom would have been helped by the expansion.
Both Democrats and Republicans in the Senate PPACA committee agreed. Sen. Aaron Bean(R-Jacksonville) said it in debate, "We need something the House will say 'yes' to."
The clue to finding a solution had already come in a letter from Cindy Mann, director of the Center for Medicaid and Medicare services(CMS) dated Nov. 20, 2012. It talked about Section 1937 of the Social Security Act, which was enacted as part of the Bush-era Deficit Reduction Act of 2005. It allowed states to modify their Medicaid plans to create Alternative Benefit Plans (ABPs), provided they were similar to one of four specified "Benchmarks" or types of insurance plans. The ABPs needed to be equivalent to one of these packages:
(1) The Standard Blue Cross/Blue Shield Preferred Provider Option, offered through the Federal Employees Health Benefit program (FEHBP);
(2) State employee coverage that is offered and generally available to state employees;
(3) The commercial HMO with the largest insured commercial, non-Medicaid enrollment in the state and
(4) "Secretary-approved coverage", which needed to be accepted by the Secretary of Health and Human Services,(HHS), (currently Kathleen Sebelius), which could include the Medicaid plan-benefit package offered in that state.
Those were the minimum benefits as described in the original language of Section 1937, with the important caveat that, "for children under age 21, states must ensure Early and Periodic Screening, Diagnostic, and Treatment (EPSDT) services are included either as part of the benefit package itself or through a combination of the benefit package and additional services." Another mandate was that the blind and disabled were not forced into the plan, but could enter it voluntarily or maintain their current Medicaid/Medicare coverage.
Of course, this administration's PPACA law wouldn't leave that policy at that level. They added these important improvements: All ABP's must contain all ten of the Essential Health Benefits(EHB)categories mentioned in the PPACA, including ambulatory patient services, emergency services, hospitalization, and importantly, preventive and wellness services. States were also allowed to pick more than one Benchmark-equivalent in their ABPs to apply to different segments of the Medicaid population, for a more targeted fit.
Personally, I think the last item should create some concern because it opens the door for subjective impressions of the populations, and possibly cause health disparities between the differentiated groups.
But then, any plan is subject to approval for the HHS through the CMS. All you need is a little faith and trust (two Disney-esque qualities that Floridians don't always have toward their government, and sometimes for good reasons).
All this was written to every state months before the session and just as the committees began their tasks.
Fast-forward to the reality show/drama of the Medicaid Expansion debate continuing to unfold at the Capitol.
On the morning of Feb. 20, 2013, Florida's Agency for Health Care Administration (AHCA) received another letter from Ms. Mann, stating that CMS was agreeing "in principle" to modifying the state's Medicaid system by enrolling all recipients in Health Maintenance Organizations (HMO's), a major revenue boost to be split between a handful of agencies from the 3.3 million enrollees and $22 billion dollar program. Florida had already received a waiver to put the disabled and elderly into an HMO ABP, with pilot programs in five counties. Then they recently got the waiver approval for Long Term Managed Care patients. Now, the state was attempting to go all-in. That meant Florida could possibly get a waiver allowing all federal funds intended for Medicaid to go to the HMO's. The waiver provisions would try to streamline program expenditures on patient treatment while maintaining or hopefully improving care from the HMOs, while those organizations get a healthy profit.
It is essentially a privatization of Medicaid.
It is important to note that Medicaid was conceived as a government program, not a corporate one. The bottom line of government is supposed to be the welfare of it's people. The bottom line of corporations is profit.
That evening, Governor Scott, who once ran a company that defrauded Medicare of billions of dollars, had his epiphany of conscience, and suddenly became in favor of the Medicaid expansion.
Later, at the Senate PPACA committee meeting on March 11, they mirrored the House Committee actions by also rejecting the Medicaid expansion. But it was at this point that Sen. Joe Negron differentiated his committee from their counterpart in the House. Unlike the House, the Senate Committee showed that they had been thinking, not just of rejecting the all-or-nothing Medicaid expansion offer, but of having a semi-formed alternate plan. The "Florida Plan." Sen. Negron stated it had "five guiding principles," and a work in progress, not yet in writing.
At the time, the response outside of the Senate Committee from members of the House and Senate, Democrats and Republicans was swift and negative.
The following week, the Florida Plan, with its 47-page Proposed Committee Bill document and a 21 page Bill Analysis and Fiscal Impact Statement, the Senate Proposed Bill, SPB 7038 was presented, complete with all of Sen. Negron's "Guiding Principles" in place, using the Florida Healthy Kids program, a Medicaid-style Title XXI program for administration. It also included the removal of the current restriction on the number of Inpatient and Outpatient visits by those seeking (or involuntarily getting) Mental Health Services. In addition it had, as Sen. Eleanor Sobel(D-Hollywood) had requested, a section mandating that all communications and operations be done with full transparency, (aka "in the sunshine") in accordance with the state public meeting requirement, the "Sunshine Law." The bill even has a trigger for stopping the program, should the federal funds ever drop below 90 percent. Something targeted a both parties' concerns, right?
It appeared that the committee went from semi-formed idea to PCB in one week, with a lot of midnight oil burned. Or, Sen. Negron, someone in Sen. Negron's committee and/or staff very possibly "got the memo" of November 20 and had a head start. Either way, there it was.

After the plan was revealed on March 20, it gained some interesting supporters and detractors.
Rep. Mike Fasano (R-New Port Richey) was a very vocal proponent of Medicaid expansion and highly critical of the House and Senate Committees words and actions on the subject. As reported by Greg Giordano of New Port Richey Patch, Rep. Fasano stated,
"I applaud Senator Negron and all the members of the committee who voted to advance this viable alternative to a straight Medicaid expansion. By crafting a proposal that accepts the offered federal dollars, the Senate is doing what those without health coverage need most. Providing health coverage for the uninsured is the right thing to do. I thank all who supported this alternative plan which will allow more Floridians to have access to quality health care."
The plan has even been endorsed by the left-leaning Florida Center for Fiscal and Economic Policy, who had previously and successfully called out Gov. Scott and AHCA on their highly inflated cost estimates of Medicaid expansion.
Even Gov. Scott chimed in with support. Tia Mitchell of the Times/Herald reported the governor saying,
"My understanding is it's consistent with what I said I would support. It's 100 percent federal funding. It's taking care of the uninsured. It's using the two Medicaid waivers that I was able to get that will give us more flexibility. And it's going to deal with cost, quality and access to care."
Meanwhile, Gov. Perry of Texas accused Gov. Scott and the other Republican governors who changed their mind a regarding Medicaid expansion by calling them "allies in the conservative movement who folded in the face of federal bribery."
Excuse me, governor, but since when do people in government take bribes to do the right thing? Just sayin'.
On the following day, the proposed bill had its first hearing in the Senate Appropriations Committee and it was moved forward by a unanimous vote of both parties.
Interestingly, Republicans in the committee spoke out against the opponents of accepting Federal funds, which included most of the Republican House Representatives and Speaker, Will Weatherford.
"If people are going to stand up and say don't accept any federal dollars," stated Sen. Andy Gardiner (R-Orlando), "then I hope they will stand up and say don't accept any federal dollars for transportation, don't accept any federal dollars for Early Steps and disabled. Don't accept any federal dollars for the existing Medi­caid plan."
Senate Democrats are endorsing the plan, but are still cautious.
On the House side, feelings aren't so bipartisan. Speaker Weatherford, speaking to a tea party crowd, stated,
"The idea that the federal government can buy off states -- buy us off with money, so-called 'free money' -- and that somehow they will make us more dependent and more entitled is a bad thing for the state of Florida. I'm here to tell you the state of Florida will not do it, American should not do it, and we should turn back any Medicaid expansion money."
Rep. Richard Corcoran, the Republican Chairman of the House Select PPACA committee had stated that his greatest concern is the Senate's use of federal funds in their bill, even though he spoke of creating a plan similar to that of Gov. Beebe of Arkansas after his committee voted against the expansion.
This is a bit of a conflict, since the Arkansas plan, like the Senate plan, uses the "flexibility" of Section 1937 to use federal funds for private insurance plans.
The House has not yet submitted a plan of their own, although Rep. Corcoran has stated that, "Our goal is as soon as possible, but there's not a date. The deadline is doing it right."
I am on the edge of my seat waiting to see what that is. And others in this state are literally (not figuratively) dying to find out.
Stay tuned. Like any good reality show, it's anyone's guess as to how this will end. Hopefully, not by emulating Gov. Rick Perry and his quest to keep his state at the bottom.