After a raucous 60-day session, the Florida House and Senate went home, leaving two irreconcilable health care bills and at least $5 billion on the table. Question: Will they be forced to go back in special session, pick those funds back up, and decide to care for the over 1.1 million uninsured? Or will Uncle Sam come in, sigh, shrug his shoulders and take the money back to distribute to other states, all the while mumbling, "Florida. Why always Florida"?

After all the ceremonious back-slapping, high-fiving and dropping of humongous handkerchiefs, the House and Senate went back home and the folks back home had some major concerns they wanted answered.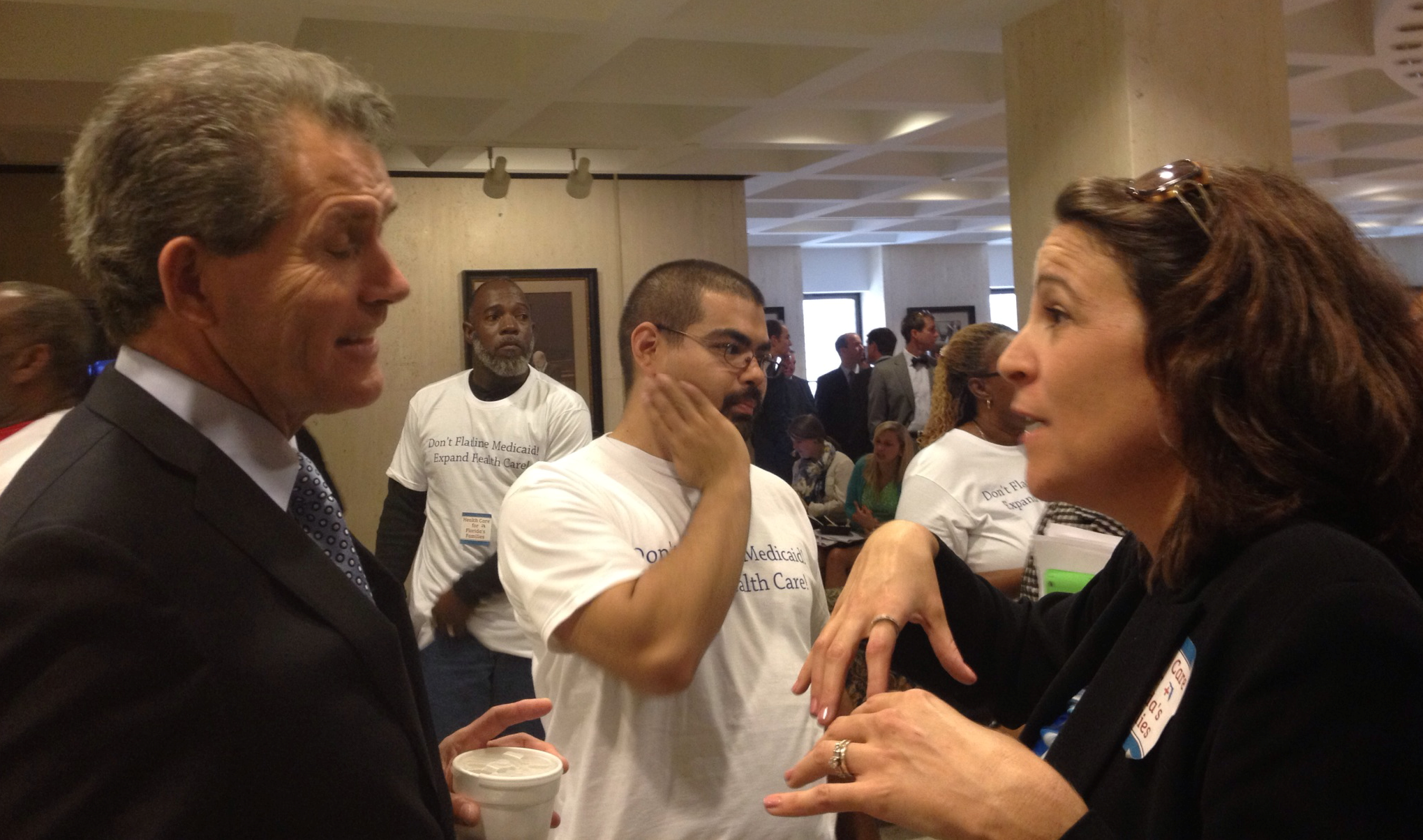 Rep. Dwight Dudley (D-St. Pete) tries to help make sense of the House decisions while speaking to equally frustrated Tim Heberlein of FCAN and Leah Barber-Heinz of Florida CHAIN. Photo by Gary J Stein.
Katie Edwards (D-Plantation) left the session with these thoughts:
"As a freshman Democrat, this session was definitely a learning experience and a bit of a baptism by fire. The toughest issue we tackled was how best to provide health insurance coverage to our working poor. With such diverse and bipartisan support for Negron Care, I am still amazed that the House Republicans did not see eye to eye with the Senate.

My prescription drug trafficking bill achieved vast support but was killed in the Senate. I plan to work with Attorney General (Pam) Bondi and the law enforcement community to file an even better bill for 2014. I'm not giving up."
Here in Tampa Bay, the GOP inaction lit a fire under many progressives.
Sally Phillips, President of the Florida GLBT Democratic Caucus
:
"My biggest take-away from this session is that our Democrats worked so hard to stop the destructive policies of the Republican controlled legislature, and we must show them that we have their back. Also, we must work hard in 2014 to send more progressive equality-minded Democrats to Tallahassee."
Susan Smith, President of the Democratic Progressive Caucus of Florida
:
"What we're seeing is another tragic result of term limits: too many self-serving, immature, hypocritical legislators like Will Weatherford who see their tenure in the legislature as a career stepping stone, and not as service to our citizens. These politicians are playing games with the lives of Floridians in order to satisfy their tea party supporters. How ironic that Speaker Weatherford, the man who allows the invocation of Jesus' name during opening prayer, is also the man who doesn't seem to understand Jesus' teachings."
Kofi Hunt, Progressive health care advocate from St. Petersburg
:
"The 2013 session has shown that the Florida House is only capable of pursuing agendas, not reaching compromise. The 2014 elections have become even more important, if we want a state government that functions again."
Karen Clay, Devoted Mom, Caregiver and Advocate for the Developmentally Disabled
:
"At the 11th hour, proviso language was added to the appropriations bill that would basically dismantle the Developmentally Disabled Waiver system. A consortium of smaller providers (who missed out on the $3 Billion in contracts awarded to managed care providers for the elderly and disabled receiving long-term care services) along with their high powered Tallahassee lobbyist, want to eliminate the Agency for Persons with Disabilities (APD) and replace it with (ultimately) with fewer services and NO CHOICE benefiting by FOR PROFIT entities. I guess the next step for the FL legislature is to just re-open the institutions! The most loathsome, despicable leadership the state of FL has ever had!"
Gary Gibbons, Tampa attorney and community activist:
:
"Adjourning the Session without even attempting to adopt the Senate plan is unconscionable. The thought of not keeping our Federal tax dollars here in Florida to help deliver health care to one million Floridians is foolish, and the blame is squarely on Will Weatherford's shoulders. When will we get beyond politics and actually stop hurting people unnecessarily?"
I think the scariest part of the situation for me (and one that requires the greatest leap of faith) is that our governor, Rick Scott, may be our best hope for getting this settled this year. My sources have told me that members of the ruling class in the two chambers are looking at the "drop-dead" date of Jan. 1, 2014, as the time for possible action. This is troubling, since that is actually the date that the Medicaid expansion is supposed to take effect, and October 1 is when open period for insurance enrollment begins. Taking action on the last day doesn't leave time for the infrastructure to be applied. In a House and Senate that has repeatedly stated that they don't want to rush to any decision, they are creating an 11th-hour situation that does just that.
Regarding my leap of faith regarding our governor, there were unconfirmed reports that he did not meet with the Speaker or the Senate President throughout the 60-day session, despite having an office a few floors away. He also just gave an endorsement of former Congressman Alan West for the position of Lieutenant Governor, an office recently vacated after a possible scandal regarding a fake veterans group running semi-legal gambling houses. This is the Allan West who stated all of the Democrats in the House were communist, refused to leave office after his district fired him in the last election, etc., etc. and etc.
At this tenuous time, we would need Gov. Scott to finally lead his party and take some action. He currently has one power that crossed the border between the executive and legislative branch. The budget, the pride and joy of the last session, is on his desk for approval. He has his staff going over each and every line to look for reasons to use the line-item veto. Any of those vetoes would probably strike those individual appropriations until next term. But... if he vetoes the ENTIRE budget, that would force the legislature to come back to Tallahassee in special session, especially since the fiscal year in Florida begins in July, they would have to resubmit or override by a vote by then. That could move the "drop-dead date" to mid-summer.
On a morning talk show, when asked about his upcoming decision on filling the Lieutenant slot, he called Rep. West, "a great American and a great patriot ... he'd be a great lieutenant governor."
Florida. Why always Florida?