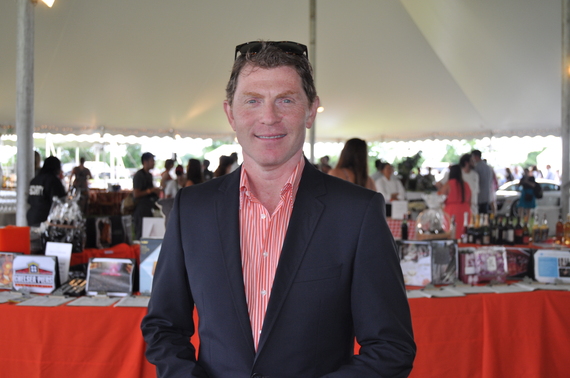 I ventured out to the Hamptons last weekend for a little glimmer of Food Network royalty in Bobby Flay. The wonderful Chefs and Champagne® event honoring Flay was hosted by the James Beard Foundation and celebrated on the east end's Wölffer Estate Vineyard.
Over 40 chefs gathered for the tribute, including: Lindsay Autry, who served up a Deviled Crab and Summer Vegetable Slaw on Melba Toast with Hot Sauce; Jean Paul Lourdes, whose Beet Salad with Blackberry Vinegar was nearly too beautiful to pick apart; and Yuhi Fujinaga, whose Sepia Carbonara with Poached Quail Egg and Jamón Crisps were a deliciously smooth and creamy mix, among others. I affectionately likened the event, to a friend, as the all-star of food buffets featuring America's best chefs.
Mighty Quinn's Barbecue chef Hugh Mangum's fall-off-the-bone Smoked Beef Ribs with Chimichurri and Pickled Sweet Corn was a personal favorite of mine. The dish was tender, perhaps slow cooked in preparation for the event, and reminiscent of Daniel Boulud's 2011 Chefs & Champagne® Cumin Spiced Lamb Rib, which too was one of the best dishes that year.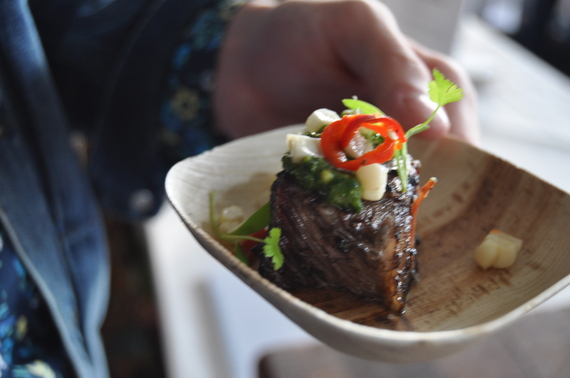 I went back twice for Tertulia and El Colmado chef Seamus Mullen's Boar Chops with Charred Corn Purée and Shaved Summer Squash Salad. A colorful dish with lots of different flavors.
The Chilled Corn Soup with Heirloom Tomatoes and Caraway Rye Crisp served by The Gander's Jesse Schenker, was also at the top of my list. I couldn't help but overhear several people compliment the dish and tell Jesse it was their favorite of the evening.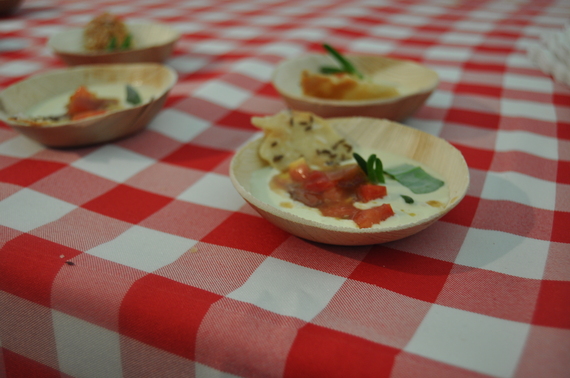 Easily replicable, the simple corn puree with Cabernet vinegar, and "salty finger" garnish, which he plucked for me to try, is certainly ideal if followed by a hearty meal. There really is nothing that comes close to a light and simple chilled soup on a hot summer's night.
I must bring attention to Balthazar's Shane McBride and Benoit's Philippe Bertineau -- both had excellent dishes. McBride's Smoked Leg of Lamb Hoagie with Pickled Ramp Raita would make any foodie's legs tremble, and where Bertineau's Rabbit Porchetta with Haricot Vert Salad seemed cool, the dish was packed with heat and an elegant juxtaposition of tastes.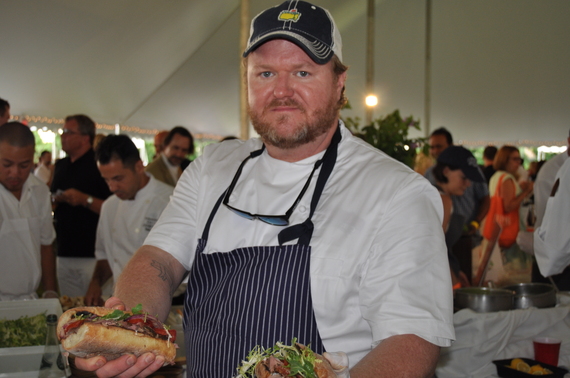 Filled up on main courses, I made my way over to the desserts section of the tent for a cone of ice cream and a wonderful fruit tart from pastry chef Stephen Collucci of Colicchio & Sons. The Tristar Strawberry -- as it read on Collucci's kiosk of food board -- was crafted on top of a Valrhona Dulcey Blond Chocolate Tart with Marshmallow and a dash of Lemon Verbena. The bite size morsel was all that was needed to close the wonderful evening.