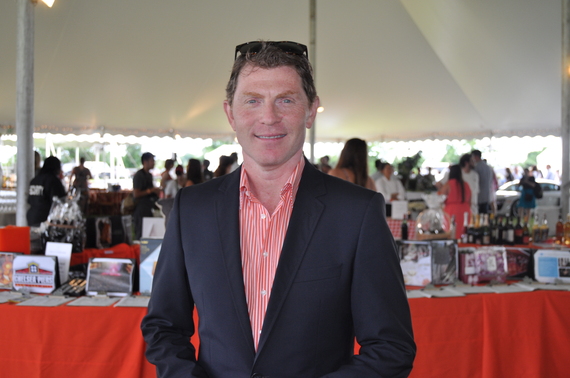 After a succession of Food Network TV programs, praise for his restaurants, and numerous culinary awards, Bobby Flay has emerged as an American food icon. Born and raised in arguably the country's most bustling metropolis, Flay has said "New York City is my kitchen." After receiving two stars from the New York Times for Gato, he's proving more and more that his latest restaurant venture is a much needed splash downtown.
I caught up with Flay at the James Beard Foundation's Chefs & Champagne® event in the Hamptons, which selected him as this year's honoree.
How does it feel to be honored again by the James Beard foundation? You have won James Beard awards before but this is a different type of honor.

This is a fun honor because we get to drink a lot of champagne and have a lot of great food in the Hamptons. And also, Wolffer Vineyards is so beautiful. I would never take for granted that I would be asked to be honored by the James Beard foundation. In the past, I've gotten some really nice awards from them, Rising Star Chef of the Year and Who's Who in Cooking America and things like that. But you know, this is really nice. I think there's more to this honor than just an award in your hand. Everybody gets to sort of partake in it together.
Talk to me about your latest restaurant in New York City, Gato, and the intention behind it.

I had a restaurant, a Spanish restaurant, for 15 years called Bolo and then when they knocked the building down, obviously we closed, about 6 years ago. And I always wanted to open the next version of what Bolo was, and so it took us a long time but we found a space on Lafayette Street, and Gato is the next version of Bolo. The only difference is that it's not just Spanish, it's basically--I'm using lots of Mediterranean--Spain of course, Italy, France, Greece, even Tunisia, Morocco, and places like that.
That's interesting because when we first had this big wave of cooking in America, it was French cuisine -- James Beard, Julia Child -- but the new American kitchen has made food something totally different, and because of that some of the cuisines you mentioned have been able to shrine through. What do you think allowed for that environment?
I think experimentation in kitchens is very healthy. And no matter who you are, not everything is going to work the way you want it to or how you hoped it to. But that's okay, you know? And so, America is really one of the last countries in the world to catch up to the rest of the globe in terms of food. But about 50 years ago, I feel we got there, and now we're just making it better and better and exploring with different cuisines as part what has become the new American cuisine. And also, don't forget America as a regional cuisine, being reintroduced as an important cuisine on a global scale. I think that's really important too.
Are there any particular chefs that you look up to, or perhaps some that you draw inspiration from?
I think Wolfgang Puck, for me, and Jonathan Waxman. I mean, Jonathan I've worked with for three years and he's a good friend of mine. Wolfgang is as well but I think that Wolfgang really revolutionized the way that we look at food in this country. When he opened Spago 25 years ago -- I think the most important thing that he did was say, "You know what? Great food in this country doesn't actually have to be in a French stodgy restaurant. It can be whimsical, it can be fun, and still be great." And so then he started putting smoked salmon and duck sausage on pizzas and people were like "Wow." And that was just sort of the beginning. And I think that he gave somebody like me a career. I think that he really helped revolutionize the food in this country.
So California cuisine is something that definitely influenced you?
Not just California cuisine but, I think that California had a big part in getting it going, that's for sure.
Are there particular types of chefs that you find most complimentary to your own style?
I think they all are. I think that one of the great things about being in the restaurant business and being a chef is that we share ideas, we share recipes, and we share staff. The camaraderie is really amazing. That's really one of my favorite things about this industry--although it's competitive, of course--the camaraderie is much more fierce than the competition.
And it's intimate. Everyone seems to know or at least know of each other.
Very giving, very generous -- I would say that there is no more generous and giving, as you said, industry than the food industry.
Where do you see yourself five to ten years down the road?
Ah, I don't know. At this point, I'm just happy cooking at Gato every night, or almost every night. I don't want to look past it because I'm enjoying it so much. It's still a brand new restaurant. We've gotten fantastic accolades so far but as you know, you're only as good as your last meal. So we have to continue to evolve it and make it better.
Gato opened at 324 Lafayette Street (East Houston Street), NoHo, in March of this year. Reservations can be made at: (212) 334-6400; Gatonyc.com