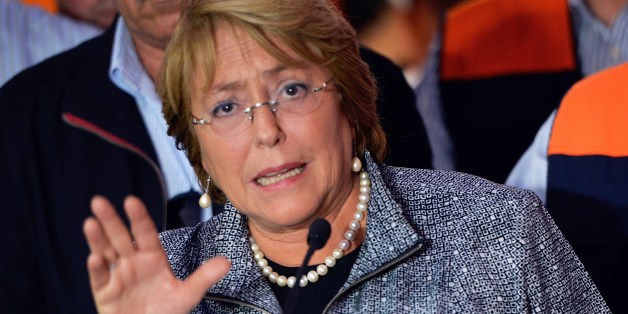 After a campaign full of promises, President Michelle Bachelet has been forced to face a bevy of unexpected challenges in her attempt to politically restructure Chile.
Just weeks ago, the country felt the tremors of an 8.2-magnitude earthquake that sent citizens fleeing from their homes toward the inner cities when Bachelet declared a state of emergency and regional evacuation. Alongside 100 anti-riot police, 300 soldiers and a military plane were deployed to the area to maintain order and re-capture inmates who had escaped from a northern prison.
In 2010, conservatives decried the amount of time it took Bachelet to respond (36 hours) to the 8.8-magnitude quake that took the lives of over 500 people, and destroyed buildings and coastal communities.
This time Bachelet was unwilling to waver from her precautions. She responded within five hours after the quake struck and flew out to the hardest hit areas of Chile soon after. Her quick turn around kept the death toll within single digits and created a political boost that is expected to help her push forward on her reform agenda.
More recently, wildfires in Valparaiso left the outer hills of the port city scorched, devouring with it over 2,900 homes and 15 lives, as well as leaving over 12,000 Chileans displaced. Proposals to relocate the population to a safer location that could be protected in case of a natural disaster has been painful for those who hope to return to the homes they have lived in all their lives.
Bachelet's commitment to rebuilding the area is a long-term project that will certainly divide her efforts over the next four years in office and perhaps deter her pledge to enact 50 reforms in her first 100 days in office.
Rising inflation, slowed growth rates and a decline in copper prices (Chile's chief money making export), have added to the pressure Bachelet will have to tackle on her way to fulfilling campaign promises.
The first of which was to create a new tax proposal that would provide for universal education by raising the corporate tax from 20 percent to 25 percent.
Campaign ads throughout Bachelet's 2013 bid for the presidential palace depicted a wide-ranging agenda of issues including gay marriage, the creation of a new Ministry of Women and Gender Equality, and the gem of Bachelet's reforms, the rewriting of the Pinochet era constitution. Bachelet's therapeutic stance on abortion was also seen as an indicator that she would clear a path for women to gain access the procedure, which was banned in 1989 under the dictatorship of military general Augusto Pinochet.
If Bachelet cannot accomplish a majority of her plans, she will surely have to find an heir strong enough to combat against the return of conservative businessman and former President Sebastián Piñera in the next presidential election, while also attempting to corral and unify the support of Chileans who are now split on whether Bachelet will fulfill all of her campaign promises in the next four years.