I headed down to Florida for a recent holiday and decided to extend my stay so mom and I could spend more time together.
When mom and I are together we slip into our routine banter. Sometimes it does get loud between us and not all the words shared fall into the touchy, feely category. Let's just say, we don't keep anything in. When they made mom they completely forgot to put in a censor, but they did put in a quick-wit which was apparently programmed to be unleashed later in her life. As the journalist from Psychology Today said, mom is a "geriatric shock jock." I could not have said it better. Mom is a party girl, always has been. I remember in my childhood my parents coming home from an affair, mom tipsy and spending quite a bit of time in the bathroom barfing and whatever else you do when you are drunk and sick to your stomach. It wasn't uncommon for mom to climb on a table at a wedding and start dancing. Dad always said he married a wild woman. Unfortunately, as I recall dad was not amused by my mom's behavior at these public events. He was pretty pissed off and always wanted to leave. Mom was in no rush.
Standing on a table and dancing with a little booze in her system continues until today. When mom turned 90 we made a party for her in a respectable restaurant on Long Island. Wearing a bright pink boa, mom managed to find her way to the bar and climbed up. She stood on the bar dancing and waving her boa in one hand and her drink in the other. If you don't believe me, we have video to prove it.
Since dad died eight years ago, mom lives alone in her gated community in Boca Raton. Her social life puts mine to shame. She is up at seven and at the athletic center, where she does thirty minutes on the stationary bicycle, and one hour of schmoozing and swapping stock tips. Then it's home to do some puts and options. I have no idea what that is other than I often hear her say, "I just made a thousand dollars." And sometimes, she does some travel work like booking her cronies or family members on a cruise. Mom owned a travel agency in New York for many years. Then it's time for lunch with the girls at the clubhouse. After lunch she goes to work. What is work? Work can be mahjong, canasta, bridge or pam. That lasts until Happy Hour at the club where she is known to enjoy her drinks and friends. Mom brags what a good driver she is even when she has had a few drinks. It's all smiles and laughs. Needless to say, I am not particularly amused by this behavior, seeing the potential consequences of it. Sometimes the night ends after happy hour at the Club House where they offer lots of delicious free hot food. Other times she heads to a restaurant for dinner with friends.
Mom has taught me how to go out to a restaurant and meet people. The key is to have your dinner at the bar, and it's preferable to get there early so you can sit in the middle -- a good position to be in in order to meet people. During my recent visit mom and I decided to head out for dinner. She had coupons in hand and couple of options. It was either Bonefish for $5 Monday night martinis or Duffy's, a sports bar where all entries were $12.95 on Monday. I opted for the second. You can see I am not a heavy weight drinker. There were two seats but separated by an older distinguished looking man. I asked him if he minded moving. A quick response, "No," then followed by " I am only kidding." He moved. Mom made sure she took the seat right next to the gentleman.
What proceeded to happen I never thought I'd see in my life.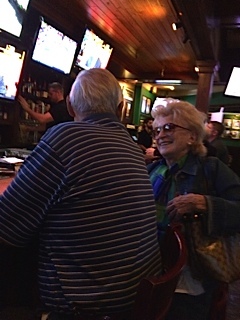 Mom in Action
My mom and dad had a way of pushing each other buttons. I can't say I recall seeing mom being tender to dad much, if at all. Mom in her ninth decade (hard to believe, she does not look it or behave so... yes, I keep hearing I have good genes. I am so grateful!) filled with chutzpah and charm starts engaging the man. As she was speaking to him she was putting her hand on his, leaning her bare forearm on his bare forearm -- talk about body language. He was smitten by her. She revealed how she usually spent Monday nights at Bonefish and since she has lost most of her friends she often goes alone. He informed her in a very flirtatious way that she risked being picked up going alone. Let's just say I am sure they will be meeting next week at Bonefish.
When mom went to the bathroom, I had alone time with him and got the scoop. He was curious to learn what I did and I shared about our film. Mom was gone for quite a while and he missed her. "What happened to you?" he asked. I did manage to get his info (need to be sure mom is safe). Mom must be 10 years older. He fought in Korea, not WWII. I always said she needed a younger man. When we came home, I told her I was excited for her. She said that most of the men she goes out with "can't get it up." That was a shock to me (not that they can't get it up) but that she was dating. When I asked her again, she denied she was dating. All I can say is, I was there at the beginning and she will have a hard time hiding this. I've got his number. Will keep you posted.