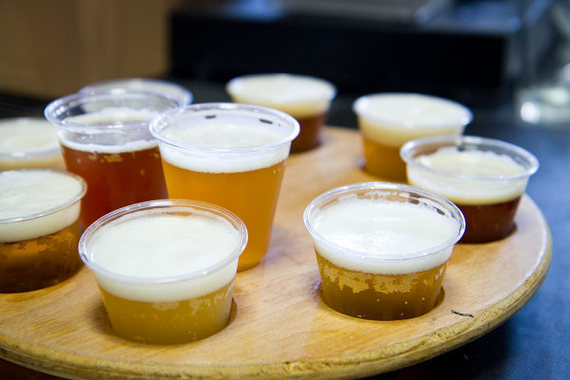 There are few things as refreshing as an ice-cold beer on a hot afternoon, which is why we stock up on these summer lagers, brisk ales and flavorful fruit beers when the weather warms up. Whether you're planning a beach picnic, backyard barbecue or are just looking to relax after a long day, GAYOT's top 10 summer beers offer a great-tasting way to beat the heat.
Ballast Point Pale Ale
KÖLSCH
Don't let the name mislead you; this "pale ale" is actually a Kölsh -- the German version of the pale ale. The ale yeast is fermented at a higher temperature, then lagered at a low temperature like a pilsner with a prominent, but not extreme, hoppiness. The ale yeast adds some fruitiness, and the mixture of wheat, Munich and American malts adds a crispness that is prevalent in pilsners. It's a well-balanced lager and ale hybrid that is both refreshing and flavorful.
Read a complete review of Ballast Point Pale Ale
Brasserie Dubuisson Scaldis Pêche Mel
FRUIT/VEGETABLE BEER
A cocktail created by college students that mixes equal parts Scaldis Amber and peach lambic is what inspired the Scaldis Pêche Mel. When poured, this award-winning beer displays an orange-amber hue and its aroma wafts forth with a lively bouquet of fresh peaches. The flavor bombards your taste buds, but its sweetness is balanced by the bitterness of the amber ale, peppery notes of the signature yeast and a dry aftertaste.
Read a complete review of Brasserie Dubuisson Scaldis Pêche Mel
Read the complete list of the 10 Best Summer Beers
MORE ON GAYOT.com