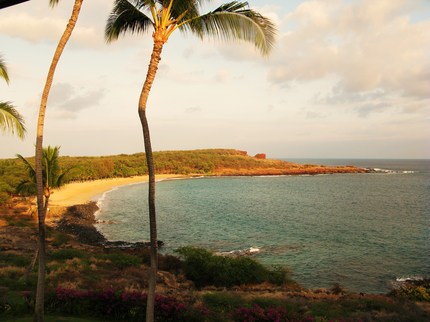 Hugging the coasts of the Hawaiian Islands, these beaches feature black, white, golden, and even green sand, as well as clear waters ideal for snorkeling, surfing, and swimming. Enjoy a virtual visit to GAYOT.com's Top 10 Beaches in Hawaii.
HAWAII
Hookena Beach Park
The ocean views and scenic vistas are spectacular at this historical site of one of the last fishing villages in Hawaii. Hawaii residents bring their families to Hookena to relax in the small park, complete with restrooms, showers, picnic tables and shade trees. The beach sand is an unusual combination of fine grey coral and white sand. You might be lucky enough to spot a dolphin or turtle here. Rent a kayak or snorkeling gear for some excellent water time.
KAUAI
Hanalei Bay Beach
If Hanalei Bay Beach seems familiar, it may be because the movie South Pacific was filmed here. Three county facilities offer a variety of camping, picnicking and rest rooms: Hanalei Beach Park, Hanalei Pavilion and Waioli Beach Park. The surfing here is excellent but for experts only. Families can set up camp near a lifeguard stand for added peace of mind.
KAUAI
Poipu Beach Park
Poipu Beach Park, located on Kauai's South Shore, has something for everyone. Water lovers will find kayaking, scuba diving, snorkeling, surfing and swimming. The area also offers horseback riding, hiking, mountain biking and ATV tours. Go deep-sea fishing if you want to catch "the big one."
LANAI
Hulopoe Beach
Lanai doesn't have a lot of accessible white-sand swimming beaches, but this one is the island's best, and one of the prettiest in the state. There's excellent snorkeling around the lava pools and near the rocks on both ends of the beach. The well-protected beach is also a good swimming area. Hulopoe is a protected Marine Life Conservation District, and taking marine life is forbidden in the bay.
MOLOKAI
Papohaku Beach
Also known as Three Mile Beach, Papohaku offers three miles (circa 4.8 km) of sand and surf with few people. The wonderful ocean vista includes a view of the Island of Oahu. Among the facilities you will find campsites, showers, restrooms and picnic areas. Care should be taken in the water as strong rip currents are present. Try to visit during the third week of May when Molokai's biggest cultural festival, Molokai Ka Hula Piko, takes place here.
MORE ON GAYOT.com
The Rest of the Top 10 Beaches in Hawaii with Photos
Photo courtesy of GAYOT.com