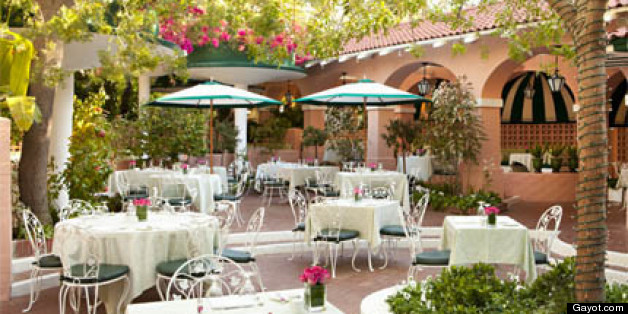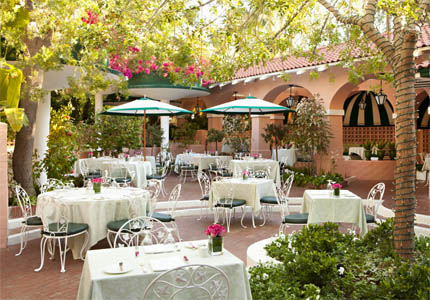 Lazy Sundays are for sleeping in, reading the paper and -- most importantly -- indulging in brunch. This languorous meal is the favorite of those who love to linger over good food ... and perhaps a little Champagne before the noon hour. For those who appreciate the benefits of a little Sunday morning culinary hedonism, we scoured the country for the best places to sip and sup in style. Whether you're craving classic scrambled eggs and bacon or braised short ribs with chilaquiles, your hunger pangs will be more than satisfied at one of these top 10 hotel brunch spots.
CALIFORNIA
Beverly Hills
The Beverly Hills Hotel & Bungalows
Polo Lounge
Set inside the famously pink Beverly Hills Hotel & Bungalows, The Polo Lounge, once an iconic hotspot synonymous with old Hollywood glamour, is still a favorite brunch destination for the glitterati and Tinseltown's most powerful movers and shakers. Along with bellinis and mimosas, you will (of course) find Champagne -- the perfect accompaniment to the Smoked Salmon Soft Scramble with potato rosti, crème fraiche, caviar and jumbo asparagus. And if you don't like your eggs tumbled around? Then take them poached with corned beef hash, or try the classic eggs Benedict. Whatever you're in the mood for, there is a dish to satisfy your craving. A traditional favorite, challah French toast is topped with toasted macadamia nuts, bananas and vanilla butter, and starters include tortilla soup with grilled Jidori chicken and tuna tartare with seaweed salad and Tobiko caviar.
Read a complete hotel review of The Beverly Hills Hotel & Bungalows
Read a complete restaurant review of Polo Lounge
COLORADO
Colorado Springs
The Broadmoor
Lake Terrace Dining Room
Located on 3,000 acres in the shadow of Cheyenne Mountain, The Broadmoor is dedicated to a greener planet with its environmentally-conscious programs. Knowing that you're dining in an eco-friendly atmosphere only adds to the pleasure of indulging in the lavish Sunday brunch served here. With ice sculptures and live piano music, this mid-morning extravaganza features more than 100 items. You name it, you'll find it, from made-to-order eggs Benedict and omelets to blintzes, prime rib and honey-baked ham. As well, there is a generous pastry and dessert selection, highlighted by The Broadmoor's famed Bananas Foster and a to-die-for chocolate fountain. While you don't have to wear your Sunday best, the code is "dressy casual," so leave your shorts and flip-flops at home and bring your week to a close in style.
Read a complete hotel review of The Broadmoor
FLORIDA
Miami
Four Seasons Hotel Miami
Edge Steak & Bar
Although best-known as being a leader in haute luxury, the Four Seasons takes to the streets at its Miami outpost with a Sunday brunch inspired by the nation's food truck craze. Purists will find all their favorite dishes, while culinary adventurers will relish the Viva La Mexico taco "truck" station serving braised short ribs and chilaquiles or the Cuban food "truck" station offering crispy roast suckling pig served on Cuban bread with mojo onions. Make sure to give yourself plenty of time to sample the vast variety, which includes a seafood station with ceviche, kitchen items such as paella, and an outdoor barbecue with corn, sausages and more. For dessert, you can opt for ice cream churned to order, freshly made churros or key lime panna cotta. Best of all, a kiddie menu is complemented by activity stations to keep the wee ones occupied while Mom and Dad get creative at the build-your-own-Bloody-Mary bar.
Read a complete hotel review of Four Seasons Hotel Miami
Read a complete restaurant review of Edge Steak & Bar
NEW YORK
New York
The Waldorf Astoria
Peacock Alley
The Big Apple is filled with fabulous modern hotels -- it seems as if a new one pops up every other week -- but for purists, there's still nothing like old school New York. At Sunday brunch at Peacock Alley in the convivial main lobby of The Waldorf Astoria, you'll feel as if you've returned to the days of Edith Wharton and Henry James. Live piano music and stunning Art Deco details provide a backdrop for themed food displays that are a culmination of more than a century's culinary heritage. The menu includes all your favorites: eggs Benedict, filet mignon, crêpes, a raw shellfish bar, a charcuterie display and, yes, caviar. Best of all for dessert lovers, the chocolate fondue fountain is surrounded by more than 100 gourmet treats. Other things to love about this brunch -- during the summer months it goes into hiding at Oscar's Brasserie, which shows that it's first and foremost a local institution, and the dress code is oh so NYC: "chic and elegant."
Read a complete hotel review of The Waldorf Astoria
Read a complete restaurant review of Peacock Alley
MASSACHUSETTS
Cambridge
The Charles Hotel
Henrietta's Table
At Henrietta's Table, diners will find all of their brunch favorites, from specialty cheese, smoked fish and carved meat to made-to-order-omelets. But as brunch aficionados know, not all egg dishes are made the same. What sets Henrietta's Table apart is Peter Davis, the restaurant's founder. More than just a chef, this native Bostonian is a conservationist, and he works closely with New England farmers and fishermen. So when the menu claims that the Wellfleet oysters on the raw bar are fresh, it ain't kidding! Better yet, the restaurant supports sustainable agricultural practices, and you won't find any GMOs in your grilled veggies and pâté -- or any dish, for that matter. If you like what you taste, ask for one of the custom-made trading cards that feature Davis's local suppliers. Brunch with a purpose. Now that's a meal worth turning into a weekly tradition.
Read a complete hotel review of The Charles Hotel
Read a complete restaurant review of Henrietta's Table
CALIFORNIA
San Francisco
InterContinental Mark Hopkins San Francisco
Top of the Mark
For more than 70 years, the Top of the Mark on the nineteenth floor of the InterContinental Mark Hopkins San Francisco has been a favorite with locals and tourists alike -- not to mention celebrities, from Elizabeth Taylor to Brad Pitt. Most come for the exhaustive "100 Martinis" menu and gorgeous nighttime vistas, but those in the know also make their way to this Nob Hill landmark for Champagne Brunch at the Top. With live piano music playing in the background and views overlooking the Golden Gate Bridge, Marin Headlands and Fisherman's Wharf, diners graze among tables filled with smoked fish, assorted pâtés, fresh fruit, artisan breads, cracked Dungeness crab, caviar, prime rib and much more. Along with offering favorites such as classic eggs Benedict, this brunch gives a nod to the diversity of the City by the Bay, with dishes that include dim sum and spicy Thai fish soup.
Read a complete hotel review of InterContinental Mark Hopkins San Francisco
Read a complete restaurant review of Top of the Mark
HAWAII
Princeville, Kauai
The St. Regis Princeville Resort
Makana Terrace
When it comes to the fresh catch of the day, few places can beat Hawaii. The same goes for views, which is what makes it so hard to select a Sunday brunch favorite on the islands ... there are just too many breathtaking vistas to choose from. But in the end, The St. Regis Princeville Resort claims our hearts. Served on the Makana Terrace overlooking Hanalei Bay and Makana Mountain, this culinary showcase unites standard dishes with new flavors: for example, the corned beef hash uses taro, while the ham is bathed in a mango glaze. From king crab legs and a smoked salmon display to Pahole fern salad and ginger soy monchong (a deep sea fish) with coconut jasmine rice, every item is memorable, especially when complemented with a freshly brewed cup of Kona coffee.
Read a complete hotel review of The St. Regis Princeville Resort
TEXAS
Dallas
Rosewood Mansion on Turtle Creek
The Mansion Restaurant at Rosewood Mansion on Turtle Creek
For more than 30 years, The Mansion Restaurant at Rosewood Mansion on Turtle Creek has offered a superlative fine dining experience. French-influenced American cuisine is the star, served in a warm, contemporary setting. The Brunch Tasting Menu begins with a signature amuse from the chef, followed by a starter, which might include chestnut bisque with duck confit and candied hazelnuts or soy-cured salmon with roasted beets, spicy mustard and cucumber. Entrées are equally enticing, ranging from grilled prawns with ancho grits, chorizo Bolognese, poached egg and whipped avocado to steak and eggs with braised beef short ribs, two eggs, chimichurri, pickled shallot and duck fat fries ... when we say this menu is not for the faint of heart, we mean that literally! A trip to the dessert buffet allows you to round out your meal with French macaroons, pistachio financiers and a selection of seasonal treats.
Read a complete hotel review of Rosewood Mansion on Turtle Creek

Read a complete restaurant review of The Mansion Restaurant at Rosewood Mansion on Turtle Creek
VIRGINIA
Richmond
The Jefferson
Rotunda lobby
The Sunday Champagne brunch at The Jefferson is a local tradition that has long been drawing loyal diners from miles around. This lavish meal is served around the mezzanine in the fully restored Rotunda lobby, an old-fashioned setting complete with marble pillars. As you make your way through the buffet, you will enjoy soothing background music by the Skip Gailes Trio, which enhances the genteel mood. Because the chef uses seasonal, regional ingredients, new dishes are ensured on a regular basis. Among standards such as made-to-order omelets, housemade charcuterie and oysters on the half shell, you will find specialties like The Jefferson's Signature Spoonbread. If you still have room after helpings of poached shrimp and smoked beef tri tip, top it all off with a treat from the sundae station, which includes stuffed crêpes, waffle cones and cherries jubilee.
Read a complete hotel review of The Jefferson
WASHINGTON
Seattle
The Edgewater
Six Seven
The Edgewater is a Seattle institution, and not just because The Beatles once fished from one of its guest rooms. It's a place locals count on for special occasions, beginning with the "table d'hôte" Sunday brunch at Six Seven restaurant overlooking Puget Sound and the Olympic Mountains -- arguably one of the most majestic views in America. Indoors or out, diners can choose from a three-course prix fixe menu or à la carte dishes consisting of seasonally inspired cuisine with an emphasis on fresh seafood. Along with a complimentary mimosa or glass of Champagne, diners will find such weekend delights as a duo of oysters with caviar crème fraiche and Washington apple pancakes with cinnamon butter and Grand Marnier. Best of all, every dish is unique. Just consider the pan-seared Alaskan cod with spinach, midnight tomatoes brioche and pimento cream sauce, or the pastrami Reuben bento box, which features pastrami from neighboring Vashon Island. This emphasis on local ingredients extends to the desserts, which include rosemary-scented panna cotta with huckleberries stewed in chianti.
Read a complete hotel review of The Edgewater
Read a complete restaurant review of Six Seven
MORE ON GAYOT.com
More Information and Photos of the Top 10 Brunch Hotels in the U.S.
Top 10 Brunch Restaurants Near You