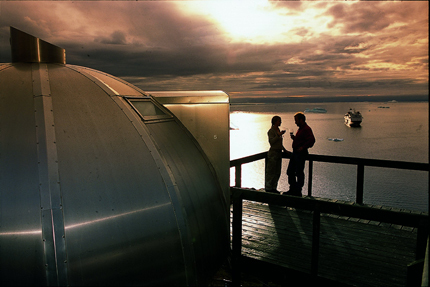 Ever want to get away from it all? GAYOT.com's list of Top 10 Remote Hotels features fantastic places to stay around the world that are far, far away. Enjoy Greenland's arctic landscapes, Namibia's sand dunes, or Chile's mysterious Easter Island. So rack up the frequent flyer miles and check into one of the Top 10 Remote Hotels Worldwide.
GREENLAND
Ilulissat
Hotel Arctic
In the Kalaallisut language, the word "ilulissat" means icebergs. That should give you an idea how cold this place is, not to mention how remote. After flying all the way to the settlement of Kangerlussuaq in western Greenland, you will board another 45-minute flight to the town of Ilulissat, where dog sleds are a common sight outside local houses. Reaching this lodging requires a serious commitment, but rest assured, it's worth it. The hotel sits on the edge of majestic UNESCO-designated Ilulissat Ice Fjord, and though the town and harbor views are charming, make sure to ask for a room with an iceberg view -- after all, you've come this far. The menu at house restaurant Ulo includes Greenlandic specialties using fresh local ingredients.
CHINA
Shangri-La
Banyan Tree Ringha
True, this destination isn't James Hilton's legendary Shangri-La from his novel Lost Horizon. It was in fact given the designation by the Chinese government. But that doesn't detract from its utopian atmosphere. Snow-covered mountain peaks, pine forests, meandering rivers and clear lakes embrace the Tibetan valley setting of Banyan Tree Ringha. The hotel's architecture and décor take their cues from Tibetan culture, so much so that the suites and lodges are actually decades-old farmhouses that have been painstakingly reassembled on the property and given a glamorous facelift. Along with tea in the Jakhang lounge and hotpots and steamboats at Chang Sa Bar & Restaurant, foodie highlights include a horseback ride to a private gauze-draped dining room overlooking the Shudugang River on the Tibetan Plateau. You can also take excursions to see rare black-neck cranes in the upper Yangtze Gorge and the stunning White Water Terraces at the foot of Haba Snow Mountain.
NAMIBIA
NamibRand Nature Reserve
Wolwedans Private Camp
Situated in the peaceful NamibRand Nature Reserve and surrounded by striking red sand dunes and mountain ranges, Wolwedans is a satisfying payoff for making the long trek to Namibia. Among its unique collection of accommodations is the isolated Wolwedans Private Camp. Up to four guests (and only four) may stay in the wood-framed structure, crafted so that canvas flaps open on three sides to take full advantage of the panoramic surroundings. The "camp" has two spacious en-suite bedrooms, decks and a central lounge, which includes a study, living room, dining area and fully equipped kitchen. If you tire of simply taking in the breathtaking landscape in an atmosphere of immense solitude, you can sign up for guided activities including hot air ballooning, nature walks or scenic drives. This is a perfect honeymoon getaway or a relaxing vacation retreat for close friends looking for a quiet, one-of-a-kind retreat.
FRENCH POLYNESIA
Motu Tetraire, Tahiti
Motu Teta
With cell phones and social networking taking over the world, it can feel as if life is in your face 24 hours a day. But it's still possible to escape -- we promise! Simply catch a flight to Tahiti and make your way to the Rangiroa Atoll, where your own private nine-acre island awaits. Powder white sand and clear blue waters surround a main villa and guest residence, both of which have been crafted in classic Tahitian style with hardwoods and open beams. A dedicated chef is on hand to create dishes using local seafood and French techniques. This makes it easy to never leave your secluded stretch of beach. That said, there is plenty to do both on the island and a short boat ride away: lobster fishing, outrigger canoeing, snorkeling, ocean reef exploring and shark watching, to name just a few of the activities included in your stay. You can even visit a unique South Pacific vineyard in the middle of a coconut plantation.
PERU
Isla Suasi
Casa Andina Private Collection Isla Suasi
The pinnacle-of-privacy Andean Cottage is part of the solar-powered Suasi Island Hotel. Situated 12,500 feet above sea level and surrounded by the waters of Lake Titicaca, the property is accessible by a four-hour speedboat trip across the lake. The two-bedroom cottage is built entirely out of traditional materials including stone, wood and totora reed, and it includes a bathroom, living room and kitchenette. Furthering the indulgence level are private butler service and a pier for soaking in the lake views. For exploring, there are plenty of trails in the area, and excursions include visiting Andean farming plots and canoeing around the island.
MORE ON GAYOT.com
The Rest of the Top 10 Remote Hotels Worldwide with Photos
More Top Remote Hotels Worldwide