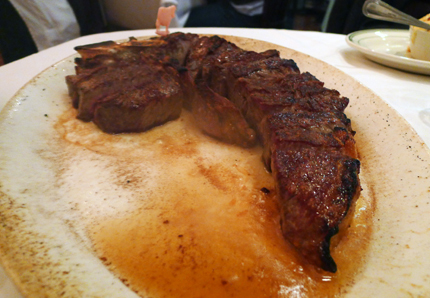 How do you like your steak? Rare and juicy? Well done and charred? Bone-in or filet? Accompanied by wine or Bourbon? No matter how you order your steak, GAYOT.com's selections of the Top 10 Steakhouses in the U.S. are great places to meet for meat.
Nick & Sam's
3008 Maple Ave.
Dallas, TX 75201
A chic Dallas crowd is treated to dynamic performances -- from tableside presentation of meats to an open kitchen to live piano -- at this bustling contemporary spot where the dry-aged cowboy steak is a favorite.
Read a complete review of Nick & Sam's
Porter House New York
Time Warner Center
10 Columbus Cir., Fourth Fl.
New York, NY 89119
Straight-up classic steaks and chops keep company with premium seafood at Time Warner Center's tastefully cosmopolitan steakhouse.
Read a complete review of Porter House New York
Red PrimeSteak
Buick Building
504 N. Broadway Ave.
Oklahoma City, OK 73102
Oklahoma City's contemporary steakhouse makes a neon splash in the historic Buick Building, where steaks are rubbed the right way with everything from brown sugar and sea salt to a wild mushroom crust.
Read a complete review of Red PrimeSteak
Red, the Steakhouse
3355 Richmond Rd.
Beachwood, OH 44122
This modern Cleveland steakhouse serves up tender Angus beef and a variety of chops, seafood and pasta with an haute Italian twist.
Read a complete review of Red, the Steakhouse
SW Steakhouse
Wynn Las Vegas
3131 Las Vegas Blvd. S.
Las Vegas, NV 89109
Steve Wynn's luxe Las Vegas steakhouse is a sensory experience, with a fantasy forest and Lake of Dreams backdrop, alongside innovative contemporary cuisine and traditional high-end beef.
Read a complete review of SW Steakhouse
MORE ON GAYOT.com
The Rest of the Top 10 Steakhouses in the U.S. with Photos
Find the Best Steakhouses Near You