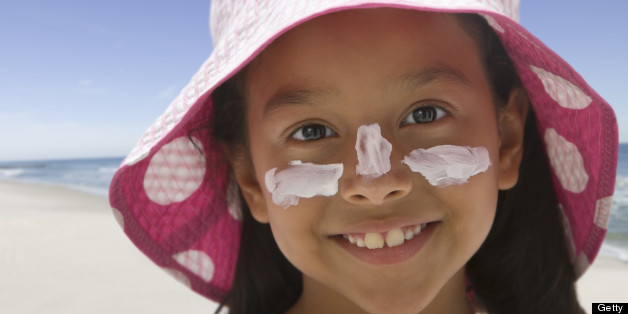 Our selection of favorite suntan lotions features products that offer broad spectrum protection in a hypo-allergenic, chemical-free and affordable way. Also, many boast the newer micronized titanium dioxide, which doesn't make you look like a French pantomimist. Whichever sun cream you choose, remember to apply it liberally and often!
California Baby SPF 30 + Sunblock Stick
SPF: 30
Ingredients Include: micronized titanium dioxide
Price: $15 for 0.5 oz.
When we first had children, all products seemed potentially lethal. Sunscreen? We might as well slather our innocent infants in toxins. Then we discovered California Baby, which is still our go-to sunscreen now that the kids survived the toddler age. (Selma Blair is reportedly a fan of the brand.) This USA-made, organic, sustainably grown, allergy-tested line isn't on the cheap side, but you'll feel good putting it on your wee ones because it's PABA-free, non-chemical, fragrance-free, water resistant and hypoallergenic. Its main ingredient is a micronized titanium dioxide. Our fave is the easy-application sunblock stick, which is perfect for feisty small faces wiggling away from Mom's fiddling fingers, and thick enough not to wash off easily in the pool or ocean.
Cetaphil UVA/UVB Defense SPF 50 Facial Moisturizer
SPF: 50
Ingredients Include: micronized titanium dioxide
Price: $24 for 1.7 oz. (Pack of 2)
Cetaphil, the savior of allergic and sensitive skin from coast to coast, makes sunscreen? We didn't know either until we discovered this brilliant facial moisturizer with a whopping 50 SPF. Cetaphil face wash is recommended by doctors, pediatricians, facialists and make-up artists as one of the safest, most sensitive soap alternatives, and we feel as strongly about this fragrance-free, non-comedogenic (doesn't clog pores), non-greasy, easily absorbing sun screen. It's made with micronized titanium dioxide, the newer variation of this ingredient, which leaves no white residue! Chances are, with Cetaphil you won't break out and are unlikely to have an allergic reaction. It's clean, inexpensive and great for non-fussy types.
La Roche-Posay Anthelios SPF 60
SPF: 60
Ingredients Include: senna alata
Price: $22 for 1.7 oz.
Expensive sunscreens are definitely no better than cheap ones, but we have to have one high-end sunscreen in our summer repertoire. Maybe it's a girl thing. Chanel would be going overboard but La Roche-Posay is sort of low-end (i.e. affordable) on the high-end spectrum. We've been fans of this PABA-free, fragrance-free and non-comedogenic product for years. It's made with titanium dioxide and is perfect for sensitive skin, epidermis prone to breakouts and anyone who hates the feeling of having too much stuff on their face. It leaves skin matte, not greasy, and for good measure it contains an anti-oxidant complex called Senna Alata from the medicinal tree Candle Bush.
Neutrogena Body Mist Sunscreen SPF 45
SPF: 45
Ingredients Include: helioplex
Price: $11 for 5 oz.
This Neutrogena Body Mist wins hands down for ease of application. Can't reach your back and no pool valet handy to help out? No problem. Toddler worming away? Just a quick spritz and she's covered. There are so many sprays and mists on the market now, but we've stayed loyal to this one. (So has brand ambassador Jennifer Garner, who spritzes her family with a dose of Neutrogena spray-on sunscreen every morning.) It's a broad-spectrum screen boasting helioplex, which is a combination of avobenzone and oxybenzone. The sheer, non-comedogenic spray leaves no slimy layer and we've never had a breakout. Plus, it's widely available. There are at least ten variations now including the Fresh Cooling Body Mist Sunscreen Broad Spectrum SPF 45 with its nice icy sensation -- lovely on a blistering day. Our only complaint? We wish the five-ounce bottle held more.
Tocca SPF 30 Sunscreen Towelettes
SPF: 30
Ingredients Include: vitamins E and B5
Price: $28 (8 towelettes)
Like many folks, we sometimes buy products simply because of their cool or cute packaging or delicious scent. Case in point: Tocca Sunscreen Towelettes. We love the design, the way they look in our purse or beach bag and their evocative bouquet of Italian blood orange. Tocca's ingredients include titanium dioxide, zinc oxide, vitamins E and B5, marine silk and aloe. We appreciate that you can just swipe on a bit of towelette sunscreen on-the-go (like in the car!), especially on days when you forgot to apply it in the morning or weren't prepared to spend lunch on an outdoor patio or be whisked away on a yacht on short notice.
MORE ON GAYOT.com