As I write this, the quarterfinals of the "greenest" World Cup ever are about to get underway, with two of the games to be played in stadia that produces enough solar energy to power several thousand homes a day.
When Rio's magnificent Maracana hosts the game between France and Germany, 500KW of solar energy will be produced from the 2,500 square meters of photovoltaic panels covering the stadium terraces.
Meanwhile, a day later, Argentina and Belgium will take the pitch at the Estadio Nacional in Brasilia, where a whopping 2.5MW of solar energy will be produced. The stadium is the first in the world to be self-sufficient in energy production and also able to use the surplus energy in other parts of the city, according to a spokesperson for the World Cup from Brazil's federal government.
While the organizers of the World Cup should be congratulated on their commitment to renewable energy, this tournament highlights the huge disparity between the investment in energy access in rich and poor countries.
One-third of the countries competing in the FIFA 2014 World Cup are unable to produce as much solar energy as one of the stadiums they have been competing in.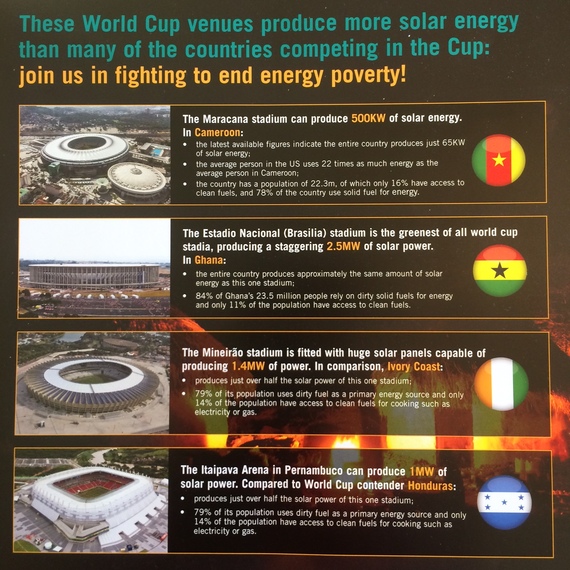 Bosnia-Herzegovina, Cameroon, Colombia, Costa Rica, Croatia, Ecuador, Honduras, Iran, Ivory Coast and Uruguay all produce less solar power than the 2.5 MW solar capability of the Estádio Nacional Mané Garrincha in Brasilia. Ghana produces the same amount.
It is absurd that there has been greater investment in renewable energy for a single sporting event than in 11 of the countries competing in it.
Most of these are developing countries, in which economic growth, health and education of millions of people is severely restricted by the lack of access to electricity for the majority of the population.
The findings come on the back of a new Poor Peoples' Energy Outlook report by international development charity Practical Action, which underlines how vital it is that off-grid energy is provided for the poorest communities in the world if they are ever going to escape grinding poverty.
Currently 1.2 billion people still have no access to electricity. Without electricity, people cannot develop and there will always be a substantial proportion of the world's population living in poverty.
Without energy, education is difficult and studying becomes impossible without adequate light. Childbirth in a clinic without electricity is dangerous and vaccinations cannot be stored without refrigeration.
Women in particular face a life sentence of drudgery without energy access. They spend hours every day collecting water, firewood and then cooking over open fires. Each year, nearly 2 million people die from medical conditions such as lung cancer and bronchitis caused by inhaling lethal smoke from kitchen stoves and fires.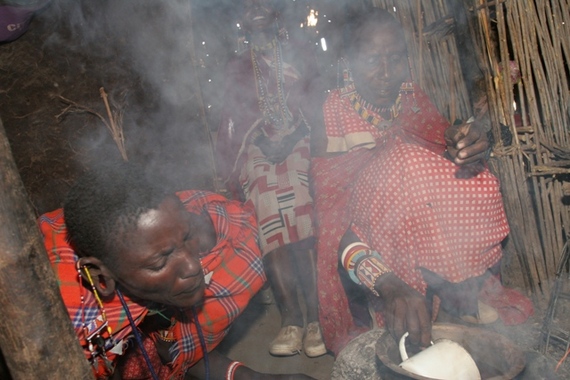 The report found that the only way of reaching the vast majority of these populations is not via traditional grid-based electrification as found in the West, but via smaller scale, renewable off-grid solutions such as solar, hydro and wind.
It is therefore vital that we follow the example set by the World Cup organizers and invest heavily in the new technology we are seeing used so well in Brazil.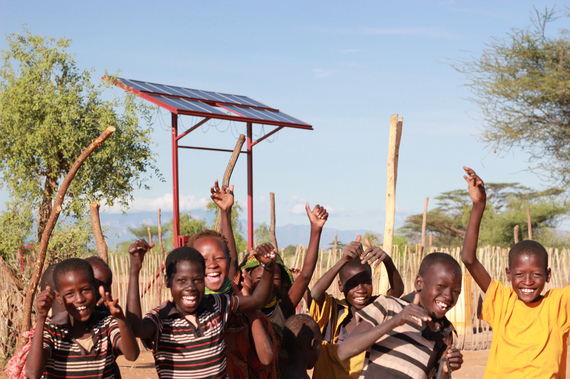 I read that in Ghana, the energy poverty is such that one of its major industries was asked to stop production during Ghana's World Cup matches. The government, unable to ensure that widespread blackouts would not result from the surge in energy demand and fearing the potential for public disorder, were forced to lean on a large aluminum production plant and ask it to give its work force a break.
Indeed, it can be little coincidence that of those 10 competing countries whose renewable energy does not match that of the four green stadia, there is only the two rank outsiders, Costa Rica (which produces just 0.21 MW of solar) and Colombia (1MW), left in the tournament. It would seem that a population's access to energy does not only allow it to become rich, it also has a profound impact on its ability to compete effectively in international football.