Veteran's Day is this weekend. So, of course, we encourage you to use Charity Miles for Wounded Warrior Project, which does incredible work honoring and supporting our wounded veterans.
But there is still a lot of work to do in aiding the victims of Hurricane Sandy. So, please allow me to introduce my new friend, William McNulty.
William is a Marine who served in both the infantry and intelligence. He has worked in support of the under secretary of Defense for Intelligence, the Defense Intelligence Agency and the National Security Council. In other words, he's a total badass.
Volunteering in Port-au-Prince, in the immediate aftermath of the Haiti earthquake, William and fellow Marine Jacob Wood realized how the skills cultivated on the battlefield -- emergency medicine, risk mitigation, teamwork and decisive leadership -- are invaluable in disaster zones.
So William and Jacob founded Team Rubicon, which unites military veterans with first responders to rapidly deploy emergency response teams to disaster areas.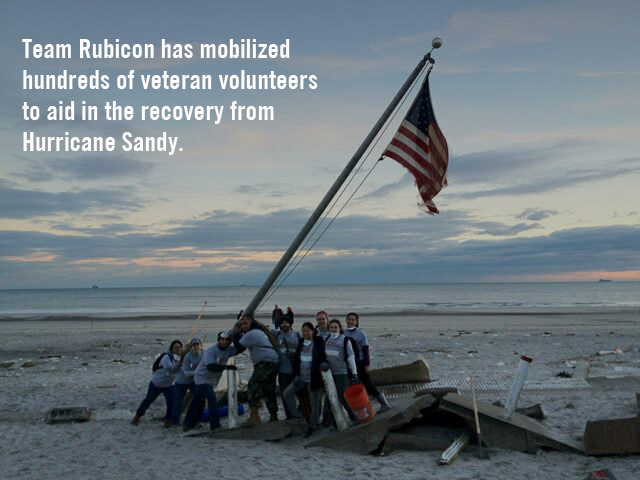 By repurposing the skills of returning military veterans, Team Rubicon addresses two challenges -- inadequate disaster response and veteran reintegration -- by using each to solve the other.
Since 2010, Team Rubicon has impacted thousands of lives in Haiti, Chile, Burma, Pakistan, Sudan and all across the United States. They reach outside the scope of where traditional aid organizations venture; victims on the fringe.
Team Rubicon has now mobilized hundreds of veterans to lead Sandy relief efforts in the hardest hit areas of New York and New Jersey. Their teams are working street by street, home by home, leading the charge for post-disaster emergency coordination. They call this Operation Greased Lightning.
William and I are working on adding Team Rubicon to Charity Miles. But, in the meantime, it gave me an idea. From now through Monday, whenever you use Charity Miles for any charity, we will donate an extra 25¢ per mile to Team Rubicon.
Team, you know what to do. So hop to it! We can't think of a better way to honor our veterans. #GoGreasedLightning!
Gene Gurkoff is the founder of Charity Miles, a free iPhone/Android app that allows you to earn money for charity when you walk, run or bike. He has personally run more than 35 marathons to raise money and awareness for Parkinson's research in honor of his grandfather who has the disease.