The American public's growing concern about climate change in 2014 stands in stark contrast to the anti-environment agenda and votes of the U.S. House of Representatives, as detailed in this year's National Environmental Scorecard.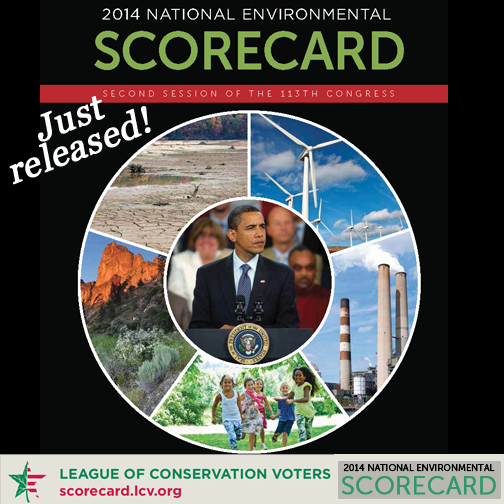 Fortunately, the House's breathtaking attacks on our air, water, lands, and wildlife were blocked by our allies in the U.S. Senate, who grew even more vocal this year about the urgency of addressing climate change. We were also thrilled by the progress made by President Barack Obama, who continued using his executive authority to build on his historic record on climate change and other environmental priorities.
Again this year, the impacts of climate change broke records, further motivating the American people to call for climate action. 2014 registered as the hottest year on Earth since record-keeping began in 1880, punctuating a trend that includes 14 of the 15 hottest years recorded this century. This warming is just one of the many impacts of dangerous carbon pollution--including rising sea levels, ocean acidification, and drought in some areas and flooding in others--each of which was detailed in this year's National Climate Assessment, the most comprehensive and authoritative scientific report ever produced about climate's impacts on the United States and our economy. This growing evidence of climate change helped mobilize more than 300,000 people to march this fall in New York City, and tens of thousands more in cities around the world.
In spite of these developments, the House of Representatives continued its assault on the environment for the fourth year in a row. Indeed, the 35 House votes included in this Scorecard are tied with 2011 and 2012 for the most votes ever scored, with the second highest total--28 votes--having come in 2013. This is a trend--year after year the Republican leadership of the House has chosen the polluters' agenda, so much so, in fact, that many other 2014 votes warranted inclusion and would have been included in a typical year but did not make the top 35 votes.
Just as they did in the last several years, the House seemingly left no environmental issue untouched in 2014. There were attacks on our cornerstone environmental laws, like the Clean Air Act, Clean Water Act, National Environmental Policy Act and the Endangered Species Act. There were votes to legislatively approve the dirty and dangerous Keystone XL tar sands pipeline, to dramatically expand risky oil drilling off our beaches and on public lands, and to prevent new parks from being created. Basic science itself was not spared, as the House voted against an amendment affirming the scientific consensus of man-made climate change and in favor of blocking the EPA's ability to use the best peer-reviewed science when determining levels of pollution that protect public health. While our allies in the Senate successfully blocked these attacks, they serve as a harbinger of the anti-environment agenda we can expect from both chambers of the 114th Congress, now jointly led by climate change deniers.
Thanks to the stalwart leadership of Majority Leader Harry Reid (D-Nevada), most of the House-passed anti-environment legislation never reached the Senate floor. Those attacks that did come for a vote were defeated, such as a bill to approve the Keystone XL pipeline. Indeed, the small number of votes included in this year's Senate Scorecard is testament to the fact that much worthwhile legislation stood no chance in the face of opposition from an anti-environment minority. That is not to say that attempts were not made. But common-sense legislation to extend clean energy tax credits or reduce the influence of big corporations and other special interest polluters in our elections--a major contributor to the anti-environmental turn of Congress in the post-Citizens United era--fell short of the 60 votes needed.
While the Senate may not have had the votes to legislate one way or another on the environment, that did not stop our allies in both chambers from speaking out more forcefully than ever on the need to address climate change. More than 30 senators took to the Senate floor in March to urge action on climate change as part of a historic, all-night session dubbed "Up for Climate." At a May rally in the Senate, hundreds of attendees and more than 30 members of Congress all programmed their smartphones to ring simultaneously to symbolically "Sound the Alarm for Climate Action."
For his part, President Obama continued taking historic steps to address climate change and advance other environmental priorities. The Environmental Protection Agency (EPA) issued a common-sense yet ambitious proposal known as the Clean Power Plan to establish, for the first time ever, national limits on carbon pollution from our nation's existing fleet of power plants, which are responsible for one third of all domestic greenhouse gas emissions. As part of President Obama's commitment to lead international efforts addressing climate change, the United States and China made a historic joint announcement pledging to take steps on climate and clean energy, and President Obama pledged a $3 billion U.S. contribution to the international Green Climate Fund to help developing countries cope with the impacts of climate change.
The administration's environmental progress this year wasn't limited to climate action. The EPA and the Army Corps of Engineers jointly released a Clean Water Rule that would protect wetlands and small streams from pollution or destruction, safeguarding waters that approximately 117 million Americans rely on for clean drinking water. And President Obama used his authority to protect several stunning western landscapes as national monuments and expand the existing Pacific Remote Islands Marine National Monument into the largest marine preserve in the world that is off limits to commercial resource extraction.
Looking ahead, we remain steadfast in our commitment to addressing the greatest challenge of our time, climate change, as well as making progress on other pressing environmental and public health issues. We are grateful to our allies in Congress and the Obama administration for opposing the House Republican leadership's anti-environment agenda and will count on them more than ever to stop the inevitable polluter attacks of the 114th Congress. And we look forward to continuing to work with the Obama administration to make even more progress on solutions that benefit the American people and the environment.