As their very first move as a new majority in the Senate, Republican leaders took up S.1, a bill to circumvent the normal review process and force approval of the dirty and dangerous Keystone XL tar sands pipeline, making their top priority clear: doing the work of their polluter allies. Choosing to start the new Congress with this harmful legislation was unfortunate; however, the debate offered an opportunity for senators to take a stand on climate change, clean energy, clean water, public lands, wildlife and other important environmental issues.
This is precisely why, for only the second time in LCV history, we are issuing a Special Edition Scorecard for a single piece of legislation. The 2015 Senate Special Edition National Environmental Scorecard sheds light on where senators stand on pressing energy, environmental and public health issues at the beginning of the first session of the 114th Congress. These votes presented senators with a clear choice: Stand with polluters and double down on dirty energy at the expense of our environment, our health, and our climate, or promote a clean energy future.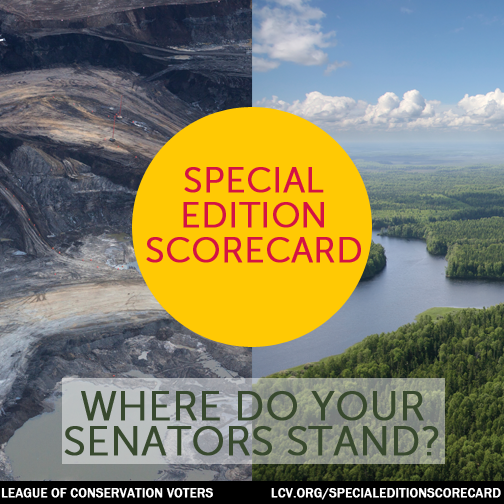 This Special Edition Scorecard includes votes on 18 of the most critical amendments and double-scores final passage of the bill, reflecting the importance of a senator's stance on the underlying Keystone XL legislation. Votes in this Scorecard range from acknowledging that climate change is significantly caused by humans to promoting oil drilling on our public lands to supporting clean energy tax credits to removing protections for endangered species. The 20 votes included in this Special Edition Scorecard will not affect a senator's lifetime LCV score, though it is highly likely that some of these votes will be included in the annual 2015 National Environmental Scorecard.
Coming on the heels of the hottest year on record and a wave of climate-change-fueled extreme weather events--including devastating droughts in California, forest fires across the west, and a toxic algae bloom in Toledo, Ohio, that prevented 400,000 people from drinking their own water--the votes on the science behind man-made climate change garnered a lot of attention. In particular, Senator Brian Schatz's (D-HI) amendment exposed a rift between the climate-denying leadership team of Majority Leader Mitch McConnell (R-KY) and Environment and Public Works Committee Chairman James Inhofe (R-OK) on the one hand, and Republican senators on the other who recognize that acknowledging climate science is both good policy and good politics. While the Senate's bipartisan support of climate change science is encouraging, support for climate action is the next logical step.
A bright spot was broad support for public lands protections. A bipartisan amendment that would reauthorize America's premier conservation program, the Land and Water Conservation Fund, actually surpassed the 60-vote threshold during the roll call. However, Republican leadership prioritized the dirty pipeline, and after a couple of senators changed their position, this bipartisan amendment ultimately came up one vote short of passing. Nevertheless, this pro-environment public lands initiative fared significantly better than anti-conservation amendments that would open up America's wild lands to development and prevent the creation of new parks. It's clear that preserving our natural heritage has robust bipartisan support.
Looking ahead, we will continue to stand with President Obama when he vetoes the Keystone XL legislation, and we will work with our allies in Congress to sustain his veto. Moreover, we are more confident than ever that the president will continue to build on his incredible climate leadership by rejecting the permit for the Keystone XL tar sands pipeline once and for all. We will also continue to work with President Obama and our allies in Congress to block future anti-environmental legislation that Republican leaders have already threatened to advance regardless of how out of step it is with the American public and a number of their own members.