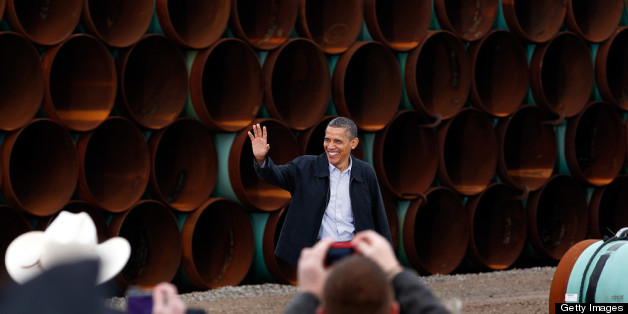 Since the debate surrounding the Keystone XL tar sands pipeline started, some have tried to tell me -- incorrectly -- that the American people just aren't engaged in the fight against this dangerous project. But I always knew better. Over the last year alone, we saw tens of thousands of Americans rally in Washington, D.C. against this pipeline and thousands more write their members of Congress. And last week we saw something else truly remarkable: Opponents of Keystone XL sent more than one million comments to President Obama, Secretary Kerry and the State Department urging that this project be rejected.
The comments came in reaction to the State Department's unacceptable recent analysis of the Keystone XL tar sands pipeline. The sheer number of comments is one of the clearest signs yet that momentum is building nationwide against this pipeline. It's easy to see why: The American people know that the Keystone XL tar sands pipeline is all risk and no reward.
Think what this pipeline would do. If the Keystone XL tar sands pipeline is given the green light by Secretary Kerry and the president, the dirtiest oil in the world, tar sands, would be transferred from Canada through the middle of this country. Along the way, our waterways and agricultural land would be put at risk for the kind of spill we've seen down in Arkansas.
That spill covered neighborhood streets and backyards and forced dozens of people to evacuate their homes. If a spill like that happened with the Keystone XL tar sands pipeline, it would be even more devastating, since the Keystone XL pipeline would carry nine times more tar sands oil. It's a dangerous recipe for an environmental disaster.
That's bad enough, but things get even worse when you look at the safety record of the company behind Keystone XL, TransCanada. Their record is truly terrible. Back in 2010, TransCanada built a different pipeline called "Keystone." The company made a lot of claims about how safe this pipeline would be, but it didn't turn out that way. In its first year alone, it experienced 12 separate spills -- nearly a spill a month.
People across the country are realizing that with Keystone XL, we'd be taking extraordinary risks and getting no rewards. Even the State Department report, which was recently criticized by the EPA, acknowledged that the Keystone XL tar sands pipeline would create only 35 permanent jobs. All the while, it wouldn't do a thing to move our nation towards energy independence, and the refined oil would be sent abroad to places like China.
Pipelines burst. It's not a matter of if, but when. TransCanada's terrible safety record makes this dangerous pipeline even more risky. The million comments from people across the country sent a strong signal that the American people recognize the Keystone XL tar sands pipeline is all risk and no reward. Secretary Kerry and President Obama should come to the same conclusion and reject this harmful pipeline.