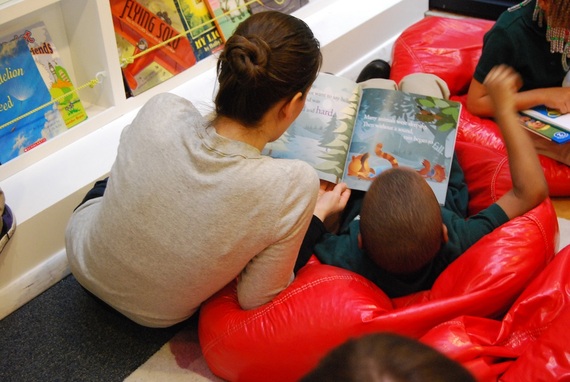 We take a trip to the bookstore for granted, don't we?
Bookstores don't only hold books, they hold promises. Promises for new adventures, where new people and characters enter our lives with fascinating stories to tell us.
Every day we meet children and teens who have never been to a bookstore, have never been able to choose their own brand new book from a bookstore shelf.
This saddens me every time I hear it.
We held a series of "book club" type readings at Pajama Program for teens. After the last session we took the girls to the bookstore to choose one book each and here's what their staff member wrote to us that night:
"I just got home a little while ago. I wanted to share how amazing it was to take these girls (and one guy!) to the bookstore. How grateful they were. How excited they were to be able to choose ANYTHING they wanted. To see them excited about books, reading, and the experience of being there and browsing and deciding. To see the genuine smiles and lightness as a result. I couldn't wait til tomorrow" (to tell you).
Soon Daisy Rodriguez, our Reading Center Coordinator, will be taking a group of 10 yr. olds to the bookstore as a celebration for our pilot program Reading Buddies Plus in which we pair volunteers with the same child over a period of several months of Reading Parties. This literacy-enrichment and mentor program has been a bonding experience for everyone involved.
Daisy continues to tell me how excited the kids - and our volunteers - are to have a bookstore trip together to look forward to. It will be a very rare trip for the children, one that will be treasured for a long time I'm sure.
Liz DeBetta, our Literacy Outreach Coordinator, always stuns me with newly released statistics and some frightening facts like these...
• 1 in 4 children in America grow up without learning how to read. (WriteExpress Corporation. "Literacy Statistics." Begin to Read. Accessed April 16, 2014)
• Students who don't read proficiently by the 3rd grade are 4 times likelier to drop out of school. (The Annie E. Casey Foundation. "Students Who Don't Read Well in Third Grade Are More Likely to Drop Out or Fail to Finish High School." The Annie E. Casey Foundation. Accessed February 25, 2015. .
• 2/3 of students who cannot read proficiently by the end of 4th grade will end up in jail or on welfare. (Write Express Corporation. "Literacy Statistics." Begin to Read. Accessed February 24, 2015.)
Liz continues to educate me on the plight of the youngsters we see and tells me that children spend 900 hours a year in school and 7,800 hours at home which means the more exposure to books and reading at home/outside of school, the more proficient they will become as readers and students. If children do not read outside of school we cannot expect them to do well inside the classroom. Therefore the more a child is read to, the more words she hears and the closer she comes to comprehending more.
Bookstores are not only buildings with books, they are safe havens for imaginations to run wild, for characters to come alive, for the children we serve to escape to anywhere in the world if they want to. Especially if that other place is a better place.