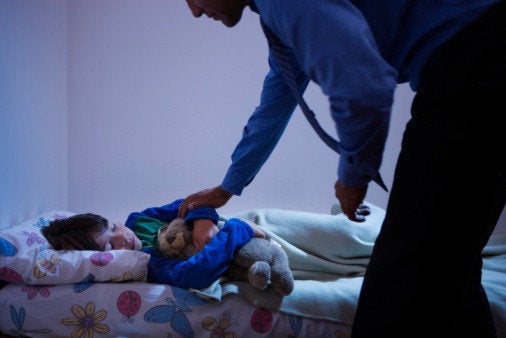 Do you remember bedtime when you were a child? I often ask that question when I speak to groups about Pajama Program and our children. Thankfully, most of the answers I hear are about loving memories, funny stories and the silly books everyone wanted read to them over and over! I especially love when I can see the tenderness wash over people's faces when they remember back to those nights. How fast the memories rush back! Every adult in the room immediately turns into that vulnerable child being tucked into bed, getting a gentle kiss and saying goodnight to mom or dad as the lights are turned low. We want that for every child, especially for the special children we see everyday. What about those bedtimes has stayed with you for years?
I remember my mom reading to me at bedtime. I must have been 5 or 6... The Candy Striper storybook was one of my favorites. I loved her uniform but I also really loved her puppy who had a splinter and the candy striper had to take it out so carefully and wrap up his paw. I wanted that puppy for my own! I wanted to be that candy striper too. It was so simple then. Anything was possible. I believed all my dreams would come true.
I also remember my mom making up a story that we all four made her tell us over and over and over. It was about a man who lived in a snickers bar. When the little boy who bought the candy bar unwrapped it to take a bite, the man would squeal, "don't eat me, please don't eat me!" And no adult could hear the man's voice... only the little boy could.
We would giggle and roll around the bed laughing and screaming "don't eat him, don't eat him!" How I loved that story... and never minded it over and over. I have a silly grin on my face now as I remember it so vividly, like it was last week. I can remember what my room looked like and how I was under the covers waiting for the boy to open his mouth to take a bite of his candy bar! I can actually hear my mom's voice and her intonations.
I loved those stories at bedtime. It was carefree and fun and warm and cuddly. Pure fantasy time. I didn't think of anything else while my mom read the stories... yes, it was so simple then. It was all about being right there with her in those moments. No worries, no concerns, no fears at all. It didn't seem like anything existed before or after that story time. I'm sure I fell asleep as she was still reading. What I know for sure is that I slept soundly. I had imaginative dreams. And I felt safe and loved.
What are your favorite bedtime memories?