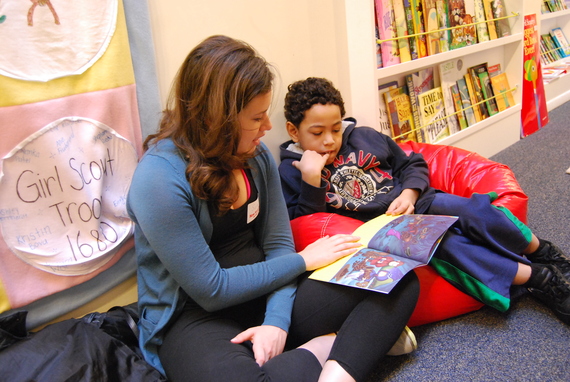 So many youngsters and teens alike are facing difficult days as the holidays near. They are in search of another world, a more loving community, a less lonely future to think about. Every day we see children come for their first Reading Party here. As they walk in they are timid, skeptical of what will happen in the next hour, not sure if they should relax just yet - maybe it's not all OK. Volunteers help them take their coats off - they are staying for a while they are told. They are still uncomfortable in our foreign, albeit magical, surroundings.
But soon we hear them laughing. The ice-breaking introductions are in full swing.
"What's your favorite food?" they are asked.
They chuckle and roar to hear shy Justin whisper "carrots." They begin to scramble to get to the bookshelves. We know they are letting their guards down. We are melting.
"Do you want to pick a book from the shelves?" a volunteer asks 6-yr old Stella.
Stella nods and runs over to the crowd of classmates vying for the most popular books. She returns to her volunteer with a book about animals.
"Now that I have a new book I can learn new words," she announces.
A book is a chariot that takes children on a very special journey...into worlds where they fit in, peaceful galaxies that invite them to stay as long as they want, a personal high flying rocket that lifts off into a safe place.
"I always feel as if I am in the book," one boy told us this week. "I like being able to go on the adventure with the characters."
"What's the best thing about a new book at bedtime?" asks a volunteer to a little boy leaning on her as she holds him close.
"That you can go into your own world," he tells her.
"Do you like reading a story before bed each night?" she wants to know.
"Yes, because I can dream good dreams," he answers.
Maybe books do transport these children into a pretend existence. The words and pictures fill their imaginations with exciting and promising notions. For so many of them it's better to find an escape for at least a little while than to live in their real world right now. The children find comfort and solace in books and if it eases their minds, we can help them make-believe for an hour.