Today is World Suicide Prevention Day.
When a suicide happens it is a horrific moment in time. Fellow bloggers Olivier Blanchard and Margie Clayman joined me today to fundraise for IMALive"s 24-7 suicide prevention chat service in memory of Trey Pennington, who passed away almost two years ago to this day. The level of shock and mourning online was unprecedented in our blogging community, and there was good reason for that.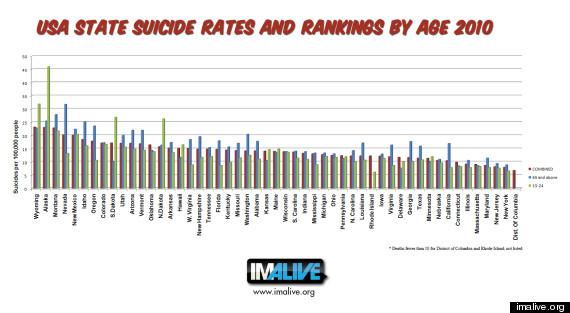 A global epidemic, suicide touches many people's lives with almost one million people succumbing every year, or one person every 40 seconds. According to the World Health Organization, suicide is much more prevalent in high income countries, creating major problems. As you can see from the above chart, the United States is no different.
Thinking of my friend Trey again, he was one of the most encouraging, kind people on the internet. He benefited many people's lives online, mine included. Trey wrote on my wall the day before he passed away, sharing a small success with one of my clients in an encouraging fashion, as was his way. It seemed very much in character.
When I found out Trey died, I was just heartbroken.
As with many people I associate with online, I did not meet Trey in real life, but we talked a bit over the years. He shared his frustrations in trying to write a book, and we both had a common dislike for some of the behaviors popularity-seeking top bloggers exhibit. But Trey would always gently encourage me to stay focused, and keep using my online skills for good.
And like Trey, I also went through a separation, and it just devastated me, causing a deep depression. I had a different outcome than he did, thank God.
The circumstances of Trey's death don't matter to me. What is important is the encouragement and the reminders, which I choose to keep and remember. Further, I will pass them on. Trey's legacy will live.
It's easy to lose yourself in the online rat race, and the day-to-day tribulations of work and life. Arianna Huffington has spoken frequently about the importance of balance and sleep, and taking care of ourselves.
Sometimes things get out of control, and we're beyond the point where basic self care can make a difference. Help is needed.
Sometimes we see friends like Trey in need. That's when we need to reach out and try to make a difference. Last year I was able to intervene and help someone get treatment in the face of suicidal ideation. I don't know if I would have done that if it wasn't for Trey.
Sometimes, people don't want to talk about their suicidal depression. There's such a negative stigmatism about mental illness and suicide. That's why we need to fund and support suicide prevention services like IMAlive so people always have someone they can talk with in confidence.
I hope you decide to make a difference for someone on World Suicide Prevention Day.
Have you been touched by suicide?