Sometimes all you can do is shake your head in disgust at the insipid tendencies of the Christian Science Monitor's national political coverage. The disingenuous Tweedledum-Tweedledee construction of its political posturing, always with a dash of conservativism thrown in for good measure, often borders on the absurd.
Take the asinine posting Wednesday by CSM's Washington Editor Peter Grier on the hilarious parody of the Chris Christie Bridgegate Scandal by Jimmy Fallon and The Boss himself, Bruce Springsteen, on "Late Night with Jimmy Fallon" Tuesday night.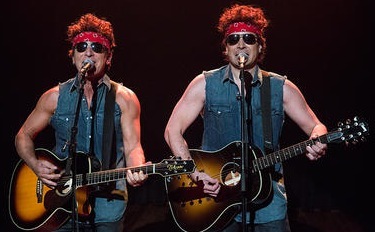 The send-up of Christie was absolutely brilliant, sung to the pounding rhythms of Springsteen's generational anthem, "Born to Run":
In the day we sweat it out on the streets stuck in traffic on the GWB. They shut down the toll booths of glory 'cuz we didn't endorse Christie. Sprung from cages on Highway 9, we got three lanes closed, so Jersey get your ass in line. Whoah! Maybe this Bridgegate was just payback, it's a bitch slap to the state Democrats, we gotta get out but we can't--we're stuck in Governor Chris Christie's Fort Lee New Jersey traffic jam!
Grier noted that the parody had some "sting" to it, because Springsteen is Christie's "favorite rocker." There's some heavy political and cultural analysis.
And then Grier asserted the following:
The audience mostly loved it. But not all of them: There were a few boos at the end, as caught on tape.
Caught on tape? As my 19-year-old daughter would say, "Well, shit."
Grier, with his button-down collar and strangely parted hair, doesn't come off as someone who could ever quite relate to Springsteen. And he's obviously never been to a Springsteen concert nor listened to one of his live albums, because if he had, he would have known that those were shouts of "BRUUUUCE!" coming from die-hard Springsteen fans.
Hardly "boos." Not even close. The audience went wild. It was a memorable moment in American comedic and cultural history. The video has gone viral. It will forever mark Christie's political career.
Somehow I doubt that Grier or any of his classmates at the Christian Science college of Principia were blasting "Born to Run" out their dorm windows. And what's even more telling is that not a single editor at the Monitor was culturally astute enough to correct Grier's embarrassing mistake before it made its way to print. It took some pissed-off readers--including moi--to inform the Monitor of Grier's egg-in-his-face blunder.
But again, no surprise. The working class rebellion that fuels Springsteen's music--and, quite candidly, which fuels some of Christie's appeal both in Jersey and nationally as well--is nowhere to be found in the Wonder Bread journalism of the Monitor.
Grier actually called Springsteen's send up of Christie a "triple ouch"--not the kind of language you'd ever hear on the mean streets (or highways) of Jersey, but which fits perfectly into the sugar-coated bubble of the Monitor's Washington bureau.
Of course, Grier and the Monitor were forced to issue a corrective yesterday, with Grier trying to make light of it by noting, "No, we don't get out enough." That's an effete and duplicitous way of diminishing the fact that he is out of touch with a significant segment of the American body politic about which he writes on a daily basis.
So be it. But then, after making a journalistic blunder of grand proportions (and which was an utterly unwarranted dig at Springsteen), Grier doubled-down on his stupidity by taking yet another cheap shot at The Boss. He notes that Springsteen--who has a superb new album out--linked to the Late Night performance on both his web site and his Twitter feed.
"Are you shocked," Grier asked, "shocked that a musician might use an attention-grabbing controversy to sell some of his own songs? Particularly somebody who sings a lot about the problems of unfettered capitalism?"
Say what? Talk about chickenshit. You just gotta know that a guy like Grier would never have the cajones to say that on the streets of Newark or Freehold. I have no idea where he's from -- but I know he's never driven Thunder Road.
Let me make something clear to Mr. Grier that he might not be able to grasp from the sheltered confines of his cozy Monitor offices: There are more than a few "problems" with "unfettered" American capitalism, and Springsteen has dedicated his career to illuminating them. His appearance on "Late Night" was an act of political parody of the highest order--one fully in keeping with the principles and cultural sensibilities that have defined his career.
Does Grier really think that Springsteen needs a publicity stunt to sell records? What a joke.
If Grier wants to diminish Springsteen's political intentions, then let me suggest he get his facts right--and not come off as a tool of those "unfettered" capitalists who have all but destroyed the fabric of America's working class economy. And of Chris Christie, their chosen son for the 2016 presidential election, who now has some serious answering to do.
Though you'd never know it by reading the bland pages of the Christian Science Monitor, it is, indeed, a runaway American dream.

Award-winning writer and filmmaker Geoffrey Dunn's best-selling The Lies of Sarah Palin: The Untold Story Behind Her Relentless Quest for Power was published by Macmillan/St. Martin's in May of 2011.