The seamy revelations now engulfing former CIA Director David Petraeus and General John Allen, commander of U.S. and international forces in Afghanistan, will no doubt garner center stage in the nation's capital for weeks, if not months, to come. President Obama needs not only to fill the huge vacuum in American intelligence leadership created by Petraeus' inglorious departure, but he has also been forced to delay appointing Allen to head the U.S. European Command until a probe of his internet relationship with controversial Tampa socialite Jill Kelley is completed. At the moment, the collective reputations of U.S. military and intelligence agencies are in a descending spiral.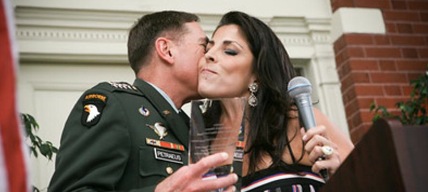 Even worse, it's uncertain when the descent will end. The corrupt culture surrounding both the U.S. Central Command and the Special Operations Command in Tampa promises to turn into a daily soap opera, as new characters are brought into the tawdry drama and the sordid details of thousands of emails are leaked out slowly to the public. It doesn't for a pretty short-term future make.
Add to all this the burgeoning congressional inquiry into the September 11 attack on the U.S. consulate in Benghazi, Libya, that left four Americans dead, along with both social and military unrest throughout the Middle East (Syria and Iran, paramount among them), and suddenly Obama has a serious crisis on his hands, the greatest of his presidency. It all promises to be an ugly circus that could well thwart the president's ambitious agenda for a second term.
Obama has one move. He needs to call in Colin Powell to help him put out the escalating inferno and to restore both credibility and a sense of integrity to the military high command. Only Powell--a former Secretary of State, as well as National Security Advisor and Chairman of the Joint Chiefs of Staff--has both the international status and the national-security gravitas to help Obama steady this dangerously rocking ship.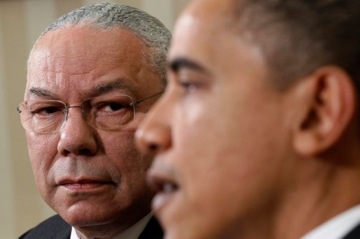 The fact of the matter is that Obama has a limited roster. Secretary of Defense Leon Panetta is a man of both loyalty and impeccable integrity, but he will be consumed in the near future focusing on the day-to-day proceedings involving Petraeus and Allen and the ongoing Pentagon investigation into the scandal. Secretary of State Hillary Clinton has been implicated (perhaps unjustly) in the Benghazi allegations and has no military experience from which to draw; she also has one foot out the door.
Perhaps Obama needs to shuttle Panetta back to the CIA, where he is uniquely up-to-speed, and bring Powell in as Secretary of Defense. Or perhaps he needs to name Powell to a special assignment to ferret out the scandal. There is simply no other figure on earth who understands the dynamics and intricacies of the vast U.S. military, intelligence and foreign affairs bureaucracies as does Powell--and no one who commands more respect within them. He, and he alone, would help restore credibility to the U.S. military and intelligence agencies and put an end to the shameless shenanigans in the social swamp of Tampa from which the current crisis has emanated.
Powell, of course, has recently been the target of racist attacks by the American right wing for his support of Obama in both the 2008 and 2012 presidential elections. But those right-wing hacks--from former New Hampshire governor John Sununu on down--now have no place now in this discussion. Powell's sterling reputation was also tarnished a decade ago when he supported, however reluctantly, the Bush II Administration's war in Iraq. So be it; he doesn't walk on water. No one does.
But he has walked the walk over his career--from the jungles of Vietnam, where he was wounded, to the polished corridors of Washington, D.C., where he took on the likes of Donald Rumsfeld and Dick Cheney in the Bush II Administration. This nation needs to call on his services one more time--and President Obama needs to make the call, and make it soon. Colin Powell's "American journey" is not yet complete.