Diversity. Yeah, that word. So 1990s. Well, maybe not.
With the U.N. 67th General Assembly under way this week in New York at which matters of cultural identity, gender and human rights and more will be debated, it's a good time to look at the perennial issue of diversity and cultural identity in the U.S., particularly, as it relates to inclusion in the communications industry, that sector that in many ways controls how we see ourselves and others, and the images we present to the larger world.

Diversity is a word a whole lot of folks in the U.S. hoped would disappear from our collective vocabulary when a guy named Barack Obama became president four years ago. "See! The world's fair. It's a new game," they say. Some people would have us believe that the world is an equal playing field with a black man in the White House. Well, it's just not that simple.
If we didn't know beforehand, we've learned now that just like bad economies don't improve overnight, housing prices take years to rebound and reaching across the political aisle to find accord is harder than we ever imagined, total inclusion within our society without regard to race, gender and sexual orientation is an ongoing battle. Yeah, we've come a long way, baby, but we've got a mighty long way to go.
This month the cable communications industry celebrated Diversity Week. It's a week when the National Association for Multi-ethnicity in Communications (NAMIC) and Women in Cable Telecommunications (WICT) hosts their annual conferences to discuss the issue of industry diversity, culminating with the annual Walker Kaitz Foundation dinner, which honors individuals and organizations committed to diversity in the industry.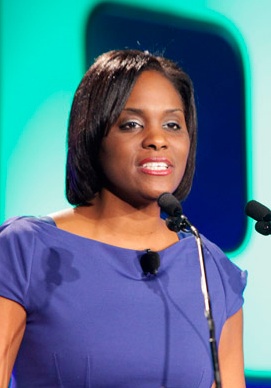 NAMIC president Nicol Turner-Lee. Photo credit: Luis Marin Creative
A highlight of NAMIC was a captivating keynote address by actress and activist Rosie Perez who provided humorous yet earnest anecdotes on her personal and Hollywood journey and the struggle to defy painful stereotypes rooted in much of the American psyche. With stories about casting challenges and a disturbing childhood memory of being accused of plagiarism after writing a school essay because after all, "How could you, a Puerto Rican girl with an accent, write this?" Perez was forced to write another essay on a completely different topic in the vice principal's office.
It was the type of humiliating story many of us in the room have had firsthand -- accusations based on race, culture or gender -- and one that hits home with haunting freshness each time because of its simple honesty. And it resonates because it reminds us why we so desperately need to build bridges across ethnic and gender lines. And it illuminates our need to foster cultural sensitivities in order that we might better understand each other as human beings first and foremost with the ultimate goal of garnering the mutual respect for difference that must exist if we are to move forward as a society in the twenty-first century, particularly in an oft-times hostile and polarized political climate.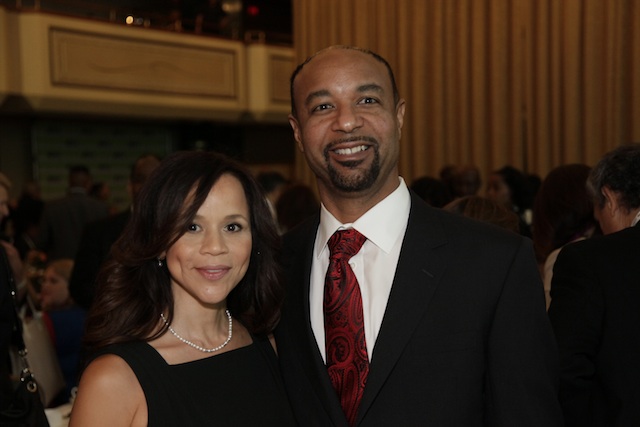 Actress Rosie Perez and Walter Kaitz executive director David M. Porter Jr., Ph.D. Photo credit: Luis Marin Creative
"I think in an ideal world we would not have to actively remember to talk about diversity," argues NAMIC president Nicol Turner-Lee, Ph.D., "Diversity would be top of mind. It would be a part of the fabric of how we do business, how we network and socialize, and how we absorb images and other representations of our society. It would just be part of who we are. However, I think we're not there yet," she adds.
Kudos to NAMIC for making a nonstop case for diversity even as we've seen the presence of blacks, Latinos, Asians and other minority groups rise in the industry. With leadership and mentoring initiatives, detailed diversity reports, its annual must-attend conference and networking events, for over 30 years NAMIC has been a major catalyst for change in the cable communications industry. It has been committed to creating a pipeline of minority talent positioned to matriculate to senior level positions at cable networks.
This past summer NAMIC announced its new partnership with the University of Virginia's Darden School of Business, which will facilitate its Executive Leadership Development Program previously housed at UCLA. The new program, which starts this month, is designed to give upper-middle management executives -- defined as having two years or more of experience at the director level -- a holistic approach to leadership skills development. It is a prime example of the types of long-term planning initiatives that can have a positive impact on diversity as it relates to nurturing and cultivating talent.
With the help of NAMIC, the cable industry has in part made strides in the area of diversity. NAMIC's 2011 biennial diversity report indicates that the overall percentage of full-time minority employment in the cable communications industry increased from 2008 to 2011 to 33 percent from 30 percent. In the executive ranks, things look better with people of color comprising 19 percent of the positions in 2011 up from 12 percent in 2008. There was also growth in the number of people of color represented in the highest paid positions to 18 percent from 13 percent. But when it comes to the boardroom, however, things looked dismal. There was virtually no change to 14 percent from 13 percent.
Yet management ranks don't tell the whole diversity story. The NAMIC study also suggests that the trends in hiring and promotion are not aligned with projected populations shifts in the U.S. This is most glaring when it comes to Asian/Pacific Islanders. This group grew 43 percent, according to the last U.S. Census report, but only grew 17 percent in the executive ranks of the cable telecommunications industry.
And just as management ranks still have room to grow, it is behind the scenes in television and film production where there's also still quite a bit work to be done. A 2011 Directors Guild of America report, which examined more than 2,600 shows from the 2010 to 2011 season, indicated that white males directed 72 percent of all episodes of the more than 170 shows included in the study with white women directing 11 percent of the episodes, minority men securing 14 percent of the directing jobs and minority women directing a meager 3 percent of the episodes. Matters were just as bleak for minority writers. A 2011 Writers Guild of America study reported that minority writers had 10 percent of the television industry jobs from 2007 to 2009, a fact that makes them underrepresented in the industry by a ratio of 3:1. The film business is even worse: the study indicated that minority employment reached its lowest level in at least ten years at 5 percent, making minority film writers underrepresented by ratio of 7:1.
The Emmy Awards alone highlight just how far we have to go for true diversity in television. Deadline Hollywood reported in August in the post "Little Diversity Among Past Emmy Winners" that "combining the victories for black actors and actresses in all 16 performing categories throughout the 63-year history of the Primetime Emmys results in 35, or roughly 5 percent of the total number of statuettes handed out." That's decidedly tragic when you consider how much television blacks watch.
But let's be real. Despite empirical evidence of a need for more diversity, diversity is not always an easy conversation these days. With record unemployment and traditional broadcast and cable media continuing to rethink and reboot business models as companies like Netflix, Hulu and Amazon stream content, create original programming and grab viewing time while the movie industry continues to contract, it's a tough media game today for people of all stripes. That said, balance sheets, income statements and stock prices will continue to rule when it's all said and done. After all, cable is a business. Nevertheless, it is this business reality that perhaps presents the best case for minority inclusion going forward.
Taking a look at the changing demographics in the country, diversity is no longer just the right thing to do to feel good about your business ethics, diversity will, by necessity, be a core business principle going forward. Turner-Lee points out the evolution of the diversity debate amidst the shifting demographic landscape. "In the '80s, the business case for diversity was that you could not have a homogeneous group of decision-makers [at the cable companies]. Now it's not just about race and gender. But it's about media consumption patterns, digital, fluidity of content," she says. "Now you are out the ballpark if you don't have a young professional sitting in your office who is a heavy electronics user, or someone on your team who is from the LGBT community, or someone who understands baby boomers. If you don't have that plethora of diversity sitting in your office, think about the opportunities and impressions you're missing."
Underscoring the case for more diversity is the growing purchasing power of minority consumers. As the largest minority group in the U.S., black consumer purchasing power is expected to reach $1.1 trillion by 2015, according to a 2012 Nielsen study. The Hispanic market, which is the fastest growing segment in the U.S., is expected to grow to $1.5 trillion by 2015 up from $1 trillion in 2010.
Yet despite the clear evidence of buying power, advertisers are still reluctant at best and unwilling at worst to spend adequate ad dollars with minority-targeted media. This is a fact that journalist Roland Martin lamented on a NAMIC panel. And it's a phenomenon, first reported by Target Market News, that motivated a coalition of black media organizations including BET, ESSENCE Communications, Johnson Publishing, Huff Post Black Voices, TV One, among others, to launch this past summer the #INTHEBLACK campaign with the expressed purpose of demonstrating to advertisers how they can reach the black consumer more effectively.
One cable company that has distinguished itself in the area of diversity is Cox Communications, which at #25 was the highest ranked communication company on DiversityInc.'s annual Top 50 list of companies for diversity.
Looking ahead, one has to hope that as our country becomes inevitably more diverse, having a representative body of people from all ethnic groups will be the norm such that there will be no need to debate diversity. True diversity will become our accepted and respected reality.