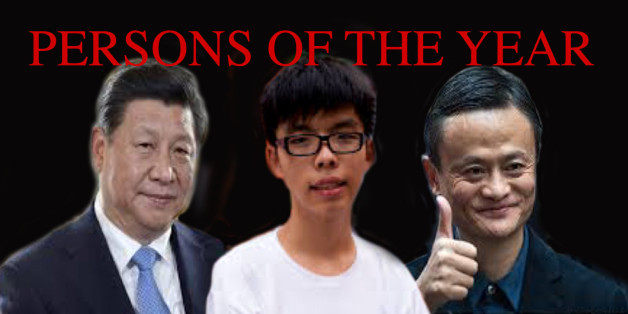 This article also appears in the South China Morning Post
HONG KONG -- What do President Xi Jinping, Alibaba's Jack Ma Yun and Hong Kong student leader Joshua Wong Chi-fung share in common? Congratulations! All three are now officially finalists for Time Magazine's annual "Person of the Year" competition.
Time now allows readers to vote online as Xi, Ma and Wong are just the three Chinese nationals among 50 "Person of the Year" finalists from all over the world this year.
Wong, 18, who has recently been on the cover of Time and is widely considered the face of Hong Kong's pro-democracy movement, is clearly the most controversial finalist, compared with Ma and Xi.
If you check mainland social media platforms like Sina Weibo, you will find Wong has been labeled a traitor, American spy, gangster, or worse. But in Hong Kong, he is widely recognized for his passion in fighting for freedom and democracy, not only for the Occupy protests but also for the movement against Beijing's efforts to push its curriculum on Hong Kong students in 2012.
"People [in China] just choose to believe in different things -- money, power or. . . freedom."
The three picks by Time reflect the very different thinking and ideology of Chinese society, which is generally getting more divided rather than united under Xi's leadership.
People just choose to believe in different things -- money, power or the long-awaited "Chinese dream" by some and, perhaps the entire nation, for freedom.
Ma, whose company Alibaba Group Holding this year pulled off the world's largest ever initial public offering on Wall Street, is a representation of wealth, or the so-called "new money" class in the world's No. 2 economy. If you go to colleges on the mainland and ask the young who they want to be in the future, many will say they want to be Jack Ma. In other words, they simply want to be rich.
Xi, of course, means power but many Chinese, especially civil servants, are apparently getting bored with the endless power struggles these days due partly to Xi's anti-corruption campaign that some say has become more like a pro-Xi movement to get rid of his political rivals.
Corruption is undoubtedly bad, but when you have a deeply corrupt system and graft is clearly already an institutional -- not just individual -- problem as it is in today's China, how many officials can you arrest? An anti-corruption campaign without challenging the deeply rooted systemic cause of corruption seems more like a political show to serve some special interests.
For Wong, there is of course still a long way to go. I may not agree with all that the student leader says or thinks about Hong Kong's pro-democracy protests, but I do admire his courage and passion for the city he calls home. For his courage and passion for democracy, I say he deserves to join Xi and Ma as finalists for "Person of the Year."
Follow George Chen on Twitter: @george_chen