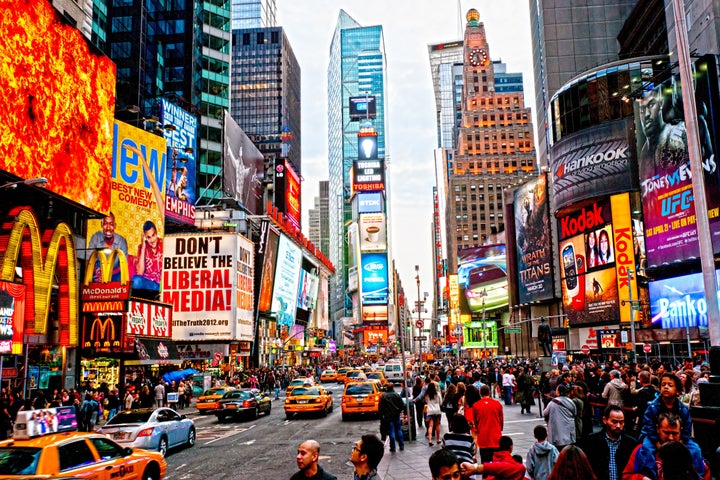 Last December, Mayor Bloomberg announced the City had reached its goal of 50 million annual visitors four years ahead of the original schedule -- making New York City the top city destination in the country. Indeed, over the past five years, the travel and tourism industry has become a driving force for New York City's economy, growing into the City's fifth largest industry and supporting more than 320,000 tourism related jobs across the five boroughs. From a financial standpoint, New York City tourism generated $34.2 billion in direct spending, $51 billion in economic impact and saved each New York City household approximately $1,350 in tax relief.
Recently, NYC & Company -- the City's tourism and marketing organization -- announced a new goal of 55 million annual visitors by 2015 aimed at generating $45 billion in direct spending, $70 billion in economic impact and 350,000 tourism related jobs.
The success of New York City's travel and tourism industry has not happened by accident. It's been part of a strategic, five-borough economic development plan put forth by Mayor Bloomberg to help grow and diversify the economy. In 2006, the Mayor tapped me to lead the new NYC & Company -- following a merger with the NYC Marketing and NYC Big Events departments -- and form the pre-eminent municipal marketing, tourism and partnership organization. We immediately set out to expand the City's global presence and developed initiatives to target key emerging markets such as Brazil, India and China. Now with 18 international offices serving 25 global markets, NYC & Company is able to tailor its message to specific demographics -- speaking to them in their market, in their own language. Furthermore, as global economic conditions shift, this vast network allows the City to shift its promotional strategy to ensure that it's targeting the right markets at the right times.
As one of the country's safest and cleanest big cities, the vibrancy and magnetism of the destination is at an all-time high. People want to come experience the New York City they see and hear so much about, and they are coming in record-breaking numbers. With our wide array of hotels, restaurants, attractions, cultural organizations, performing arts, sports and Broadway and Off-Broadway shows, the City offers something unique and exciting for everyone from all walks of life.
As NYC & Company continues to promote the energy, diversity and excitement of all five boroughs -- The Bronx, Brooklyn, Manhattan, Queens and Staten Island -- it is critical to recognize the importance of tourism to our economy and our City overall. This industry is part of the very lifeblood of the City, now more than ever before.
This post is part of the HuffPost Shadow Conventions 2012, a series spotlighting three issues that are not being discussed at the national GOP and Democratic conventions: The Drug War, Poverty in America and Money in Politics. Check out the Shadow Conventions big news page here, and join the conversation at HuffPost Live.