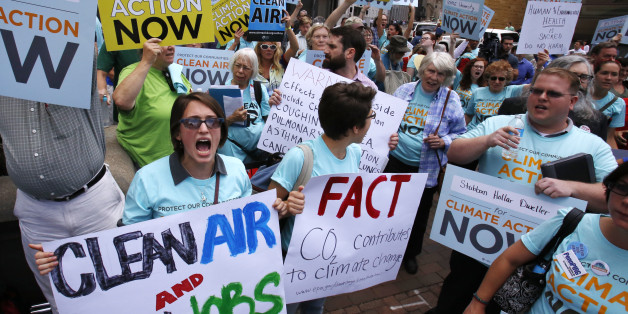 This Sunday, an estimated 100,000 people will flood the streets of midtown Manhattan for the largest climate demonstration in world history. They will come from all over the globe, with interests, talents, and biographies that mirror the incredible diversity of our world. What's even more groundbreaking is how many groups have come together to unite behind a common message of environmental protection. Thousands of union members will link arms with environmental activists, to demand action from global leaders to reverse the effects of climate change.
At first, that might seem strange -- the labor movement and environmentalists are not often characterized as natural allies. But if the People's Climate March teaches us anything, it's that what unites us is far greater than what divides us. 1199's members, over 400,000 nurses and caregivers, are both the heroes and victims of climate change. As medical professionals, they have been on the front lines of the climate fight, caring for New Yorkers in the wake of Hurricane Sandy and treating diseases like asthma, that are often the result of air and water pollution. Myrtle E. Williams, an 1199 member and licensed practical nurse at a nursing home in the Rockaway neighborhood of Queens, shared her Hurricane Sandy story. "Once Sandy hit the nursing home lost power," Myrtle later said. "It was a scary experience but I had to be strong for my residents." Myrtle lived without heat or hot water for a month after the storm, but continued to go to work every day. "My residents mean a lot to me," she added. "They are like family members. They looked to me for stability and comfort; I needed to be there for them."
Myrtle was one of many 1199 members who worked through Sandy to ensure that patients continued to receive the care that they needed. When NYU Medical Center was evacuated during the storm, due to a power outage, members carried patients down dark stairwells in order to get them to another hospital safely. Living through Sandy was chaotic.
The intensity of the storm made it clear that climate change is a healthcare crisis. In reality the affects of climate change and pollution on our health have been hiding in plain sight for many years. Communities of color have borne a disproportionate brunt of this burden. Asthma rates and incidents of cancer and heart disease continue to be higher in neighborhoods with large black and Hispanic populations throughout New York City. Black children are four times more likely to die from asthma than white children. Black and Hispanic children are twice as likely to be hospitalized by the condition.
These examples of environmental injustice will only get worse if we do nothing. We are staring down a future where those wounds are multiplied and made deeper. But that does not have to be the end of the story. We have the power to create a greener more sustainable future. In the healthcare industry, there are basic steps we can take like ensuring green buildings, renewable energy use, recycling and waste reduction which will help to shrink institutions' carbon foot prints.
That focus on lifting up everyone, by confronting the problems that we all have in common, is precisely what the climate movement is all about. Climate change is an issue that threatens our health, security and prosperity not as select individuals or groups, but as a collective whole. That's why organizations like 350.org have focused on fighting back for all of us, and to ensuring the continued prosperity of our entire planet. That is why the People's Climate March is such a big moment -- it is showing us that everyone has a stake in standing up and speaking out on this issue. This is not just a momentary alliance between normally fractious groups; it's a fundamental realignment within the progressive movement that's showing us labor unions and environmental advocacy organizations are united by common long-term goals.
That means working together to build a brighter future within our reach, where communities breathe healthy air and live off energy systems that generate new and better jobs as well as cleaner, more efficient power. We will create good-paying, permanent jobs in the renewable energy industry, so that workers benefit from high wages and excellent benefits -- and so our planet feels the effect of fewer fossil fuels and lower carbon emissions. All of that begins with the People's Climate March on Sunday, which will show the world that everyone can get behind the goal of preserving our planet for generations to come.
To learn more, visit www.peoplesclimate.org.