This month, the media has been peppered with stories marking the one-year anniversary of the Costa Concordia disaster. While many people were quick to compare the ship's late-night collision with the sinking of the RMS Titanic, maritime historians were painfully aware of another, somewhat more eerie comparison that deserves mention.
Unlike the sinking of the Titanic (which was not a cruise ship), the Costa Concordia tragedy took place close to land, with the ship's waterlogged hull coming to rest at Isola de Grigio. While many people associate Long Beach Island, N.J., with the devastation recently caused by Hurricane Sandy, early in the morning of Sept. 8, 1934, the cruise ship S.S. Morro Castle was about eight miles off Long Beach Island when a fire broke out in a storage locker that eventually engulfed the entire ship in flames. The burning hulk eventually drifted ashore near the Asbury Park Convention Hall.
What does the Morro Castle tragedy have to do with the history of the American musical theater? More than most people know. At the time, Cole Porter was working with Guy Bolton and P.G. Wodehouse on a new musical. Producer Vinton Freedley's original idea had involved a cruise ship and a bomb plot, followed by a shipwreck that left people stranded on a desert island.
After the Morro Castle disaster resulted in 138 deaths, Freedley turned to his director, Howard Lindsay, and brought in a publicist named Russel Crouse for a speedy rewrite (Lindsay and Crouse developed a reputation as Broadway show doctors and went on to write the scripts for Life With Father, Red, Hot and Blue, Call Me Madam, The Sound of Music, and Irving Berlin's last musical, Mr. President).
With its new script, Anything Goes had its Broadway premiere at the Alvin Theater on November 21, 1934 (10 weeks after the Morro Castle fire). Ethel Merman turned the title song as well as "I Get A Kick Out of You," "You're The Top," and "Blow, Gabriel, Blow" into popular hits. The 1962 off-Broadway revival starring Eileen Rodgers added "Friendship" from Porter's DuBarry Was A Lady (1939), as well as "It's De-Lovely" and "Goodbye, Little Dream, Goodbye" from Red, Hot, and Blue (1936).
The Wikipedia entry for Anything Goes details how songs were reassigned to different characters and/or interpolated from Porter's other musicals in a manner that would make Rossini proud. Timothy Crouse (Russel's son) and John Weidman updated the book for the 1987 Lincoln Center revival (starring Patti LuPone) and added songs from Red, Hot and Blue.
The national tour of the Roundabout Theatre Company's highly acclaimed 2011 Broadway production roared into San Francisco's Golden Gate Theatre with a cast headed by Rachel York and Erich Bergen (Bergen will also perform his cabaret act on Monday, January 28 at Live at the Razz ).
As someone whose apartment includes a room with nearly 300 postcards, photos, and pictures of historic ocean liners covering the walls, I was thrilled to walk into the theater and feast my eyes on Derek McLane's show curtain, which features a delicious three-stacker (the S. S. American) resembling the legendary Art Deco palace, S.S. Normandie. Coupled with Martin Pakledinaz's snazzy period costumes, McLane's sets keep the production on a constant high note.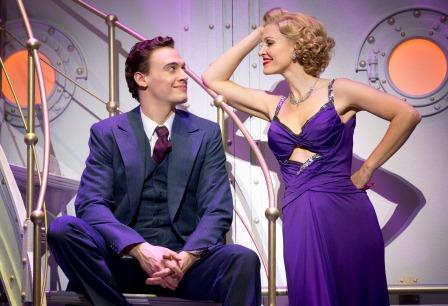 Erich Bergen and Rachel York in Anything Goes
Photo by: Joan Marcus
I tip my hat to Kathleen Marshall, who directed and choreographed this revival with the intention of adding plenty of snap, crackle, and pop to a show that is nearly 80 years old. The result is quite astounding: Not only do Porter's songs retain their freshness and lyrical appeal, the revised book from the 1987 production is a comic delight (those who have grown up in the era of jet travel have no idea how important celebrity spotting was to the transatlantic liner trade during the early 20th century).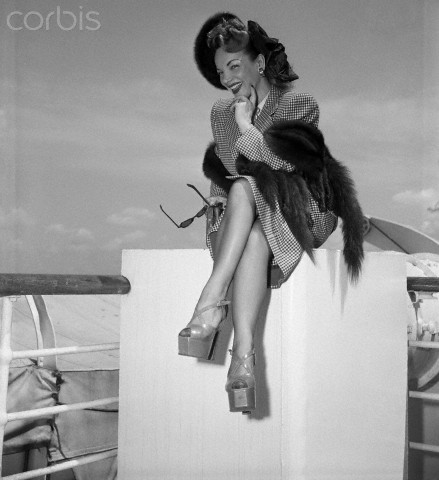 Carmen Miranda posing at sea
Rachel York is a sleek and sultry Reno Sweeney who, in addition to being an enchanting belter, taps up a storm. As Billy Crocker, Erich Bergen scores strongly in a series of ridiculous costume gags while doing a great job as a romantic comedy lead. Others offering sturdy support include Dennis Kelly as Crocker's CEO boss, Elisha Whitney; Fred Applegate as gangster Moonface Martin; and Joyce Chittick as Erma (the gangster moll eager to give any sailor a helping hand).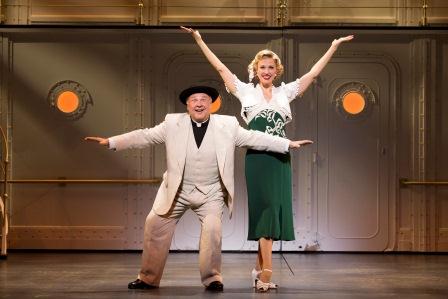 Fred Applegate and Rachel York in Anything Goes
Photo by: Joan Marcus
Sandra Shipley made the most out of her moments as Evangeline Harcourt, with Alex Finke taking a more lyrical approach to the role of her debutante daughter, Hope Harcourt. Special kudos to Edward Staudenmayer, whose Lord Evelyn Oakleigh brought down the house with his over-the-top Act II rendition of "The Gypsy In Me" (a song sung by Hope Harcourt in the original Broadway production).
Perhaps the biggest delight of the evening was to sit back and enjoy an energetic, entertaining musical which contains eight numbers that have become standards of the great American song book. If the audience's thunderous approval of Anything Goes was any indication, they just don't make shows like that anymore. Here's Sutton Foster performing the show's title song with the New York company at the 2011 Tony Awards.
To read more of George Heymont go to My Cultural Landscape