Did you see what I saw? Did you hear what I heard? Did you feel what I felt? And if not, why not?
Questions like these can nag at a critic's mind during a performance when something seems severely out of whack. Are technical problems compromising the overall experience for the audience? Is a performer having a bad night?
Back in the days when the New York City Opera used to tour to the Los Angeles Music Center, I attended a performance of Donizetti's 1835 opera, Maria Stuarda, where one of the lead sopranos was suffering from a nasty case of jet lag while trying to cope with a fierce combination of the dry, seasonal Santa Ana winds and the smog resulting from a series of wildfires in Southern California. Let's just say that having her head chopped off wasn't the only problem facing Mary, Queen of Scots that night.
Recently, at the San Francisco Fringe Festival, I watched a female performer struggle to make it through a monologue that involved numerous costume changes while coping with a dental implant that had sprung loose and refused to go back into position. The frustrated performer finally slipped the fake tooth into one of her pockets and continued to perform as best she could.
There are times, however, when a show that premiered to great acclaim does not hold up as well as one might expect. Companies like 42nd Street Moon and City Center's Encores! Great American Musicals in Concert offer audiences a chance to revisit old musicals that have faded from the spotlight.
Bay area audiences recently had an opportunity to experience revivals of two celebrated works which, several decades after their world premieres, seem to have lost some of their appeal. Though handsomely produced and featuring some highly theatrical performances, something was missing at the core of each show.
What if it's something that was never really there? Is anybody there? Does anybody care?
* * * * * * * * * *
Context can explain a lot. When 1776 had its Broadway premiere on March 16, 1969, the country was deeply divided over America's involvement in the Vietnam War.
Richard Nixon had just taken office as the 37th President of the United States of America.
The counterculture rock musical, Hair, had been packing them in at the Biltmore Theatre for nearly a year.
One of Broadway's newest hits, Promises, Promises, starred a young Jerry Orbach and was based on Billy Wilder's 1960 film, The Apartment.
Unfortunately, Broadway's 1968-1969 season was filled with a string of disappointing musicals ranging from such big ticket items as Coco, Dear World, and Zorba to lesser ventures like The Fig Leaves Are Falling, Maggie Flynn, Her First Roman, Celebration, Come Summer, Billy, and Canterbury Tales.
In a season whose musicals included scores by Burt Bacharach, André Previn, Jerry Herman, Kander & Ebb, Albert Hague, Harvey Schmidt & Tom Jones, and Ervin Drake, how did the Tony Award for Best Musical go to the show that lacked a single hit song and whose songwriter (Sherman Edwards) was primarily known for "See You In September," "Dungaree Doll," and "Wonderful Wonderful"?
My memory of the original production (which some claimed was written with the skill of Gilbert & Sullivan) was that 1776 was much more a "play with music" than a traditional Broadway musical. Perhaps because I was spending more evenings at the opera during that period, I found 1776 to be rather slight and its score (which lacked even the slightest hint of through composition) not particularly impressive.
Part of the reason for 1776's initial success (the original production ran for 1,217 performances) may be that it was a true labor of love. However, its historical context may have been equally important at a moment when people were questioning the integrity of their own government. There can be no doubt that Edward Rutledge's Act II aria, "Molasses To Rum To Slaves" touched a nerve in audiences that were living through an intense decade of the Civil Rights movement.
In an essay by Peter Stone and Sherman Edwards that originally appeared in Penguin Books, the creators of 1776 pointed out that:
"Certain elements that are historically true have been left out of or removed from the play for one of three separate reasons. The first of these was the embarrassment of riches: there are just too any choice bits of information to include in one, two, or even a dozen plays. The fact that Franklin often entered the congressional chamber in a sedan chair carried by convicts, for instance. Or that, on several occasions, Indians in full regalia would appear before the Congress, petitioning for one thing or another, and accompanied by their interpreter (a full-blooded Indian who spoke with a flawless Oxford accent). What we cannot answer is how such a question ['Is it true?'] could possibly be asked so often by Americans. What they want to know is whether or not the story of their political origin, the telling of their national legend, is correct as presented. Don't they know? Haven't they ever heard it before? And if not, why not?"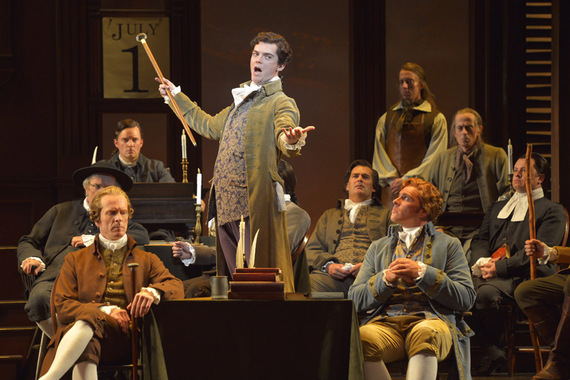 Edward Rutledge (Jarrod Zimmerman) sings the provocative
"Molasses To Rum To Slaves" in 1776 (Photo by: Kevin Berne)
"The authors of 1776 are both products of the American public school system (one from the West Coast, the other from the East). Both were better than average students with a deeper-than-average curiosity about American history. But neither of them was given any more than a perfunctory review of the major events, a roster of a few cardboard characters, and a certain number of jingoistic conclusions. It is presumptuous of us to assume that 1776 will be able to fill even a portion of this lamentable void (though doubtless no small portion of its success is due to the 'new' information it offers); the crime is that it should even have to. The United States owes its citizens, at the very least, an educational system that describes, defines, and explains our own existence."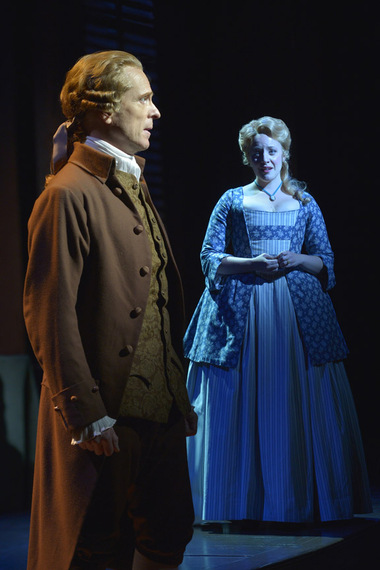 John Adams (John Hickok) and his wife Abigail (Abby Mueller)
communicate by letter in 1776 (Photo by: Kevin Berne)
American Conservatory Theatre recently presented a production of 1776 that was originally directed by Frank Galati for the Asolo Repertory Theatre in Sarasota, Florida. As Galati notes:
"The story of the creation of the Declaration of Independence may be risky to tell, because it's a story we think we know. But the surprise of 1776 the musical is its scholarship, its wit and efficiency, its dramaturgical confidence and velocity. Not many musicals have been fashioned from the raw materials of history. The authors of the musical depended mostly on primary source material: letters, diaries, and journals. Onstage, 1776 is not a history lesson, but a musical play that, against all odds, became a Broadway smash hit and won the 1969 Tony Award for Best Musical, beating out both Hair and Promises, Promises."
Originally performed on Broadway in one act, the ACT/Asolo production has chosen to give its audiences the two-act version of 1776. Doing so offered audiences an opportunity to discuss the history being witnessed onstage and compare the dysfunctionality of the Second Continental Congress with that of our current representatives in Washington (some things never change).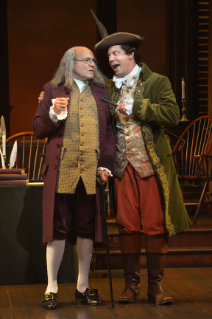 Benjamin Franklin (Andrew Boyer) enlists the help of
Virginia's Richard Henry Lee (Ryan Drummond)
in a scene from 1776 (Photo by: Kevin Berne)
While Russell Metheny's unit set, Mara Blumenfeld's period costumes, and Kevin Kennedy's sound design do their best to make 1776 = a compelling show, I still find 1776 to be an underwhelming dramatic experience. There's lots of fun character shtick (I particularly liked Ryan Drummond's work in "The Lees of Old Virginia"). And "Momma, Look Sharp" still tugs at an audience's heartstrings.
Certainly, the performances by John Hickok (John Adams), Andrew Boyer (Benjamin Franklin), Jarrod Zimmerman (Edward Rutledge), Jeff Parker (John Dickinson), Abby Mueller (Abigail Adams) and Andrea Prestinario (Martha Jefferson) had strong appeal. Among the rest of the ensemble, I enjoyed the work done by Alex Shafer (Colonel Thomas McKean), Zach Kenney (the Courier), and Steve Hendrickson (Andrew McNair).
ACT's in-house publication, Words On Plays, always offers fascinating dramaturgical material related to their productions. It's worth purchasing the volume for 1776 just to read all about Richard Nixon's attempts to meddle with the show's script when 1776 was performed at the White House and during the preparation for its 1972 screen adaptation. Here's the trailer:
* * * * * * * * * *
What if you wrote a play whose closely-guarded secret was that a child born of incest had been buried in a farmer's back yard? To give the matter a unique twist, instead of having the father impregnate his teenage daughter, you had one of the family's sons impregnate his mother. Sounds nifty, huh? Oedipus in Illinois!
But what if your carefully planned shocker flew right over the audience's head? What if, in the simplest terms, your script became so confusing that it suffered a failure to communicate?
That seems to be the problem I had when attending a recent performance of Sam Shepard's Buried Child (which received its world premiere on June 27, 1978 from San Francisco's Magic Theatre, won the 1979 Pulitzer Prize for Drama, and was recently revived as part of the company's ambitious five-year"Sheparding America" cycle). Although Loretta Greco's stage direction is almost always dramatically sound (with a rare level of emotional acuity), this was one instance where large parts of the evening didn't (or simply couldn't) fall into place for this viewer.
An extremely supportive director whose work I have long admired, I was shocked to see Greco's interpretation of Shepard's script make one character seem as if she were performing in another play (which unwittingly made the actor in question seem barely competent). But consider the emotional territory of this Midwestern family nightmare.
Buried Child is not a play about nice people. Filled with fertility symbols (from heavy rains to carrots and corn that magically start growing in fields that have long laid fallow), the action takes place on a decrepit farm that reeks of decay, desperation, and denial.
Corn has not been planted in its fields for at least 35 years.
Fuzzy memories are occasionally assigned to the wrong characters.
The family patriarch asks his offstage wife "Halie? Are we still in the land of the living?"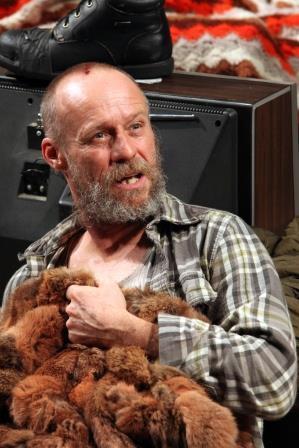 Dodge (Rod Gnapp), the family patriarch, has one foot in the grave.
(Photo by: Jennifer Reiley)
Shepard's play focuses on a severely dysfunctional family whose souls and landscape are rapidly deteriorating. Imagine Edward Albee's antagonistic George and Martha 25 years older and so exhausted from their battle-scarred marriage that all they can do is shout past each other instead of making any honest attempts at communication.
Dodge (Rod Gnapp) is a dying 70-year-old alcoholic clinging to whatever shreds of reality are left on his farm.
Halie (Denise Balthrop Cassidy) is his cheating wife who puts on airs of being a good Christian woman while lusting after the local preacher man. Halie may well be living in a dream world.
Tilden (James Wagner) is their eldest son, who spent some time in New Mexico but got into trouble and has returned to the family farm as a near-zombie who can barely communicate with his parents.
Bradley (Patrick Kelly Jones) is their middle son, an angry amputee who loves to inflict his misery on anyone who crosses his path. One of Bradley's favorite activities is sneaking up on his father and shaving Dodge's head while he's asleep.
Vince (Patrick Alparone) is Tilden's son, who returns to the family homestead en route to visit his father in New Mexico only to discover that neither his father, his uncles, nor his grandparents can remember him.
Shelly (Elaina Garrity) is Vince's girlfriend who, because she is not a blood relative, is completely ignored by Vince's family.
Father Dewis (Lawrence Radecker) is the local do-gooder who likes to flirt with Halie but, when the shit hits the fan, quickly admits that he was never trained to deal with a litter of sick puppies like this particular family.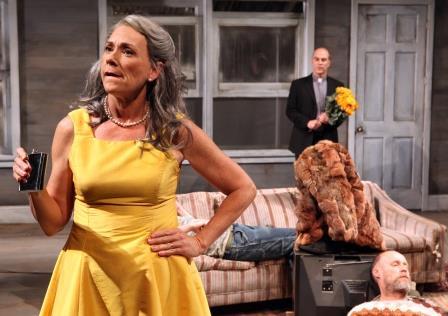 Denise Balthrop Cassidy, Lawrence Radecker, and Rod
Gnapp in a scene from Buried Child(Photo by: Jennifer Reiley)
And then there is the mysterious Ansel, the son who never makes an appearance but whose confusing legend haunts the evening much like George and Martha's invisible son (a football hero who never came in contact with pigskin). Of all her children, Ansel is the golden memory, the local basketball star whom everyone loved and in whose honor Halie is trying to get a statue built in town. The bitter truth may well be that Ansel is the slaughtered child of incest whose adult life could only have been imagined by a delusional mother.
With so many ghosts, red herrings, emotional potholes, a long history of aberrant behavior, and traces of magical realism all around, this family is a far cry from My Three Sons. In his preface to the revised edition of Buried Child, Shepard writes:
"In 1978, when we first produced Buried Child at the Magic Theatre in San Francisco, I had an uneasy feeling about it. Although I was more than satisfied with the production, the actors, the set, etc., aspects of the writing still seemed awkward and unfinished. The Pulitzer Prize did not change my opinion in this regard, but by that time, I was already on to other work and had no inclination to double back. When Gary Sinise started work on the Steppenwolf production in Chicago in 1995, enough time had elapsed for me to clearly see the holes in the play. This insight was also heightened by Gary's instinct to push the characters and situation into an almost burlesque territory, which seemed suddenly right.

It became clear, for instance, that Halie's offstage voice in the opening scene went on too long and that Lois Smith (playing the part) was bringing a sharp irony and wit to it that deserved special attention. The sexual innuendos between Dodge (James Gammon) and Shelly (Kellie Overbey) needed to be more overt and less coy. But, most important, the character of Vince seemed to be hanging in the wind, without real purpose. Even though a core truth of this character is his aimlessness and passivity, there seemed to be no point in allowing him to be completely outside the play, almost in the predicament of a narrator. So I began to try to find ways to bring him around, to 'see the light' as it were, without turning him into some kind of hero or even Sherlock Holmes. Finally, the language began to settle in and take hold. There were fewer gaps between the actors, the characters, and the words. I'm very grateful for having had the opportunity to do this work. It's now a better play."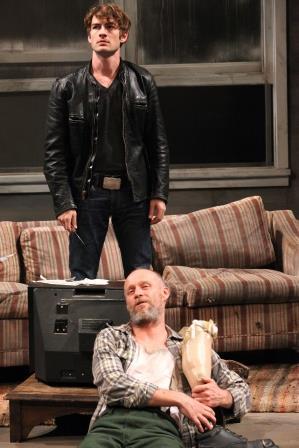 Vince (Patrick Alparone) stands over his dying grandfather
(Rod Gnapp) in Buried Child (Photo by: Jennifer Reiley)
Although Greco's staging of Buried Child was at times frustrating, the production benefitted from two powerful performances by Bay area stalwarts Rod Gnapp and Patrick Alparone. Here's the teaser:
To read more of George Heymont go to My Cultural Landscape