Historians credit the 1866 production of The Black Crook as the birth of the American musical theatre. Since then (like numerous politicians), the art form has continued to evolve. From George Gershwin and Cole Porter to Cy Coleman and Stephen Sondheim; from Rodgers & Hammerstein and Jule Styne to Kander and Ebb, Jerry Herman, and Andrew Lloyd Webber, songwriters and their creative teams have built a literature -- and a legacy -- of musical theatre over the course of nearly 150 years.
I'm often amused by the random juxtaposition of shows I attend from one night to the next. One could hardly position two American musicals that differ quite as much in their performance history, style, and appeal than the two I saw in back-to-back performances a few months ago.
One was a classic that revolutionized the musical by giving it a serious narrative; the other was a crassic that left gigantic footprints on a tiny stage.
One was adapted from a popular novel published in 1926 and transformed into a musical that had its world premiere on December 27, 1927. A silent film version of the novel was released in 1929 (film versions of the musical followed in 1936 and 1951). The other spoofed a popular science fiction novel published in 1990 which became a blockbuster film in 1993 and developed into a huge media franchise.
Both featured clever girls who were fast learners -- one grew from a stagestruck teenager to become a successful entertainer; the other was a hungry velociraptor.
* * * * * * * * * *
Unlike Guys and Dolls, Gypsy, The Sound of Music, Les Misérables, and Mamma Mia! audiences get relatively few chances to experience Show Boat in live performance. I've been extremely fortunate to have enjoyed the following productions of this classic musical based on Edna Ferber's novel (with music by Jerome Kern and lyrics by Oscar Hammerstein II):
In 1966, under the guidance of Richard Rodgers, the Music Theatre of Lincoln Center produced Show Boat with a cast headed by Barbara Cook (Magnolia), Constance Towers (Julie), Stephen Douglass (Gaylord Ravenal), David Wayne (Cap'n Andy), and William Warfield (Joe).
In 1982, under David Gockley's leadership, the Houston Grand Opera mixed Broadway and operatic talent in a cast led by Sheryl Woods (Magnolia), Lonette McKee (Julie), Jacque Trussel (Gaylord Ravenal), Donald O'Connor (Cap'n Andy), and Donnie Ray Albert (Joe). Thanks to the musicological contributions of John McGlinn and John DeMain, the 1982 production restored sections of the musical score and dialogue which had not been heard since 1927.
In 1988, John McGlinn conducted a three CD studio recording of Show Boat which included the musical's entire score for the very first time. The cast was headed by Frederica von Stade (Magnolia), Teresa Stratas (Julie), Jerry Hadley (Gaylord Ravenal), Robert Nichols (Cap'n Andy) and Bruce Hubbard (Joe).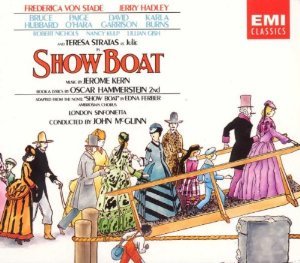 Poster art for the complete recording of Show Boat
In the spring of 1989, HGO revived Show Boat with a cast headed by Beverly Lambert (Magnolia), Richard White (Gaylord Ravenal), Adria Firestone (Julie), and Eddie Bracken (Cap'n Andy). Following the run of performances at Houston's Wortham Theatre Center, I was fortunate enough to accompany the production to Egypt, where the United States Information Agency (USIA) was the diplomatic host for America's participation in the opening season of the new Cairo Opera House.
On October 27, 1989, the Paper Mill Playhouse's production of Show Boat was recorded and broadcast over PBS as part of its Great Performances series with a cast headed by Rebecca Baxter (Magnolia), Shelly Burch (Julie), Richard White (Gaylord Ravenal), Eddie Bracken (Cap'n Andy), and P.L. Brown (Joe).
In 1998, the touring Harold Prince production of Show Boat docked at San Francisco's Orpheum Theatre with a cast headed by Sarah Pfisterer (Magnolia), Debbie de Coudreaux (Julie), John Ruess (Gaylord Ravenal), Tom Bosley (Cap'n Andy), and Andre Solomon-Glover (Joe).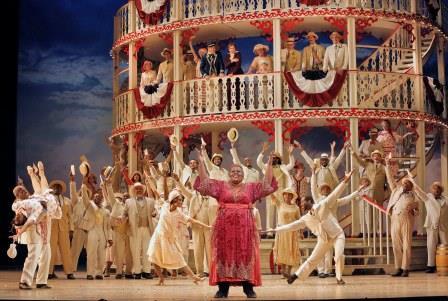 Angela Renée Simpson as Queenie in Show Boat
(Photo by: Cory Weaver)
Several years ago, the General Directors of the Lyric Opera of Chicago, Washington National Opera, Houston Grand Opera, and San Francisco Opera joined forces to share the costs of a new production of Show Boat (which was recorded in high definition during the San Francisco run of performances for future release on DVD and Blu-Ray). Prior to its San Francisco engagement, the production was seen in Chicago (February 2012), Houston (January 2013), and at the John F. Kennedy Center for the Performing Arts in Washington, D.C. (May 2013).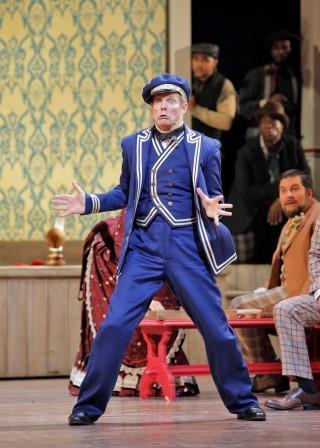 Bill Irwin as Cap'n Andy Hawks in Show Boat
(Photo by: Cory Weaver)
With the Cotton Blossom docked on the stage of the War Memorial Opera House, Bay area audiences finally got a chance to hear Kern's score the way it should be performed (with a full orchestra, minimal amplification for dialogue, and Supertitles above the stage). One of the added delights of this production was the choreography by Michele Lynch, who noted that:
"The late 19th century and early 20th century was a rich time in American dance history. Dance was influenced by the music, fashion, and socioeconomics of the time. Some of the styles represented in Show Boat are Vaudeville, the Cakewalk, Rag, Shuffle, the March, the Waltz, Buck and Wing, Tap dance, the Charleston, and the Black Bottom. As the choreographer, I researched the dance history and then studied the characters that live in our show. I wanted to make the choreography original to this piece and still have it based in the truth of American history. For some of the research, video had not been invented. For example, the Buck and Wing section is based on a dancer, Master Juba. One picture that I found of him inspired all the movement with Queenie's kids in the wedding. Once the research was done, I would listen to the rhythms of the music and the hearts of the characters and the choreography came to life."
During a pre-opening press conference, David Gockley and John DeMain stressed that one of the reasons Show Boat deserves to be performed in an opera house is because of how much Kern's score fits into the historical period when operetta was a popular art form. If one listens closely to numbers like "Make Believe," "You Are Love," and "Why Do I Love You?' it's easy to sense the influence of composers like Victor Herbert, Rudolf Friml, and Sigmund Romberg.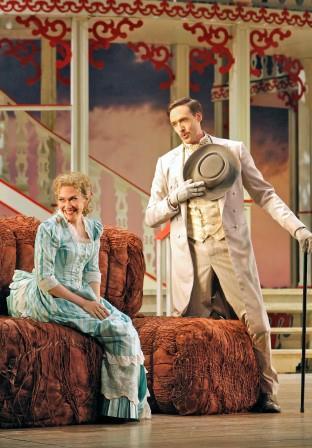 Heidi Stober (Magnolia) with Michael Todd Simpson
(Gaylord Ravenal) in Show Boat (Photo by: Cory Weaver)
Francesca Zambello directed this production of Show Boat and, as usual, found ways to clarify parts of a classic which can easily confuse audiences. She opened the second act with a pantomime acted out behind a scrim in which the audience saw newlyweds Magnolia and Gaylord Ravenal leaving the Cottom Blossom and saying their farewells to Queenie, Joe, Cap'n Andy, and Parthy Ann Hawks. Following Magnolia's reunion with her father on New Year's Eve, a simple device was used to show the progress of time from 1903 to 1927. It's a simple action (much like when my friend Scott Heumann created a Supertitle for HGO's production of Simon Boccanegra that read "25 years later" -- it instantly brought the audience up to speed on the story line).
I think the most astonishing thing about this production is how well it gains momentum in the first act (matching Gaylord Ravenal's gambling successes) and handles the inevitable downfall which leaves Magnolia coping with poverty and humiliation. The restoration of the Act II scene in which Magnolia sings "Dance Away The Night" helps the audience understand her rise to stardom as well as her determination to survive and thrive after her husband abandoned his wife and child.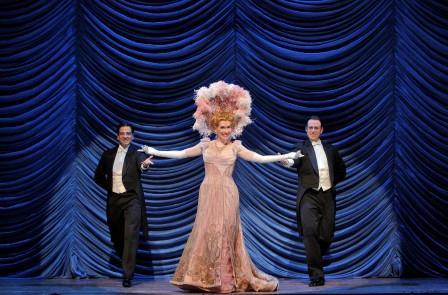 A mature Magnolia (Heidi Stober) sings "Dance Away The Night"
in Show Boat (Photo by: Cory Weaver)
I was particularly impressed by Peter Davison's set designs (especially his scrims for the opulent lobby of the Palmer House and the World's Columbian Exposition of 1893). Paul Tazewell's costumes added a tremendous sense of period and social class.
While Heidi Stober was an excellent Magnolia and Patricia Racette shone in her brief time onstage as the tragic Julie Laverne, the most pleasant casting surprises came with the appearance of Bill Irwin as Cap'n Andy and Harriet Harris (who almost stole the show) as his wife, Parthy Ann Hawks. Morris Robinson's rumbling Joe was a solid foil to Angela Renée Simpson's portrayal of his wife, Queenie.
Angela Renée Simpson (Queenie) and Morris Robinson (Joe)
in Show Boat (Photo by: Cory Weaver)
Michael Todd Simpson's portrayal of Gaylord Ravenal offered a tall, lean, barihunk (which, to my mind, was more appealing than most of the tenors I've heard in this role). Kirsten Wyatt's Ellie Mae Chipley and John Bolton's Frank Schultz provided the comic foils and vaudeville talent. Sharon McNight had a brief moment as the Irish landlady, Mrs. O'Brien.
At the aforementioned press conference, conductor John DeMain dropped a little bombshell when he revealed that the African-American friends and relatives of cast members in the original Broadway production of Show Boat were unable to see their loved ones performing onstage at the Ziegfeld Theatre because of segregation. For a musical that deals with such distinctly American topics as slavery, miscegenation, and gambling addiction, the current production of Show Boat is a powerful evening of musical theatre which will give audiences plenty to cheer for while trying to stifle the sentimental lump in their throats. A most satisfying performance of an American classic. Here's the trailer:
* * * * * * * * * *
If you crave a musical with social relevance but can't afford a ticket to Show Boat, I tip my hat to Ray of Light Theatre's hilarious and highly energetic production of Triassic Parq (a 90-minute romp about dinosaurs coping with gender identity issues that recently received its Bay area premiere).
A resounding hit at the 2010 New York International Fringe Festival, this show has book and lyrics by Marshall Pailet, Bryce Norbitz, and Steve Wargo (with music composed by Pailet). While the score may not hold a candle to Broadway standards like "Ol' Man River," "Life Upon The Wicked Stage," and "Can't Help Lovin' Dat Man," no serious musical theatre queen's life would be complete without having heard a female velociraptor warbling "Hello, Little Goat" or rocking out about her desperate need for a "Dick Fix."
Be honest: Can you name another musical in which Morgan Freeman gets eaten alive? I didn't think so.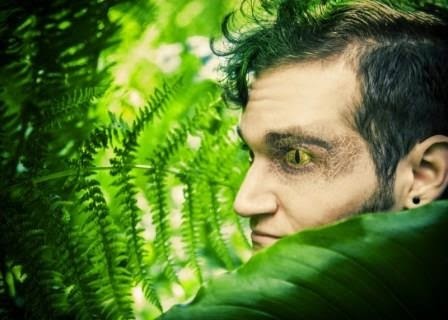 Lewis Rawlinson is the Velociraptor of Innocence in
Triassic Parq (Photo by: Erik Scanlon)
With a lively rock 'n' roar band consisting of Pianosaurus (Robbie Cowan), Guitarydactyl (Nahuel Bronzini), Bassceratops (Eugene Theriault), and Percussadon (Geneva Harrison), Alex Kirschner has directed Triassic Parq with a grand sense of guts and gore.
Pretty little goats get their heads ripped off and die a Kabuki-style death with red ribbons flowing from their necks.
Annie Dauber's scenic design coupled with Wendy Rose Kaufman's costumes, Joe D'Emilio's lighting, and Anton Hedman's stunning sound design create a rowdy jungle environment overseen by "the man's" laboratory.
On what is supposed to be an island populated only with female dinosaurs, nature finds a way to adapt. Before you know it, a Tyrannosaurus (Chelsea Holifield) has undergone a traumatic change in gender.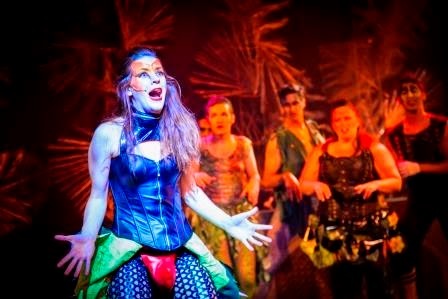 Chelsea Holifield is a Tyrannosaurus that suddenly grew
a bright red penis in Triassic Parq (Photo by: Erik Scanlon)
With choreography by Dane Paul Andres (including Javi Harnly's hilarious portrayal of Mime-a-saurus), the future of the herd is in the claws of the Velociraptor of Faith (David Naughton), the Velociraptor of Science (Alex Rodriguez), and the Velociraptor of Innocence (Lewis Rawlinson).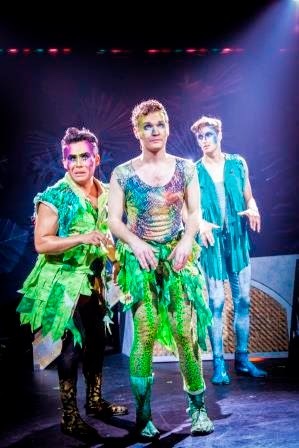 Alex Rodriguez, Lewis Rawlinson, and David Naughton are
three very confused velociprators in Triassic Parq
(Photo by: Erik Scanlon)
Although Triassic Parq may not have to worry about miscegenation, it does force its audience to confront issues of transgenderism in giant lizards, sexual assault, and playing with your food before you eat it. While betrayal is a common theme in many musicals, I can't think of another one in which a jealous female Tyrannosaur (Monica Turner) stomps off after throwing a monstrous hissy fit because her best gal pal has suddenly grown a dick and wants to fuck anything that crosses her path.
Last, but certainly not least, is the issue of what to call your babydaddy when the creature that impregnated you has always been a female. Let's just say that the Velociprator of Innocence loses her cherry under most unusual circumstances.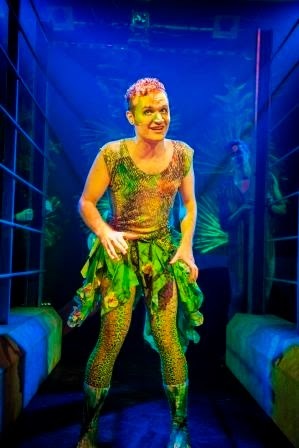 Lewis Rawlinson is the Velociraptor of Innocence in
Triassic Parq (Photo by: Erik Scanlon)
The more familiar you are with Steven Spielberg's popular Jurassic Park films, the more you'll enjoy all the in-jokes in Triassic Parq. This exuberant musical also begins with the best warning ever given to an audience reminding them to turn off their cell phones.
To read more of George Heymont go to My Cultural Landscape