Context is everything. Some people are impressed by a long, hard piece of sausage while others want to know what makes it stand out from the crowd.
Call me old-fashioned, but I'm the kind of person who is frequently more turned on by process than product. I like following the path of artistic creation that begins with an idea, proceeds to refinement, moves on to evaluation, graduates to interpretation and, in some cases, is honored with preservation.
While it's easy to spray some paint on a piece of cardboard that's been attached to a spinner's wheel, hit the power button and watch it get transformed into a piece of "instant art," most artisans find a deeper level of satisfaction pursuing a lifelong journey in which they learn how to make informed decisions in order to coax their artistic vision to reality.
Randomly typing letters and words onto a computer screen offers no guarantee that the final product will impart any meaning, much less complete a sentence. Many writers spend a great deal of their time editing, rewriting, and trying to shape their thoughts to follow a pulse or rhythm.
Using words to paint pictures for a reader's mind is no different than painting pictures on a canvas. It requires a great deal of premeditation and imagination before it can be transformed into something memorable through a potent combination of articulation and actualization.
For many artists, a studio or rehearsal room represents a safe space in which one can experiment with ideas. It's an arena in which things are neither right nor wrong, but potentially powerful solutions to an artistic challenge. Witnessing such choices is rarely an option for the arts consumer who purchases a print, a book, a recording, or a DVD.
However, on rare occasions, a viewer gains admission to the process of creating art. When that happens, understanding the context in which a piece of art takes shape is like a crash course in the chemistry of cooking.
* * * * * * * * * *
Many years ago I sat in a rehearsal room watching a soprano work out the blocking for a scene. A bit surprised at how much time was being spent on a particular detail, I asked the stage director why he didn't just tell the singer where her character needed to be at that particular moment. "She needs to discover it herself," he replied.
A moment later I heard the soprano mutter, "Jesus Christ, I'm gonna earn every fucking cent of this fee!"
Philippe Béziat's fascinating new documentary, Becoming Traviata, takes viewers behind the scenes at France's 2011 Festival International d'Art Lyric in Aix-en-Provence as stage director Jean-François Sivadier and conductor Louis Langrée rehearse their new production of La Traviata.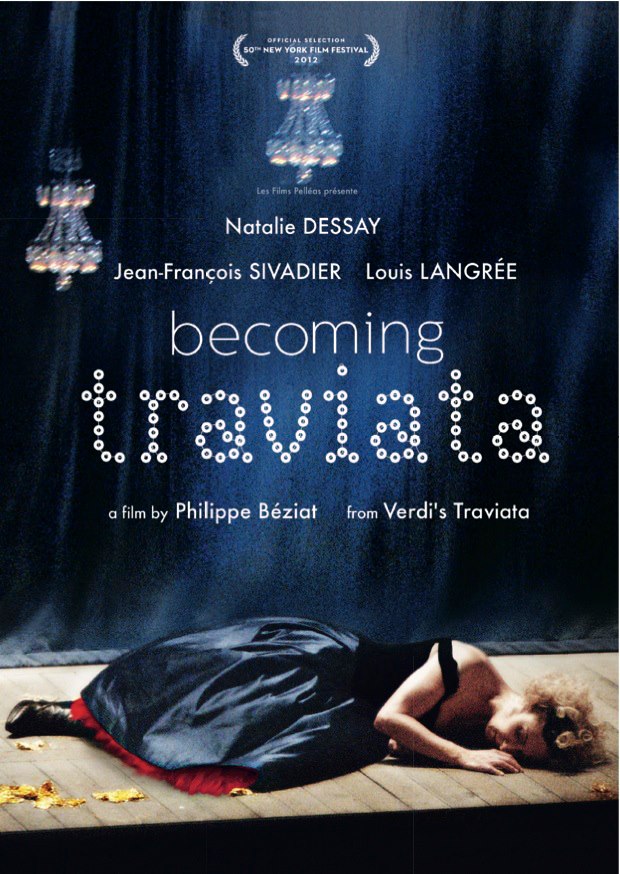 Poster art for Becoming Traviata
In the 160 years since Verdi's opera had its world premiere at La Fenice in Venice on March 6, 1853, countless artists have appeared in productions of La Traviata on stages all over the world. The operatic adaptation of La dame aux Camellias has undergone all kinds of interpretations, ranging from Nicholas Muni's controversial 1990 production at the Tulsa Opera (in which Violetta was portrayed as a victim of the AIDS crisis) to Franco Zeffirelli's monstrously garish staging for the Metropolitan Opera.
Many opera singers readily confess that they love rehearsing more than performing. Why? Rehearsals are a chance to work on solving artistic puzzles with extremely creative colleagues; to laugh and explore while doing the serious vocal and dramatic work necessary to prepare for a performance.
While many audiences relish an evening of familiar music and the opulent sets and costumes for Acts I and III of La Traviata, they never get to watch a soprano working with a stage director on how she should internalize Violetta's initial reaction to the innocent enthusiasm of Alfredo (Charles Castronovo) or her anguish at the insistence by Alfredo's father (Ludovic Tézier) that she abandon his son. Nor do they ever get to watch a soprano work with a motion coach to arrive at the exact way Violetta should collapse in the final moments of a performance.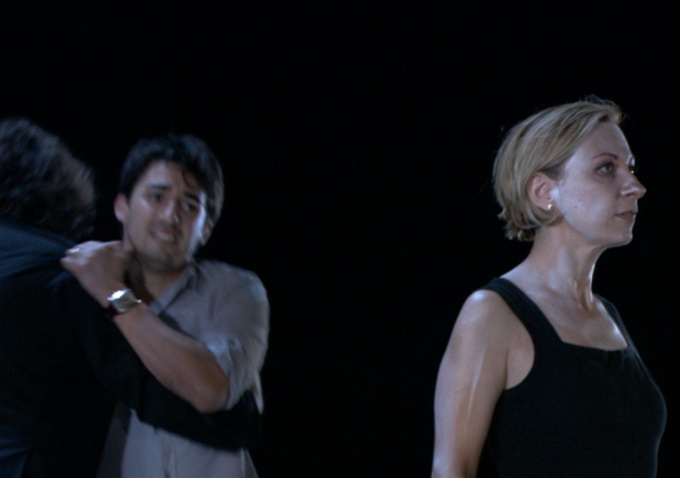 Tenor Charles Castronovo and soprano Natalie Dessay
in Becoming Traviata
The success of Béziat's film rests largely upon the willingness of soprano Natalie Dessay to allow the filmmaker into the rehearsal room and not have the documentary be all about her international fame as an opera star or an attempt to capture her stage performance. Dessay has been quite candid about being a creature of the stage (she recently announced plans to transition from opera to spoken drama). In an interview segment which did not make it into the final cut of Béziat's film, she stated: "I am tired of all the sets and backdrops, all these overly heavy things that prevent us from acting."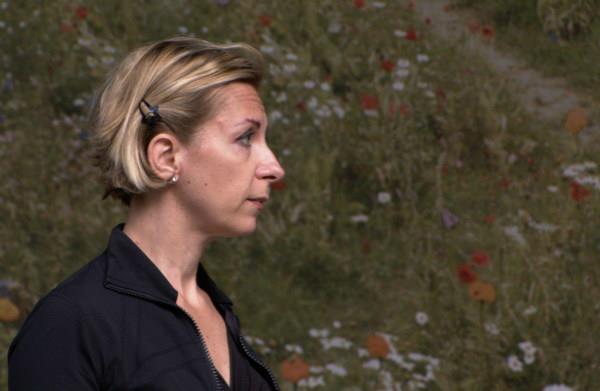 Soprano Natalie Dessay
Becoming Traviata concentrates on the process of examining dramatic motivations, hammering out musical details, and bringing Sivadier's artistic vision to fruition. At one moment, as the stage director exults in how much fun it is for the audience to watch Violetta's "Gioir" in Act I, Dessay notes that, for technical reasons, it's fun for everyone except the girl who has to sing Verdi's music. As Béziat explains:
We had a very special opportunity to see each stage of the process, from the early steps in the studio until the premiere on stage. We started from the idea that we wouldn't really know in advance what we were looking for, what we were going to see. Although the interviews we had with each of the artists did, of course, inform our vision and our reflection, it was a true field documentary approach. A bare stage and a chair are heaven for an actor, since it is with this only that he or she must represent all. For us, this streamlined background was extremely conducive to filming. We shared the daily toils of rehearsal with them, the great (and not so great) rehearsals. It was a long companionship and we came back with 90 hours worth of footage.

Knowing that the show was going to be captured live for Arte by Don Kent, it was an opportunity for me to make a film focused on work, to try and share these moments of searching, the slices of life, this constructing and growing of La Traviata. The leitmotif of the rehearsal takes on the literal meaning of the French word for it: repetition. No form of joy equals that of work that can be taken up again, redone, reinvented, re-explored infinitely. For the performers, it is a form of immortality. In Becoming Traviata, we have a form that expresses the non-definite nature of work and art through the patterns of variations and repetitions. The film expresses the wariness towards the final result.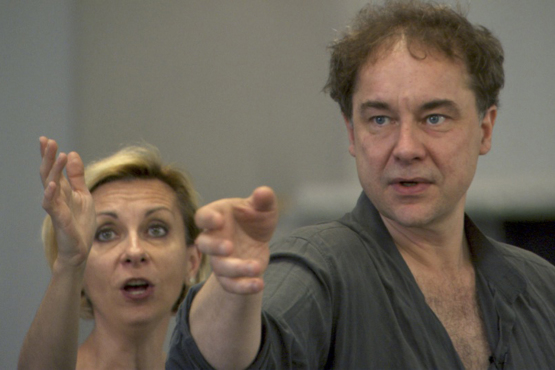 Soprano Natalie Dessay with stage director
Jean-François Sivadier in Becoming Traviata
Béziat's documentary has allowed viewers to follow the rehearsal process in the same dramatic sequence by which Verdi's opera unfolds. Although conversations bounce back and forth between French and English, one of the great services rendered by Becoming Traviata is to dispel the myth that opera is a frivolous indulgence for the rich. This labor-intensive, 400-year-old art form involves a lot of hard work. Preparing an opera is far more than a labor of love -- opera also requires a love of labor.
As for the universality of La Traviata, Béziat offers a fascinating insight from a filmmaker's perspective:
I sometimes play a little game in which I imagine that if Verdi had been born in 1900 rather than in 1813, he would have made films, not operas. For he seemed to have but one goal: to bring onto the theater stage the spark of life, the magic of words. When you delve into one of his scores, you see the way the notes stick to the words, the way speech brings about music. Herein lies the mystery and the strength of this music. There is an extraordinary truth in it, and it is the first time that the characters are truly human, meaning as human as they are in Zola or Balzac's work. Violetta is already an Ozu or Mizoguchi character.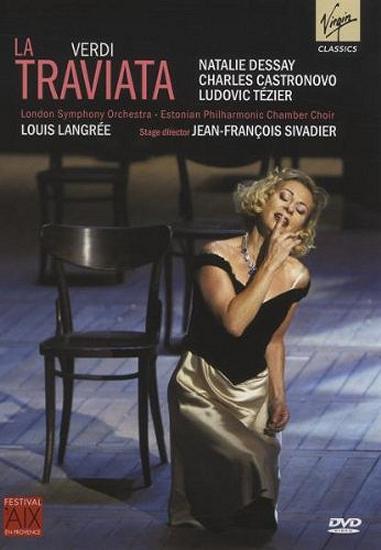 Poster art for DVD of La Traviata
It will be interesting for opera fans to compare Béziat's Becoming Traviata with the live broadcast of Sivadier's fully-staged production that is now available on DVD from Virgin Classics. In the meantime, here's the trailer:
* * * * * * * * * *
After performing his one-man show, George Gershwin Alone, on Broadway, in London's West End, and numerous cities throughout the world, Hershey Felder brought this combination tribute/tour de force to Berkeley Repertory Theatre's Thrust Stage this summer. This is a mature work of theatre, musicology, and performance art. But the story of its genesis is almost as fascinating as the show itself. Felder first performed Rhapsody in Blue in 1985 at the age of 16. As his diary reflects:
JANUARY 27, 1995: Morning of the 50th anniversary of the liberation of Auschwitz. I am an envoy of Steven Spielberg and his SHOAH Foundation. I managed to get a coveted position interviewing Holocaust Survivors at the 50th anniversary ceremonies for Steven's archive project. I volunteered for this most important role, and was one of four interviewers sent to Poland. As a child of a family of Holocaust survivors, it was something that I wanted to do. I was ultimately chosen because I speak English, Yiddish, Hebrew, French and have a basic knowledge of Hungarian, German and Russian. I was set to interview the twins who survived Mengele's in vivo experiments.

Late on the night of January 27th, I was called to a Café Haus in Kazimirez, the old Jewish town in Cracow, to interview Helmuth Spryczer, Mengele's Jewish gopher boy who later told me that he was called the 'Kunstfeifer fun Berlin -- The Magical Whistler from Berlin' because he would whistle for the Germans. He told me that he whistled Rhapsody in Blue -- even though it was banned. He said that George Gershwin was a prophet, because he wrote the Rhapsody in 1924, and he wrote the sounds of dying people and trains and so on... and some 20 years later, if one listened to the Rhapsody in Blue, one could hear the screams of the dying. It was way past midnight, but he asked me to play the Rhapsody on the honky-tonk piano in the café. Suddenly the piece took on an unbelievable quality.

The Rhapsody to me was always a 'fresh and contemporary piece of metropolitan New York.' But this man could hear screaming, and suddenly it became clear to me that while this man was whistling the Rhapsody for the German guards, people were being gassed. Later I would return to Los Angeles, where I was living at the time, and discover that George had described his Rhapsody in Blue as something he composed on a train 'while on the way to Boston. I could hear the rattlety bang of the train, the whistle, the click, click, click of the tracks...' The train -- the image of cattle-cars -- the Holocaust. Helmuth Spryczer could not have known about George's description.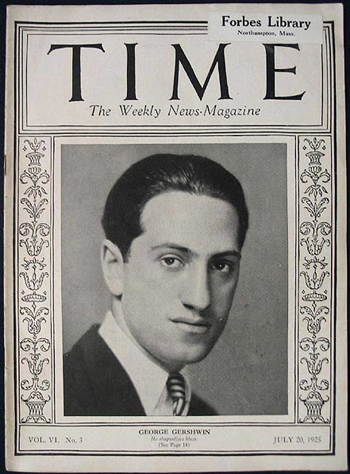 Directed by Joel Zwick (My Big Fat Greek Wedding), George Gershwin Alone stands head and shoulders above many other staged tributes to famous composers. Instead of trying to cram snippets of as many songs as possible into a 90-minute show, Felder's opus aims for the heart of what made Gershwin a great composer.
Using his impressive dramatic skills and talent for impersonating people from Al Jolson and Ethel Merman to Gershwin's parents, Felder envisions what life was like for the young songwriter trying to catch a break in Tin Pan Alley as well as the more mature composer whose landmark opera, Porgy and Bess, had been dismissed by numerous critics.
Felder's ability to examine Gershwin's achievements through the perspective of a rabidly anti-Semitic diatribe against Jews, Jazz, Gershwin and African Americans that was published in Henry Ford's newspaper, The Dearborn Independent, is one of the most memorable segments of the evening. Few performers could send chills up an audience's spine with such material before sitting down to perform Rhapsody In Blue and, following a curtain call, lead the audience in a sing-along of Gershwin favorites.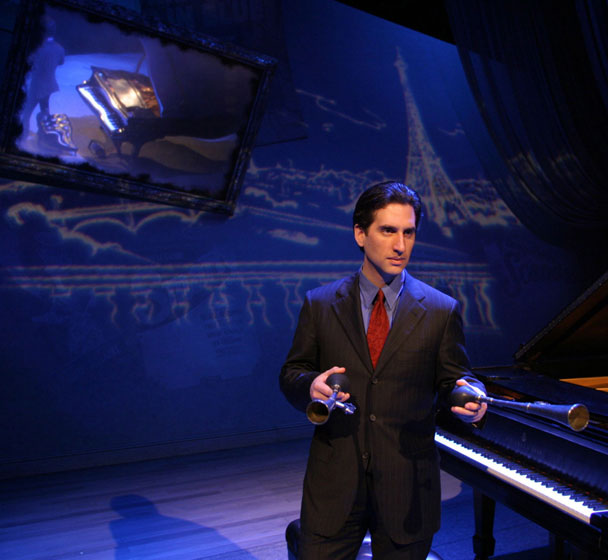 Hershey Felder in George Gershwin Alone
(Photo by: Mark Garvin)
It isn't easy to cram so much historical content in a musical program while explaining to an audience the genius of a man who would choose a major instead a minor chord at a crucial moment of composition (or show how four of Gershwin's favorite notes live on in the famous theme composed by John Williams for the movie Jaws). Nor is it easy to make lightning transitions between Gershwin's exuberant personality and the description of the brain tumor that led to his untimely death at the age of 38.
George Gershwin Alone includes shockers like Samuel Goldwyn's admonition that Gershwin really needed to learn how to write songs that people could whistle (a moment parodied by Stephen Sondheim in Merrily We Roll Along) as well as more familiar tales such as Gershwin's purchase of several taxi horns for An American in Paris. Above all, it is a heartwarming evening of extremely personal musical theatre, made all the more poignant and powerful by the fact that Hershey Felder is, to put it mildly, a real mensch.
To read more of George Heymont go to My Cultural Landscape